Former President Trump is expected to blast President Biden as the "most incompetent and corrupt president in U.S. history," and slam his "protectors" and the "rabid" prosecutors who he says are engaging in 2024 "election interference" after indicting him three times this year.
Trump, the 2024 GOP front-runner, will speak Friday night at the Alabama Republican Party's annual summer dinner event.
Fox News Digital obtained a copy of his prepared remarks.
TRUMP PLEADS 'NOT GUILTY' TO CHARGES STEMMING FROM SPECIAL COUNSEL'S JAN. 6 PROBE
The speech comes just a day after he pleaded not guilty to four federal felony charges stemming from Special Counsel Jack Smith's investigation into Jan. 6.
Trump pleaded not guilty to conspiracy to defraud the United States, conspiracy to obstruct an official proceeding, obstruction of and attempt to obstruct an official proceeding and conspiracy against rights.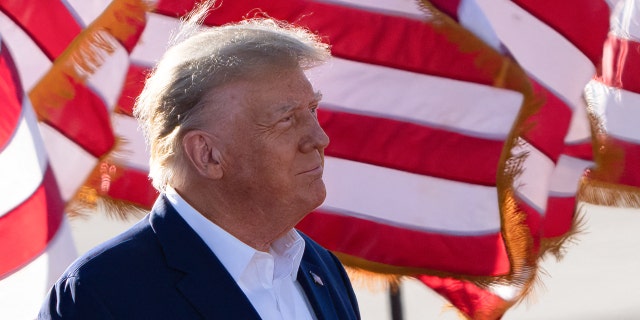 "On Election Day 2024, we are going to evict Crooked Joe Biden from the White House," Trump will say. "We are going to expel the criminals and thugs from the halls of power in Washington. And we are going to make America great again."
Trump will say that the MAGA movement "has been the only force in American politics that has ever dared to stand up to the entire corrupt political establishment."
"We said no to open borders, no to globalist trade deals, no to endless wars, and no to the Godless values of the Communist left," Trump will say. "We always put America first."
"In response, our enemies unleashed an army of rabid left-wing lawyers, corrupt Marxist prosecutors, deranged government agents, and rogue intelligence officers to try to stop our movement," Trump will say.
TRUMP INDICTED ON CHARGES OUT OF SPECIAL COUNSEL PROBE INTO JAN 6
"As an example, every one of these many Fake Charges filed against me by the Corrupt Biden DOJ could have been filed 2.5 years ago, but they waited and waited until I became dominant in the Polls, and then they filed them all, including local DAs and AGs, and other cases, right in the middle of my Campaign where I am leading the Republicans by a lot, and also leading Biden by a lot," he will say.
Trump will say that it is "called election interference—a commonly used tactic in Third World countries."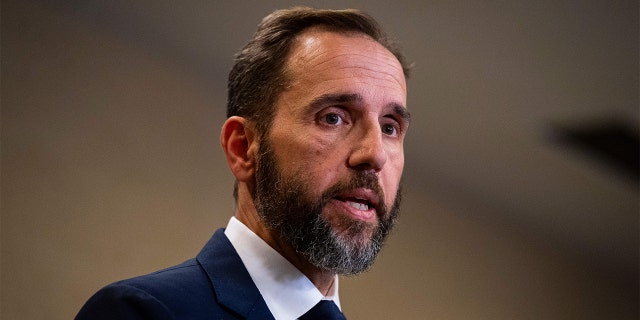 "Biden and his protectors know he cannot win this race any other way, so they are trying Election Interference," he'll say. "The reason this is happening is simple: Joe Biden is the most incompetent and corrupt president in U.S. history."
Trump is expected to slam the "Biden Crime Family," and question the timing of his three indictments this year.
"The Biden Crime Family was taking in money from China, Ukraine, Russia, and so many more—and now, every time more Biden Corruption is exposed, his henchmen indict me the very next day," Trump will point out. "It's called a cover-up."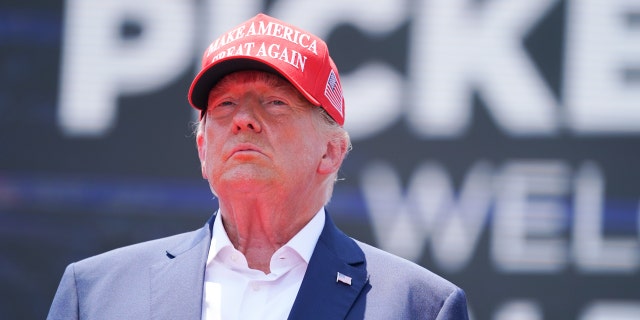 In April 2023, the House heard testimony related to Biden's alleged mishandling of classified records. Soon after, Manhattan District Attorney Alvin Bragg charged Trump with 34 counts in New York of falsifying business records related to hush-money payments made during the 2016 campaign. Trump pleaded not guilty to all counts.
On June 8, Fox News Digital first reported the detailed contents of the FBI's FD-1023 form, which contained allegations that the CEO of Ukrainian natural gas firm Burisma Holdings paid Joe Biden and Hunter Biden $5 million each.
SPECIAL COUNSEL JACK SMITH SAYS JAN 6 'FUELED BY LIES' FROM TRUMP, PRAISES 'HEROES' WHO DEFENDED CAPITOL
Just hours later, Trump was indicted out of Smith's probe into his alleged improper retention of classified records from his presidency. Trump pleaded not guilty to 37 counts, including willful retention of national defense information, conspiracy to obstruct justice and false statements.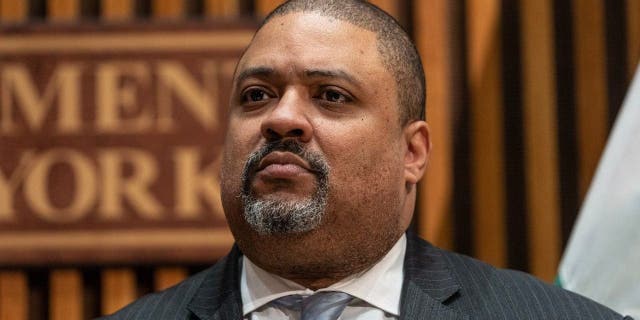 Last week, just a day after Hunter Biden's plea deal fell apart in federal court, Smith charged Trump with an additional three counts as part of a superseding indictment out of the classified records probe.
DEVON ARCHER SAYS HUNTER USED JOE BIDEN AS 'DEFENSIVE LEVERAGE' FOR FOREIGN BIZ PARTNERS, TRANSCRIPT SHOWS
Trump was indicted Tuesday out of the probe into Jan. 6, just a day after Hunter Biden's longtime business partner Devon Archer testified before the House Oversight Committee and shared details of Joe Biden's involvement and knowledge of Hunter's business deals.
"They want to take away my freedom because I will never let them take away your freedom," Trump will say. "They want to silence me, because I will never let them silence you."
He'll say: "In the end, they're not after me, they're after you—and I'm just standing in their way."
Trump is also expected to announce that, if elected, he will appoint a special prosecutor on his "first day in office" to "study each and every of the many claims being brought forth by Congress concerning all of the crooked acts, including bribes from China and many other foreign countries that go into the coffers of the Biden Crime Family." 
"The Deep State is destroying our nation," Trump will say. "But the tables must turn, and we will destroy the Deep State."