Former New Jersey Gov. Chris Christie made an unannounced visit to Ukraine on Friday and became the second Republican presidential candidate to meet with President Volodymyr Zelenskyy in the capital, Kyiv.
Christie met with Zelenskyy in the country's presidential palace after touring villages that have become battlefields since Russia invaded last year. During the meeting, he reiterated his support for continued U.S. aid to Ukraine and said the purpose of his visit was "so I could see it for myself" and report back to the American people what the allied country's needs are. 
"I feel the cruelty, and you feel the inhumanity," Christie said while visiting the villages of Bucha and Moschun on the outskirts of Kyiv. "And you look at this, and I don't think there's anyone in our country who would come here and see this and not feel as if these are the things that America needs to stand up to prevent."
During the visit, Christie placed flowers at the memorial complex in Bucha, where there was a mass grave of civilians, and prayed for Ukrainian volunteers who were killed by Russian troops at the beginning of the war in Moshchun.
PRESIDENTIAL HOPEFUL PENCE MEETS WITH ZELENSKYY IN UKRAINE IN SURPRISE TRIP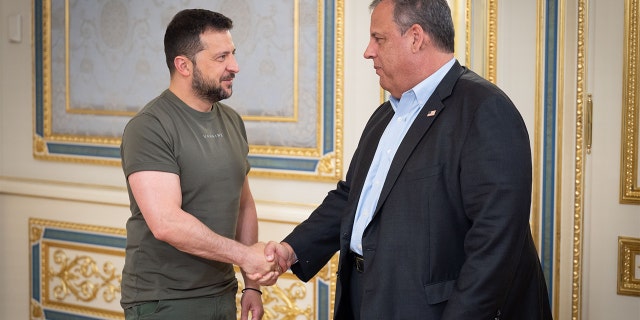 "I really suspected that if I saw this in person that it would arm me to be a better advocate for support, I think, from the stuff I saw today just now, and the meeting with the president … I think I'm much better off," Christie said after his meeting with Zelenskyy.
Christie told pool reporters the Ukrainian president expressed his desire for continued bipartisan support for Ukraine in Congress, but did not comment on the U.S. presidential race. 
"He was very complimentary of President Biden, some of the things that he's advocated for, but also made clear that he thought there was more that needed to be done," Christie said. "There was no conversation at all from him about, you know, the race that I'm in."
The former governor is the second GOP hopeful to visit Ukraine after former Vice President Mike Pence, who last month said Ukrainian victory against Russia was "in the national interest of the United States, and all of the free world." In the Republican primary, Pence and Christie, along with former U.N. Ambassador Nikki Haley, are among the most vocal supporters of continued U.S. aide to Ukraine. 
REPUBLICAN RIVAL CHRIS CHRISTIE TELLS TRUMP TO 'SELL TRUMP TOWER' TO HELP COVER REPORTED $40M IN LEGAL FEES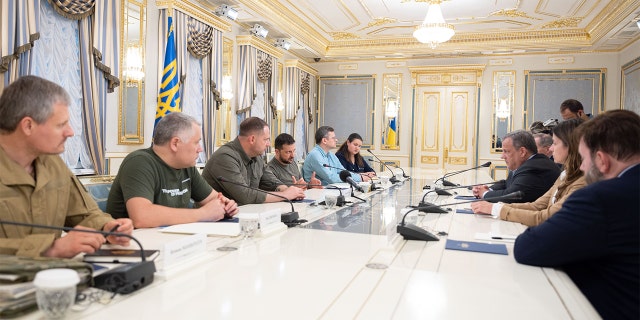 In contrast, former President Donald Trump, the front-runner in the race, has called for Congress to stop further military aid to Ukraine until the Biden administration cooperates with Republican investigations into the Biden family's allegedly corrupt business dealings. Trump has also claimed that he could broker a peace agreement to end the war within "24 hours" if he's elected president again. 
Florida Gov. Ron DeSantis — who has voiced skepticism of further U.S. involvement in the conflict — has said the U.S. should negotiate a cease-fire and avoid putting U.S. troops on the ground. 
At a town hall event in Columbia, South Carolina, last month, Christie called the Ukraine-Russia conflict "a proxy war between the United States and China" and argued that Ukrainians "don't want American men and women on the ground in Ukraine, nor would I send American men and women on the ground in Ukraine. What they want is the hardware to have a fair chance to beat the Russians."
GLOBAL FOOD PRICES RISE AFTER RUSSIA PULLS OUT OF WARTIME GRAIN AGREEMENT WITH UKRAINE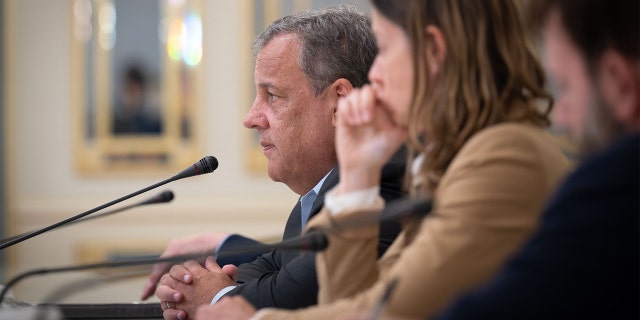 Christie told Zelenskyy on Friday that there will be "political arguments" against further aid for Ukraine but called himself an advocate for the nation. 
Zelenskyy thanked Christie for his visit and emphasized the importance of continued American support for the Ukrainian war effort.
CLICK HERE TO GET THE FOX NEWS APP
"I would also like to sincerely thank you and your colleagues, in particular the Congress. We are grateful for the bipartisan support, which is extremely important to us. We are very grateful to President Biden and his administration. It is extremely important that your entire country, all Americans, are on the side of truth and democracy, and they are convinced of Ukraine's victory," Zelenskyy said, according to his office.
Fox News' Caitlin McFall and the Associated Press contributed to this report.