A seemingly casual greeting to the former president of the United States set social media abuzz Thursday when a judge presiding over the arraignment for former President Donald Trump referred to him as "Mr. Trump."
Trump pleaded not guilty in federal court in Washington, D.C., to all four federal charges stemming from Special Counsel Jack Smith's investigation into 2020 election interference and the Capitol riot of Jan. 6, 2021.
U.S. Magistrate Judge Moxila Upadhaya presided over Thursday's proceedings, and reporters and onlookers highlighted how she referred to the former president as "Mr. Trump."
TRUMP PLEADS 'NOT GUILTY' TO CHARGES STEMMING FROM SPECIAL COUNSEL'S JAN. 6 PROBE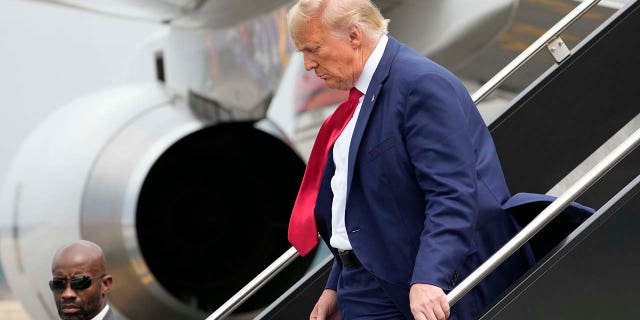 The greeting sparked speculation whether Trump would be stung by the lack of presidential reference.
"If there is one thing I know Trump loves that he's called Mr. President now," ABC Executive Editorial Producer John Santucci tweeted.
TRUMP INDICTED ON CHARGES OUT OF SPECIAL COUNSEL PROBE INTO JAN 6
"No mention of Donald Trump being former president. No special treatment. Treating him as just another man in a Courtroom. This is the rule of law at its best," Democratic commentator Victor Shi said.
Some Trump critics viewed the comments as a slight by the judge against the former president and speculated he would see it as a slight.
"Every other president would have been addressed as 'President' not 'Mr.'… Let's be real," Daily Caller's chief national correspondent Henry Rodgers tweeted.
However, other users cited etiquette guides suggesting the judge was actually following protocol in this instance because "Mr President" is reserved for formal settings for the current holder of the office.
The indictment stems from Smith's investigation into whether Trump or other officials and entities interfered with the peaceful transfer of power following the 2020 presidential election, including the certification of the Electoral College vote Jan. 6, 2021.
Judge Tanya Chutkan will preside over the trial. Upadhaya said Judge Chutkan intends to set a trial date of Aug. 28. 
SPECIAL COUNSEL JACK SMITH SAYS JAN. 6 'FUELED BY LIES' FROM TRUMP, PRAISES 'HEROES' WHO DEFENDED CAPITOL
In the courtroom, the judge laid out how the proceeding would go and asked that Trump be seated closer to a microphone so that he could answer her questions. She first asked his name and age.
"Trump. "Donald J. Trump — John … Seven Seven — seventy-seven."
Fox News' Brooke Singman and Houston Keene contributed to this report.