Rep. Rashida Tlaib, D-Mich., whose anti-Israel rhetoric and activism have become staples of her tenure in Congress, recently attended an art show with work on display calling for Israel's destruction and promoting known and suspected terrorists.
The Handala Coalition, a group of Palestinian and allied organizations in Michigan, organized the controversial art show, which was held at the Swords Into Plowshares Peace Center and Gallery in Detroit from May 26 to June 17.
Tlaib visited the art gallery May 30 and posed for photos with several attendees and organizers, according to press reports and social media posts. 
In one picture posted to Facebook, Tlaib is smiling in front of what the Handala Coalition described as an "apartheid wall" with the words "We Will Return."
ISRAELI AMBASSADOR TO UN CONDEMNS TLAIB'S 'ANTISEMITIC LIES' AFTER CALLING ISRAEL 'APARTHEID STATE'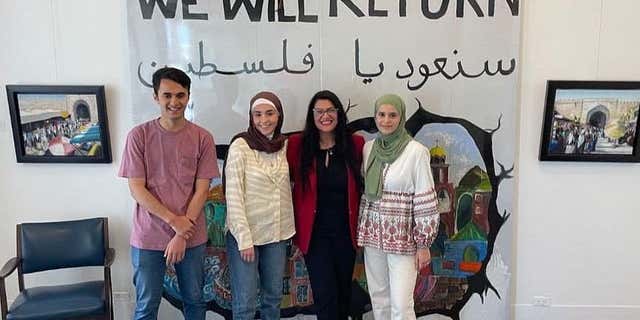 The words appeared to reference a call that pro-Palestinian activists often make for the so-called right of return of all Palestinian refugees to Israel.
'SQUAD' DEMOCRAT STRATEGIZES WITH RADICAL LEFT-WING GROUP WHOSE MEMBERS ARE UNDER FBI INVESTIGATION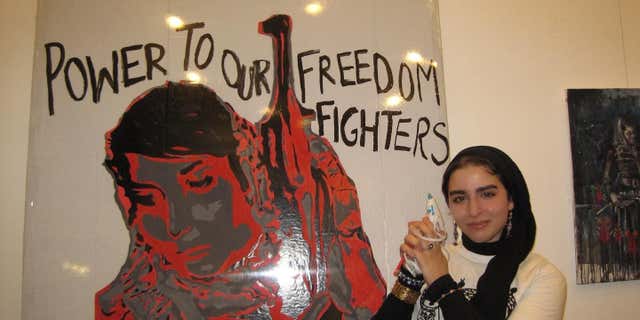 The United Nations uniquely classifies Palestinians, and no other people, as refugees at birth — even if they never fled persecution. So, the right of Palestinian refugees to return would mean all Arabs displaced after Israel's founding and their descendants could settle in Israel. Some activists have said such an outcome would end Israel's existence as a Jewish state.
The art show also featured a piece showing a Palestinian woman who appears to be holding a gun with the phrase "Power To Our Freedom Fighters, Glory To Our Martyrs." 
Several other works depicted Israel as a violent aggressor guilty of "land theft" and practicing "apartheid" against the Palestinians.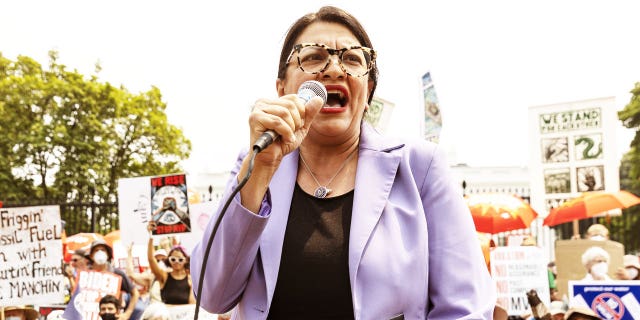 Prominent pro-Israel activist David Lange and Arab American News also both posted photos of the artwork, which included multiple pieces with the written message "From the river to the sea, Palestine will be free." 
A popular slogan among pro-Palestinian voices, the message refers to the creation of a Palestinian state stretching from the Jordan River in the east to the Mediterranean Sea in the west, an area within which the entire state of Israel is located. Leaders of Hamas, a U.S.-designated terrorist organization, are known to chant the slogan.
The art show also featured a canvas that said, "Free our martyrs. Free them all. Zionism will fall." Zionists are those who support a Jewish national home in the historic land of Israel.
According to reports and social media posts, another display at the gallery was a painting of Khader Adnan, a former spokesperson for the Palestinian Islamic Jihad, a U.S.-designated terrorist group. Adnan died earlier this year after a hunger strike following his arrest by the Israeli military over suspicion of his involvement in terrorist activities.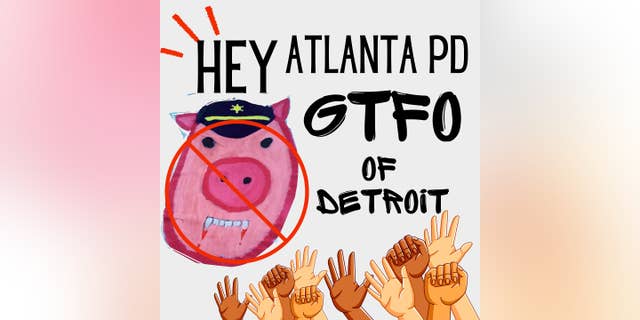 A separate chalk display commemorated Rasmea Odeh, a former American citizen convicted by the Israeli military in 1970 for her involvement in a bombing in Jerusalem by the Popular Front for the Liberation of Palestine, another U.S.-designated terrorist group. 
Odeh was later released as part of a prisoner exchange but was later convicted in the U.S. in 2014 for immigration fraud. She was sentenced to 18 months in prison and stripped of U.S. citizenship.
CLICK HERE TO GET THE FOX NEWS APP
Beyond Israel-related imagery, the Handala Coalition's Facebook page includes several provocative pictures with anti-police messaging, including one depicting an officer as a pig.
Tlaib, a Palestinian-American, has repeatedly called Israel an "apartheid state" that discriminates against Palestinians, even comparing the world's only Jewish state to Nazi Germany.
Earlier this year, House Republican leadership stopped Tlaib from hosting an anti-Israel event on Capitol Hill.