Gov. Sarah Huckabee Sanders on Thursday named Arkansas' top finance official, Larry Walther, to serve as state treasurer.
Sanders appointed Walther, the secretary of the Arkansas Department of Finance and Administration, to fill the vacancy created by Treasurer Mark Lowery's death last week. Lowery, a Republican, died after suffering two strokes over the past several months.
ARKANSAS TREASURER MARK LOWERY DIES AFTER SUFFERING 2 STROKES
Walther will serve in the post until 2025, when a newly elected state treasurer will take office. The treasurer manages the state's investments and serves on several state panels, including the boards of trustees for the Arkansas public employees and teachers retirement systems.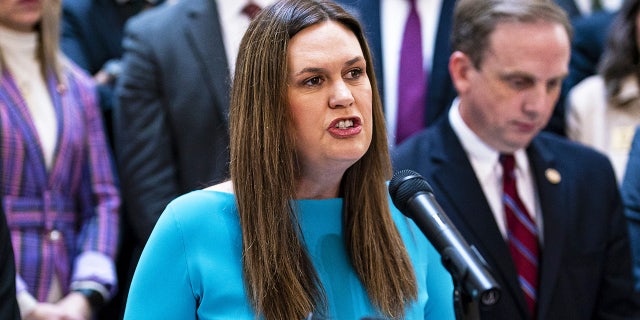 "We need a steady hand and a savvy head for business to oversee our state's investments, and Larry has both," Sanders said.
ARKANSAS EXCEEDS REVENUE EXPECTATIONS BY NEARLY $16M AT START OF FISCAL YEAR
Walther has headed the Department of Finance and Administration since 2015, when he was appointed to the post by then-Gov. Asa Hutchinson. He also served as director of the Arkansas Economic Development Commission under then-Gov. Mike Huckabee, Sanders' father. Walther is a former director of the U.S. Trade and Development Agency and former member of the Export-Import Bank's board of directors.
Sanders will announce a replacement for Walther as head of finance and administration next week, her office said.
CLICK HERE TO GET THE FOX NEWS APP
"I've made a commitment to the governor and I make the same commitment to each of you here today and the people of Arkansas to coordinate a smooth transition and to coordinate the duties of the office with integrity," Walther said.