Top Democrat lawmakers called the latest indictment of former President Donald Trump resulting from Special Counsel Jack Smith's probe into the Capitol riot "the most serious and most consequential thus far."
On Tuesday, Trump was indicted on four federal charges, including conspiracy to defraud the United States, conspiracy to obstruct an official proceeding, obstruction of and attempt to obstruct an official proceeding, and conspiracy against rights.
Senate Majority Leader Chuck Schumer, D-N.Y., and House Democrat Leader Hakeem Jeffries, D-N.Y., issued a joint statement Tuesday evening, saying the indictment details "a months-long criminal plot led by the former president to defy democracy."
"The insurrection on January 6, 2021 was one of the saddest and most infamous days in American history, personally orchestrated by Donald Trump and fueled by his insidious Big Lie in an attempt to undermine the 2020 election," the lawmakers stated.
TRUMP INDICTED ON CHARGES OUT OF SPECIAL COUNSEL PROBE INTO JAN 6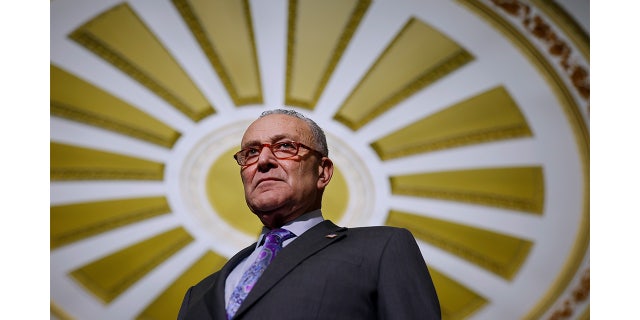 "In a deadly effort to overturn the will of the American people and block the peaceful transition of power, our nation's Capitol—the very symbol and home of American patriotism and democracy—fell under attack to thousands of vicious and violent rioters," they said.
"The third indictment of Mr. Trump illustrates in shocking detail that the violence of that day was the culmination of a months-long criminal plot led by the former president to defy democracy and overturn the will of the American people," the duo wrote.
"This indictment is the most serious and most consequential thus far and will stand as a stark reminder to generations of Americans that no one, including a president of the United States, is above the law. The legal process must continue to move forward without any outside interference," they continued.
TRUMP SAYS HE IS DOJ JAN 6 GRAND JURY INVESTIGATION TARGET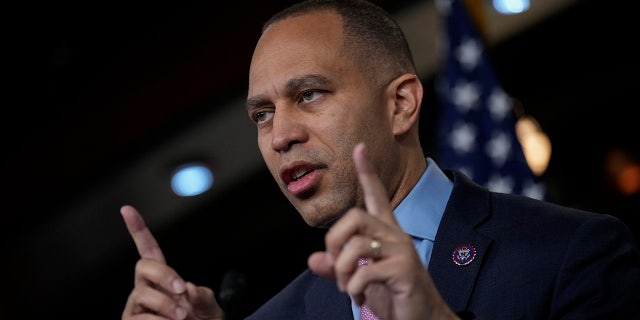 This is the second federal indictment the 45th president faces. Trump has already pleaded not guilty to 37 counts related to his alleged improper retention of classified records from his presidency.
Those charges include willful retention of national defense information, conspiracy to obstruct justice and false statements. Trump was charged with an additional three counts as part of a superseding indictment out of that probe last week.
Trump has also pleaded not guilty to 34 counts in New York in April stemming from Manhattan District Attorney Alvin Bragg's investigation. Trump is accused of falsifying business records related to hush-money payments made during the 2016 campaign.
READ IT: FULL INDICTMENT AGAINST DONALD TRUMP
This is the second time in U.S. history that a former president has faced federal criminal charges.
"The Defendant, Donald J. Trump, was the forty-fifth President of the United States and a candidate for re-election in 2020. The Defendant lost the 2020 presidential election," Smith's indictment states. "Despite having lost, the Defendant was determined to remain in power."
TRUMP PLEADS NOT GUILTY TO 37 FEDERAL FELONY CHARGES IN CLASSIFIED RECORDS CASE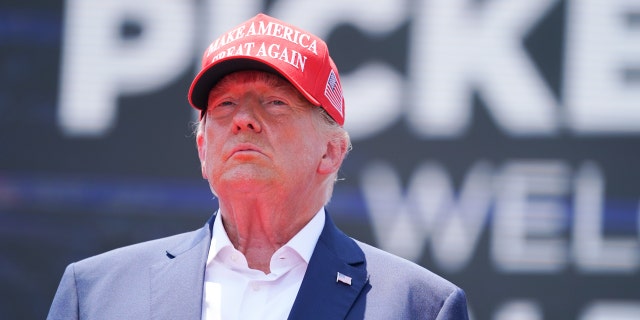 Smith alleged that "for more than two months following election day on November 3, 2020" Trump "spread lies that there had been outcome-determinative fraud in the election and that he had actually won."
"These claims were false, and the Defendant knew that they were false," Smith wrote. "But the Defendant repeated and widely disseminated them anyway — to make his knowingly false claims appear legitimate, create an intense national atmosphere of mistrust and anger, and erode public faith in the administration of the election."
Smith also alleged that Trump, between Nov. 14, 2020, and Jan. 20, 2021, "did knowingly combine conspire, confederate, and agree with co-conspirators, known and unknown to the Grand Jury, to defraud the United States by using dishonesty, fraud and deceit to impair, obstruct and defeat the lawful federal government function by which the results of the presidential election are collected, counted, and certified by the federal government."
There are also six unnamed co-conspirators in the indictment.
Trump currently sits as the GOP front-runner in the 2024 presidential election. A Trump campaign spokesperson said Tuesday in a statement, "President Trump has always followed the law and the Constitution, with advice from many highly accomplished attorneys."
CLICK HERE TO GET THE FOX NEWS APP
"These un-American witch hunts will fail and President Trump will be re-elected to the White House so he can save our Country from the abuse, incompetence, and corruption that is running through the veins of our Country at levels never seen before," the spokesperson continued.