Minnesota's legalization of recreational marijuana went into effect Tuesday, allowing people 21 and older to legally possess and grow their own marijuana for recreational purposes, subject to limits as the state establishes a legal cannabis industry in the coming months and years.
The Midwestern state is the 23rd in the country to legalize recreational marijuana. Surrounding states — including Wisconsin, Iowa, Nebraska, South Dakota and North Dakota — have not yet legalized it.
At least two tribal nations in northwestern Minnesota are expected to open dispensaries for recreational marijuana this month. The Red Lake Nation and the White Earth Nation are using their tribal sovereignty to allow sales.
MARIJUANA WILL OFFICIALLY BE LEGAL IN MINNESOTA STARTING AUG. 1: HERE'S WHAT YOU NEED TO KNOW
But most other businesses aren't expected to sell legal recreational marijuana until early 2025, as the state sets up a licensing and regulatory system for the new industry.
Dennis Buchanan, who owns The THC Joint in Minneapolis and two other cannabis-related businesses in the state, said he's not expecting to sell marijuana until 2025. However, he is expecting to sell more marijuana-related accessories to meet demand now that legalization has taken effect.
"We'll sell more pipes and things that you need to consume product," Buchanan said, adding, "I'm going to have 999 bongs on the wall instead of 99."
Minnesota restaurants, breweries and stores like Buchanan's have already been selling drinks, gummies and candies that contain up to 5 milligrams per serving of hemp-derived THC — the ingredient in marijuana that creates a high — since last year when the state passed a law to allow it.
But now, retailers can start selling marijuana seeds if they comply with labeling and other requirements set by the Minnesota Department of Agriculture.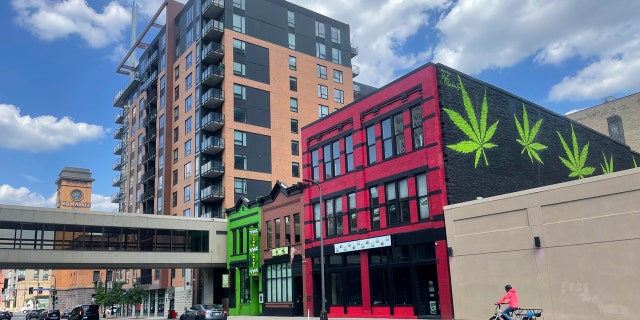 Ian Davis, owner of Green Nectar Cultivation — a seed bank in Minnesota — said Legacy Glassworks in Minneapolis, and other retailers he works with around the state, have started selling marijuana seeds to customers.
"The phone's been ringing off the hook this morning," said Erik Molyneux, a manager at Legacy Glassworks. "We've had 10-plus phone calls to see if we're stocking seeds, and then we've had six customers come in immediately after the phone calls to purchase seeds."
Alex Esch, 30, bought six marijuana seeds at the store for about $100 in the early afternoon.
"I'm really happy that there's finally a path for people to go forward and not be shunned just for having medicine," Esch said, adding that he owns a glassblowing company in Richfield, a suburb of Minneapolis.
Other customers entered the store and exclaimed, "Happy Legalization Day!" to the smiling staff.
Under state law, adults can now grow up to eight plants at home, with no more than four flowering at a time. The plants must be grown in an enclosed, locked space that's not open to public view, whether that's indoors or in a garden.
"It just seems like everybody's eager to grow and excited about the new law," Molyneux said. "So we're happy to provide the retail space and the education needed to do so."
MINNESOTA CITIES CONSIDER BAN ON SMOKING MARIJUANA ON SIDEWALKS, IN PARKS AS DRUG NEARS LEGALIZATION
Adults can also possess and travel in the state with 2 ounces of cannabis flower, 8 grams of concentrate and 800 milligrams worth of THC-containing edible products such as gummies and seltzers. They can have up to 2 pounds of cannabis flower at home.
It remains illegal under federal law to bring marijuana in from out of state. Federal law also still prohibits cannabis consumers from owning firearms or ammunition.
The federal Bureau of Alcohol, Tobacco, Firearms and Explosives has said that regardless of Minnesota's new law, a "current user" of marijuana is defined as an "unlawful user" for federal purposes. That means people following state law are still prohibited from having guns and marijuana.
CLICK HERE TO GET THE FOX NEWS APP
Gun purchasers must fill out an ATF form saying whether or not they use marijuana. Lying on the form is a felony under federal law.