Illinois Democratic Gov. JB Pritzker said on the social media platform X, formerly Twitter, that Florida Gov. Ron DeSantis was not "smart enough to be president" after the Republican criticized a new Illinois state law allowing non-citizens to serve as police officers.
"This man isn't smart enough to be president," Pritzker said Tuesday of DeSantis, who is seeking the Republican nomination for the 2024 presidential election.
Pritzker added: "I proudly signed the bill allowing legal permanent residents & DACA recipients in IL to serve their communities as police officers. Our military already does it & it's the right thing to do—no matter what lies the right-wing spreads." 
The post came in response to DeSantis, who sharply criticized Pritzker for signing Illinois House Bill 3751 into law, which no longer requires U.S. citizenship as a qualification to becoming a police officer in the state.
ILLINOIS GOV. PRITZKER ALLOWS NON-US CITIZENS TO BECOME POLICE OFFICERS WITH NEW LAW: 'FUNDAMENTALLY BAD IDEA'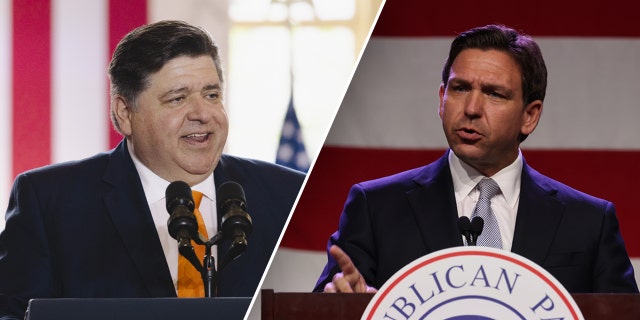 "To the Left, citizenship is meaningless," DeSantis wrote in a post on Monday. "Illinois is now letting illegal aliens become police officers."
The presidential candidate also contrasted Illinois to his home state, writing: "In Florida, we took action to combat the harms of Biden's border crisis. We also value our citizen officers who serve and protect our communities." 
DeSantis added: "As President, I will restore American sovereignty. No illegal alien should have authority over any American citizen. It is a sad commentary on the state of America that this is even a debate."
ILLINOIS CASH BAIL ELIMINATION BUILT ON 'OVERDRAMATIZATION' PERPETRATED BY CITY LEADERS: FORMER POLICE CHIEF
The Florida governor joined a chorus of Republicans at the state and federal levels that criticized Pritzker's signing of the new Illinois law last week. It also faced heavy opposition from prominent police groups.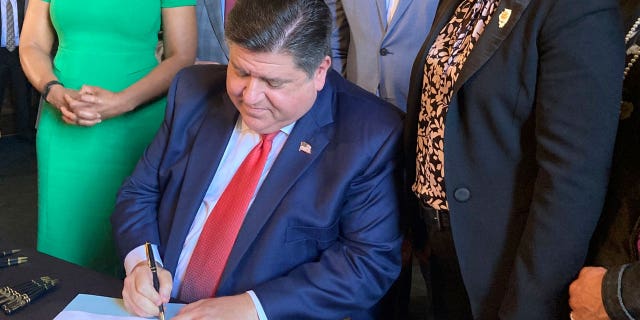 On Monday, Pritzker defended the legislation at a press conference when he said it would be limited to individuals who are legally allowed to work in the United States and who are legally allowed to possess firearms, NBC Chicago reported. 
Pritzker also addressed Republican criticisms, saying are misrepresenting the bill.
"I am tired of the right-wing twisting things," he said. "They put it on Facebook, they tell lies. There are people out there that think we're just allowing anybody to become a police officer. That's just not accurate."
ILLINOIS COLLEGE ORDERED TO PAY $80K FOR SILENCING CONSERVATIVE VIEWS
The law was signed by the Democratic governor on Friday and will go into effect on January 1, 2024, despite its opposition. It was introduced amid police shortages in Illinois, as departments struggle and recruiting and retaining challenges.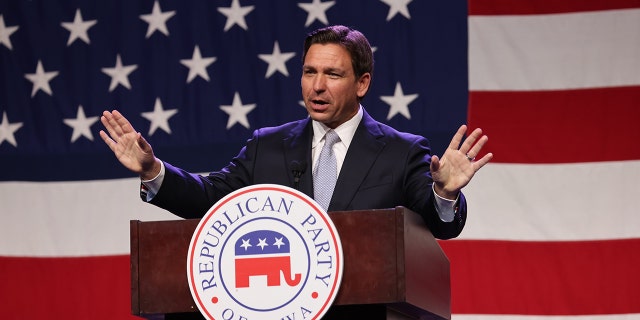 The bill "provides that an individual who is not a citizen but is legally authorized to work in the United States under federal law is authorized to apply for the position of a police officer, subject to all requirements and limitations, other than citizenship, to which other applicants are subject," HB3751 reads, adding that non-U.S. citizens must be able to obtain, carry, purchase, or otherwise possess a firearm under federal law to apply for the job.
CLICK HERE TO GET THE FOX NEWS APP
Non-citizens in the country under the Deferred Action for Childhood Arrivals (DACA) Act can also apply for a position to join law enforcement, per the bill. 
Pritzker previously said he would support President Biden in 2024.
Fox News' Yael Halon contributed to this report.