Hunter Biden told his longtime friend and business partner Devon Archer that they would get the "last laugh" after Archer said that the judge threw out his conviction, according to 2018 text messages reviewed by Fox News Digital.
Archer, who is set to appear before the House Oversight Committee Monday and is reportedly preparing to tell lawmakers about President Biden's interactions with dozens of Hunter's business associates while he was serving as vice president, informed Hunter Biden in a November 2018 text message that the "judge threw out my conviction today."
"Thank f—ing god! First good news in way too long my friend. I am so happy for you. I know its [sic] been a living hell but put it behind you now and take great steps forward," Hunter replied.
"Love you brother," Archer said. 
DEVON ARCHER, THE MAN WHO WILL TESTIFY TO CONGRESS ABOUT HIS BUSINESS DEALINGS WITH HUNTER BIDEN: WHO IS HE?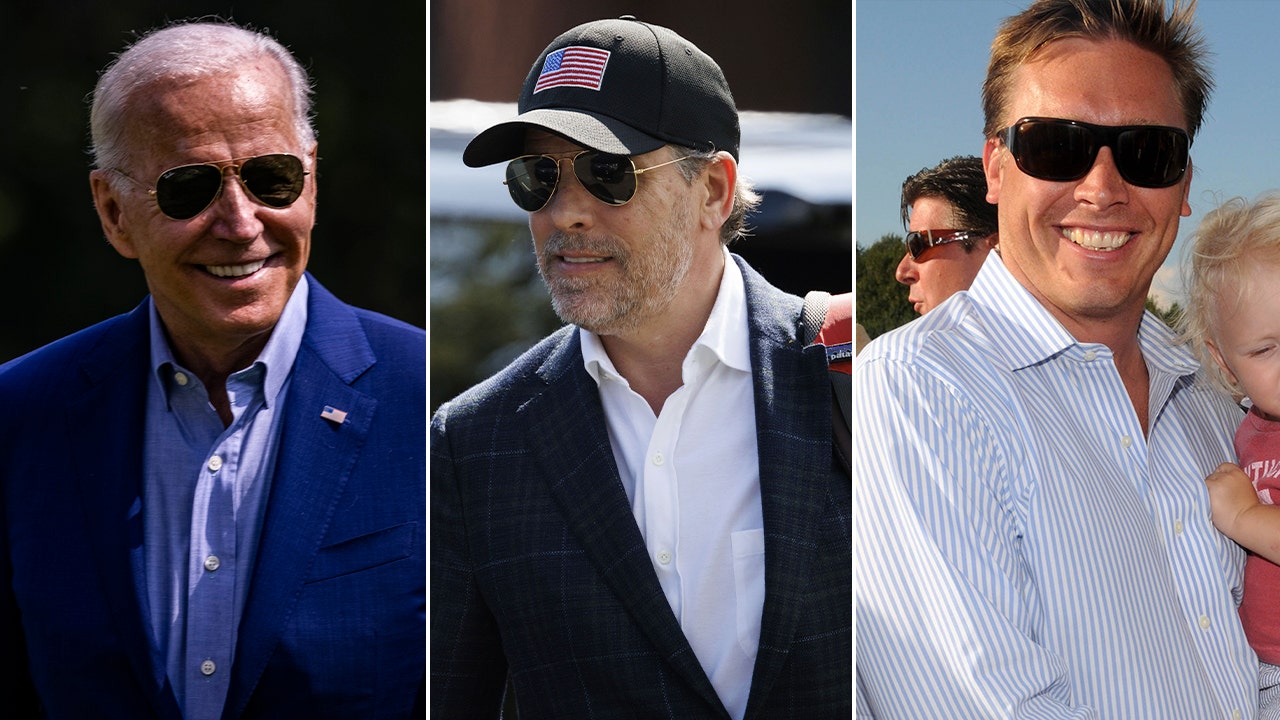 Hunter then appeared to refer to the Department of Justice as "motherf—ers' and said he and Archer will "have the last laugh."
"I swear to god we'll have the last laugh," Hunter said.
"I know. And I mean it. Can I please come see you now that I'm not a felon!?!" Archer said. "Don't answer that. Just when and where?"
Hunter joked that he liked Archer "better as a felon" and that he was in Newburyport, Massachusetts for the next week, but to call him.
U.S. District Judge Ronnie Abrams in Manhattan ruled on that day that evidence that was presented earlier that year against Archer did not show that he "knew that the bond issue was fraudulent, or that he received any personal benefit from it," according to Reuters. 
Abrams added that she was "left with an unwavering concern that Archer is innocent of the crimes charged."
HUNTER'S BUSINESS PARTNER DEVON ARCHER IN 'HIDING' AHEAD OF BOMBSHELL TESTIMONY: REPORT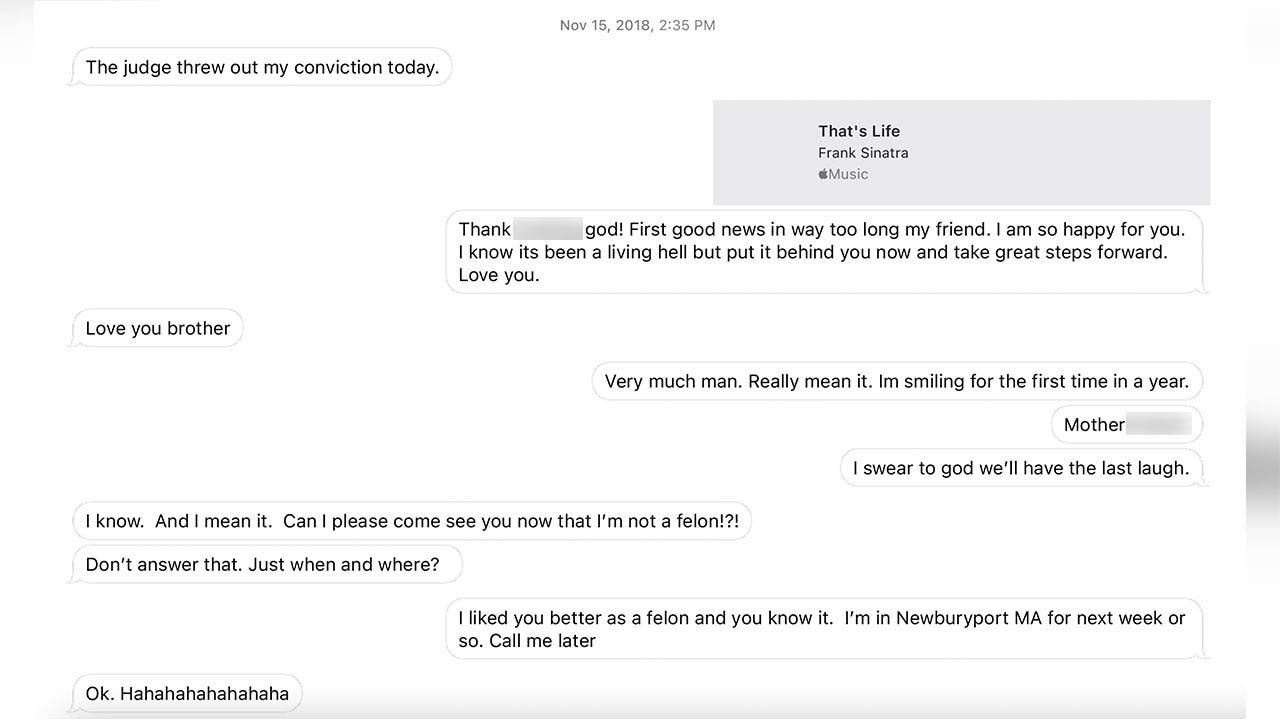 The 2018 text exchange and thousands of emails exchanged between Hunter Biden, Archer, and dozens of business associates over the course of a decade will be front and center as Archer goes before the House Oversight Committee to testify behind closed-doors on his business dealings with Hunter and reportedly explosive allegations about the elder Biden joining his son on business calls and meeting with his business associates.
"Devon Archer believes strongly in the rule of law and the democratic system, and is prepared to answer the Committee's questions just as he has already answered similar questions from a federal grand jury, the Department of Justice, and several other government agencies in their investigations concerning the Biden family," Archer's attorney Matthew Schwartz said this past week.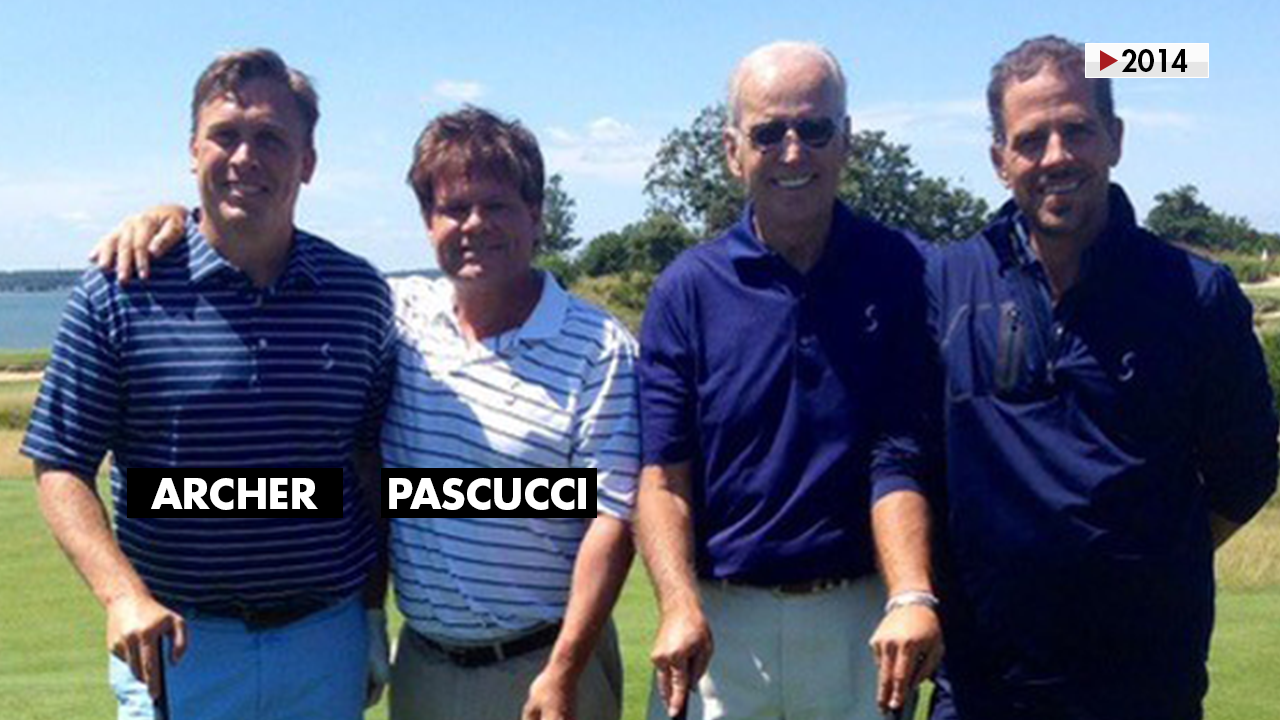 BIDEN'S NARRATIVE ON NEVER DISCUSSING BUSINESS DEALS WITH HUNTER CONTINUES TO CRUMBLE
Archer's intimate knowledge of the business arrangements come after years of working closely with Hunter, including on the board of Ukrainian natural gas firm Burisma Holdings with him, beginning in 2014.
He also co-founded investment firm Rosemont Seneca alongside the president's son and Climate Envoy John Kerry's stepson, Christopher Heinz. Archer served as managing director.
Archer co-founded BHR Partners in 2013— a joint-venture between Rosemont Seneca and Chinese investment firm Bohai Capital. BHR Partners is a Beijing-backed private equity firm controlled by Bank of China Limited.
Months after Hunter and Archer joined the Burisma board, Hunter expressed gratitude for Archer's friendship in an unprompted email.
"Just wanted to let you know- at the risk of sounding melodramatic- how much I love you. You have been a great friend through thick and thin, and I wanted to make sure you know how much I appreciate it,"Hunter said to Archer. "I know I haven't made it easy being my partner at times, but more than anyone outside my brother you have been there for me. And don't worry I'm not planning on jumping off bridge or anything- just thought I should let you know how much your friendship means to me. Love, H"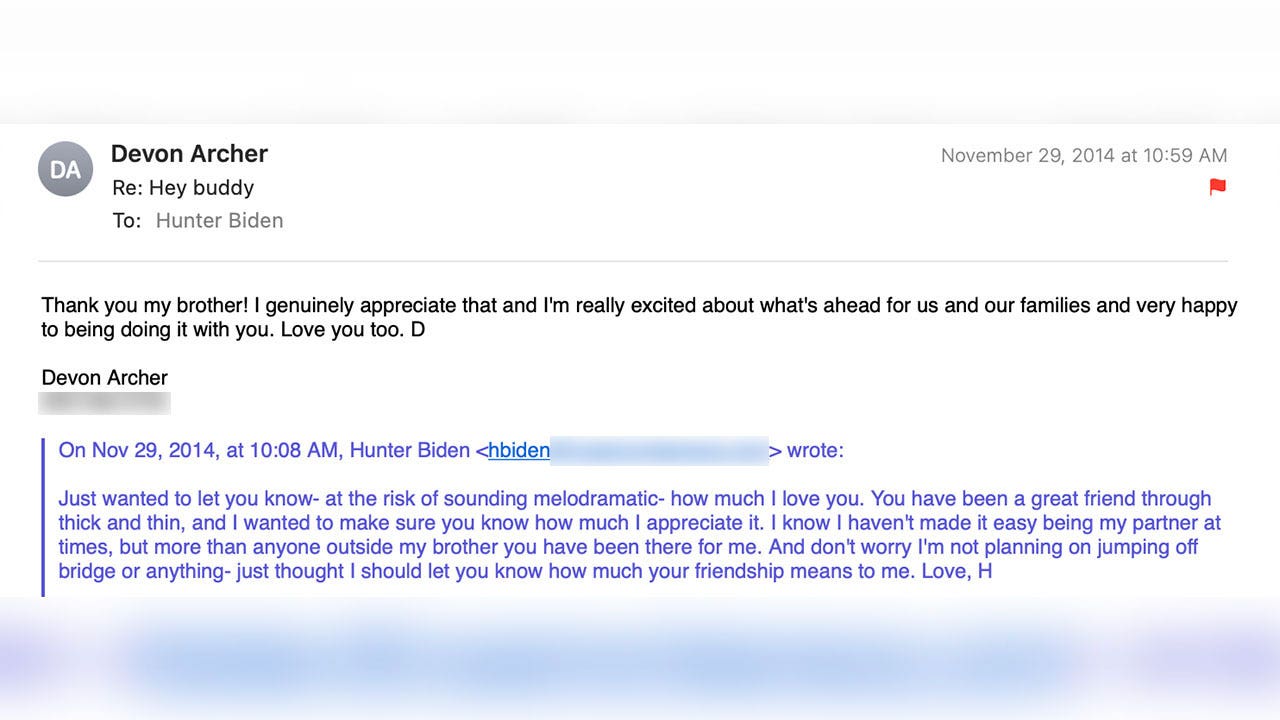 "Thank you my brother! I genuinely appreciate that and I'm really excited about what's ahead for us and our families and very happy to being doing it with you," Archer replied.
In April, Fox News Digital reported that at least four business partners, a vice president and two assistants at Rosemont Seneca Partners visited the White House more than 80 times when Biden was vice president, including Archer.
Archer visited Biden at least twice in 2009 and 2014 during his vice presidency. The December 2009 visit was a holiday reception at Biden's vice presidential residence, and the April 2014 visit was with Biden in the West Wing.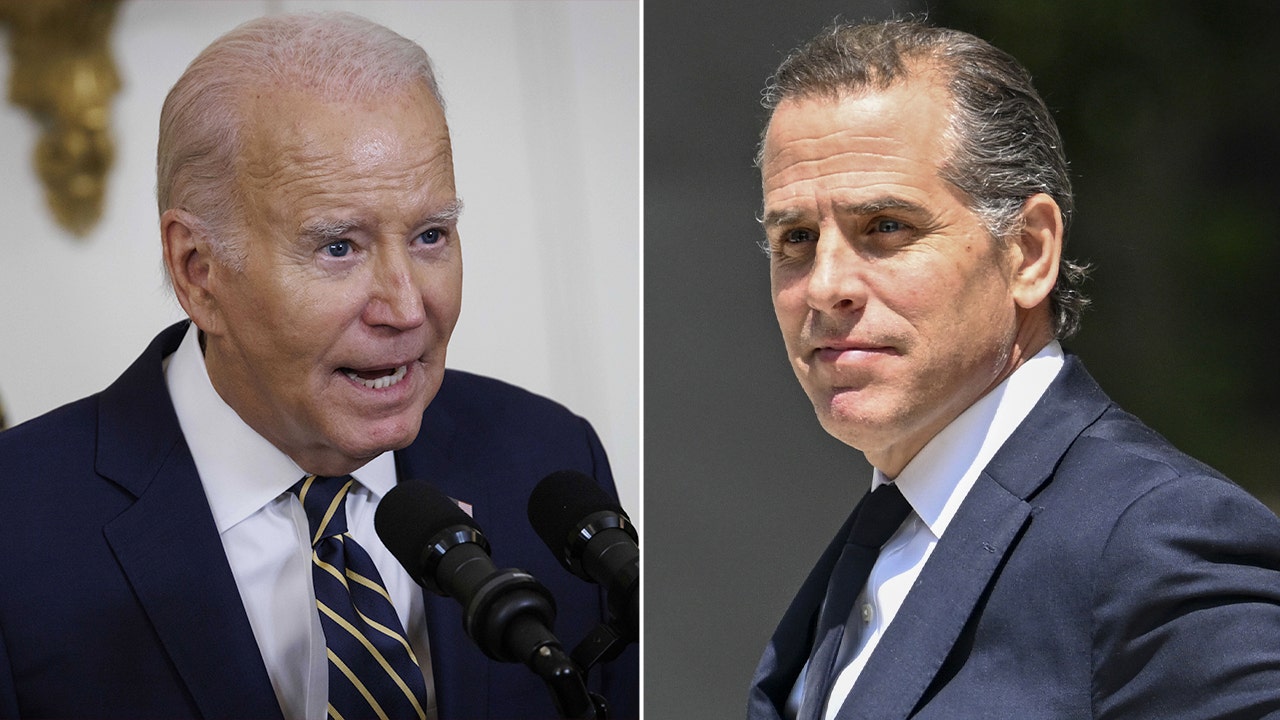 Archer also played golf with Biden and Hunter at least once during the Obama administration in August 2014 in the Hamptons, four months after Hunter and Archer joined the board of Burisma Holdings. A few days after Biden returned from the infamous December 2015 Ukraine trip, Archer also attended Biden's holiday party at Biden's vice presidential residence along with Hunter, his longtime business partner Eric Schwerim, and Sebastian Momtazi, who also had a Burisma.com email address.
Fox News Digital previously reported that Biden met at least 14 of Hunter's business associates while he was vice president.
Archer is facing legal issues of his own. Despite his conviction being thrown out in 2018, it was reinstated by the Second Circuit Court of Appeals a month before the 2020 election and he was sentenced to a year and a day prison last February. 
He is expected to report to prison soon for his role in defrauding a Native American tribal entity and various investment advisory clients of tens of millions of dollars in connection with the issuance of bonds by the tribal entity and the subsequent sale of those bonds through "fraudulent and deceptive means," according to the Department of Justice. He was convicted last February, but his sentence has been postponed by a series of appeals.
The U.S. Attorney's Office for the Southern District of New York on Saturday wrote to trial judge Ronnie Abrams requesting her to schedule a date for Archer to report to prison. However, a DOJ letter says Archer's counsel argues it is "premature" to set a sentencing date, citing Archer mulling over further appeals.
Attorneys for Hunter Biden and Devon Archer did not respond to Fox News Digital inquiries on who is expected to have the "last laugh" after Archer testifies.
Fox News' Brooke Singman and Jessica Chasmar contributed reporting.