San Diego's new law banning homeless people from camping in many parts of the city took effect over the weekend, and police enforcement begins Monday.
"They're pushing them off the streets so it looks better," Naomi Harris, a homeless mother, told ABC 10News. "They are worried about the looks — they aren't worried about the people."
More than 2,100 people were living on the streets of downtown San Diego as of May, the highest level in the 11 years the Downtown San Diego Partnership has been tracking the numbers.
The Unsafe Camping Ordinance bans tent encampments in all public spaces throughout the city if shelter beds are available. It also prohibits camping within two blocks of schools or shelters, in city parks and open spaces, and near transportation hubs at any time, regardless of shelter capacity.
OUT-OF-TOWNERS FLOCKING TO CALIFORNIA CITY MAKE UP MAJORITY OF DRUG ARRESTS, POLICE SAY
City council members passed the ordinance 5-4. San Diego Mayor Todd Gloria signed the ordinance into law on June 29, but it included an amendment stating it would not take effect until 30 days after the city's first safe sleeping site was opened.
"It is right and appropriate for us to set the expectation that people experiencing homelessness must avail themselves of the services we are providing," Gloria said according to the Times of San Diego.
SAN DIEGO HOMELESS WOMAN SAYS THEY'RE 'SPOILED' WITH FREE STUFF:
WATCH MORE FOX NEWS DIGITAL ORIGINALS HERE
Police enforcement will be progressive, according to the city. A homeless individual will be warned once that they are in violation of the ordinance. A second police contact could result in a misdemeanor citation and a third police encounter could result in arrest.
Outreach teams have been warning people in encampments near schools and parks about the ordinance for weeks, according to the city.
"If they arrest 'em, what's gonna happen?"
One corner of downtown San Diego that was previously covered in tents was already empty as of Sunday afternoon, ABC 10News reported.
The manager of a San Diego eatery told the outlet he was not sure how effective enforcement would be.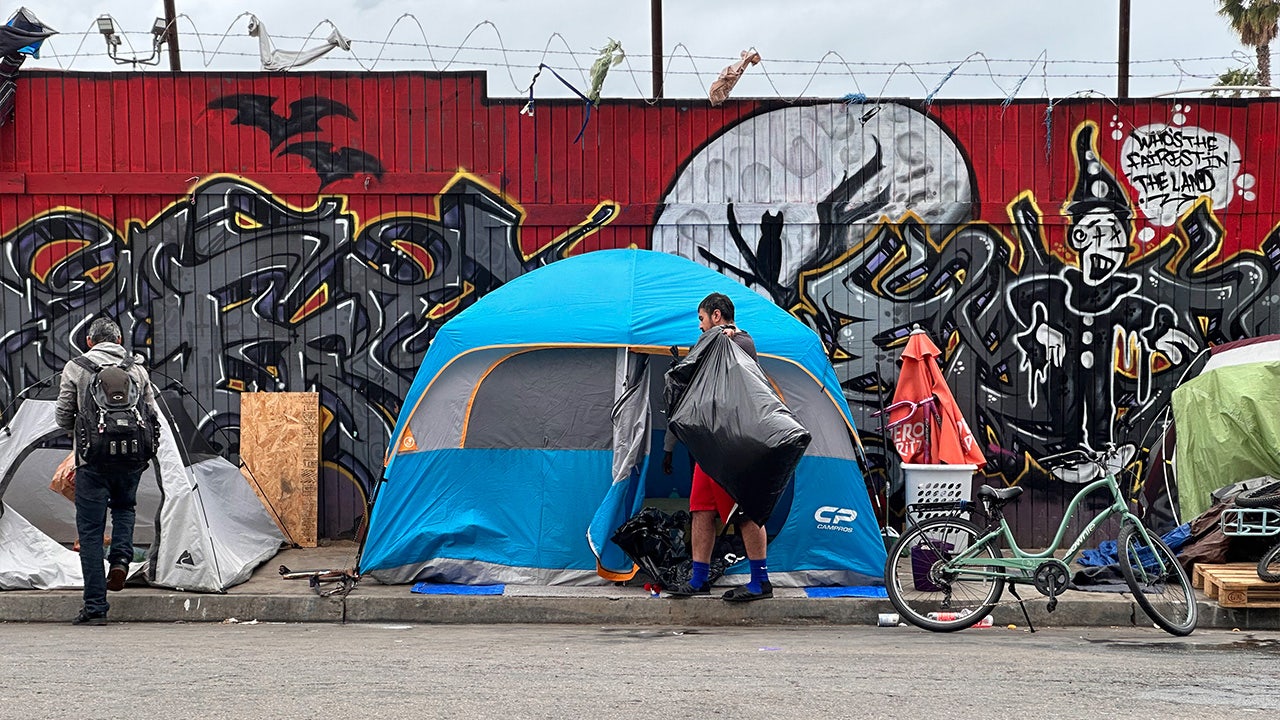 CLICK HERE TO GET THE FOX NEWS APP
"If they arrest 'em, what's gonna happen?" Josue Santa Cruz asked. "The jails are going to pack, and then they're going to stink."
Under the ordinance, data will be presented to the city council on the number of people contacted, cited and arrested.