Ryan Kelley, a candidate in Michigan's 2022 Republican gubernatorial primary, has pleaded guilty to a misdemeanor charge for participating in the Jan. 6, 2021, Capitol riot.
Kelley defended the riot at a debate last year, calling it "a First Amendment activity by a majority of those people, myself included."
Kelley placed third in the primary, coming in behind media personality Tudor Dixon and businessman Kevin Rinke. Dixon lost the general election to Democratic incumbent Gretchen Whitmer in a landslide.
A former Republican candidate for Michigan governor pleaded guilty on Thursday to a misdemeanor charge for his participation in the U.S. Capitol riot on Jan. 6, 2021.
Ryan Kelley pleaded guilty more than a year after the ardent supporter of former President Donald Trump was arrested in the case, roiling the already messy gubernatorial Republican primary. Kelley, a real estate broker, finished fourth in a field of five Republican candidates.
An email seeking comment was sent to Kelley's attorney on Thursday. Kelley had previously decried the prosecution as a "witch hunt," and after his arrest his campaign posted on Facebook the words "political prisoner."
FORMER MAINE LEGISLATIVE CANDIDATE ARRESTED ON JAN. 6-RELATED CHARGES
His attorney, Gary Springstead, told The Detroit News last month that Kelley wants to "put this behind him so he can focus on his family and his successful career as a commercial real estate agent."
Kelley pleaded guilty to a charge of illegally entering a restricted area and is scheduled to be sentenced on Oct. 17. His trial was supposed to start on July 31, before he reached a plea agreement with federal prosecutors.
Kelley came to Washington to protest the certification of the 2020 election won by President Joe Biden, and joined the crowd that marched from the "Stop the Steal" rally to the Capitol, according to court documents.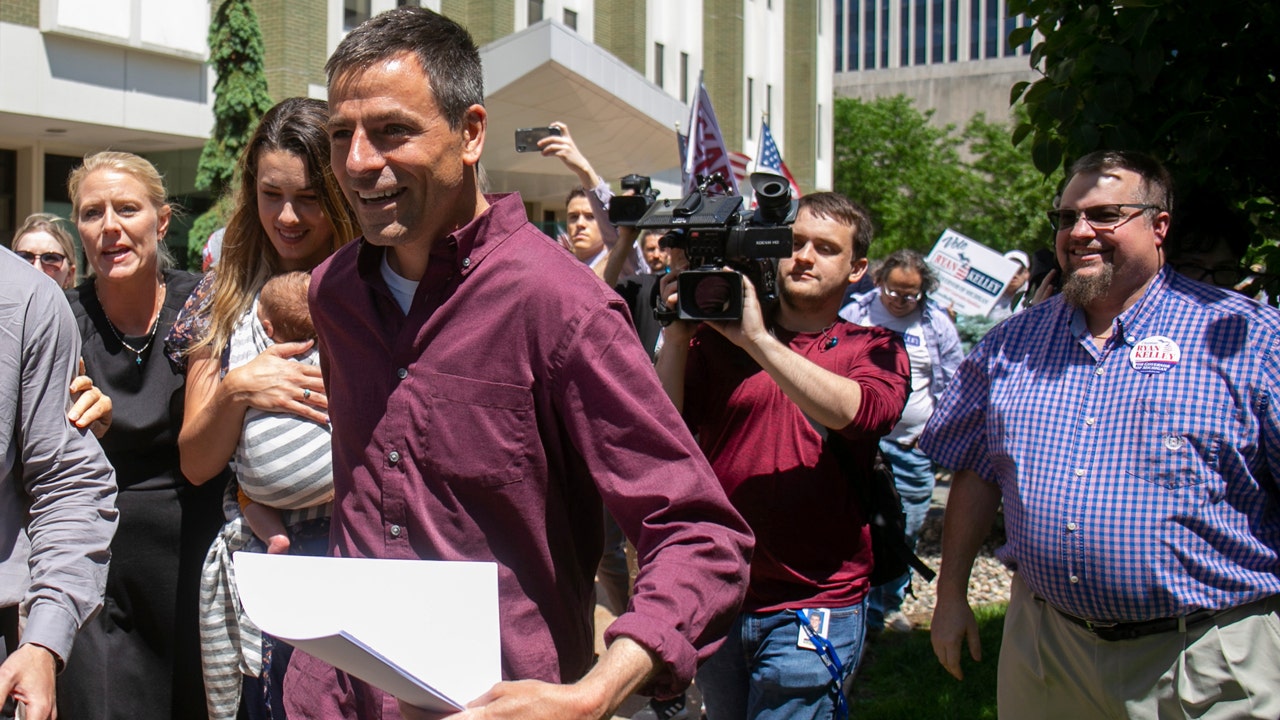 Kelley climbed an "architectural feature" outside the Capitol and then gestured for other rioters behind him to move toward stairs leading up to the building, court papers say. Kelley also pulled a covering off a structure that had been set up for Biden's inauguration.
Conservative commentator Tudor Dixon won the Republican primary but ultimately lost to incumbent Gov. Gretchen Whitmer, a Democrat, in November.
At a debate last year, Kelley said the riot was "a First Amendment activity by a majority of those people, myself included."
MICHIGAN GOV. WHITMER SIGNS OFF ON SO-CALLED 'CONVERSION THERAPY' BAN
"We were there protesting the government because we don't like the results of the 2020 election, the process of how it happened. And we have that First Amendment right. And that's what 99% of the people were there for that day," he said.
Kelley was wearing some of the same clothing on Jan. 6 that he was at an American Patriot Council rally in Lansing, Michigan, in May 2020. Kelley spoke at the rally against extending Gov. Whitmer's emergency declaration for the COVID-19 pandemic.
Kelley also spoke at a "Stop the Steal" rally at the state Capitol in Lansing in November 2020, shortly after the presidential election. Kelley urged others at the rally to "stand and fight, with the goal of preventing Democrats from stealing the election," the FBI said.
CLICK HERE TO GET THE FOX NEWS APP
He also said COVID-19 "was made so that they can use the propaganda to control your minds so that you think, if you watch the media, that Joe Biden won this election. We're not going to buy it. We're going to stand and fight for America, for Donald Trump. We're not going to let the Democrats steal this election."