EXCLUSIVE: A top official with Washington state's biggest school district told a fourth-grade elementary school teacher that a student's pronoun change should not be shared with the parents, "regardless of age," unless the student consents, emails obtained by Fox News Digital reveal.
In March of last year, a Seattle Education Association (SEA) board member and fourth-grade teacher reached out to Seattle Public Schools (SPS) to request a training at an SPS school on LGBTQ best practices, according to emails Fox News Digital obtained in a public records request.
"It came to my attention here that staff admin have disagreed about how best to support nonbinary students, and I asked admin whether we could have training on best practices," John Shaw wrote to Lisa Love, the manager of the Health Education Department at SPS, on March 1, 2022.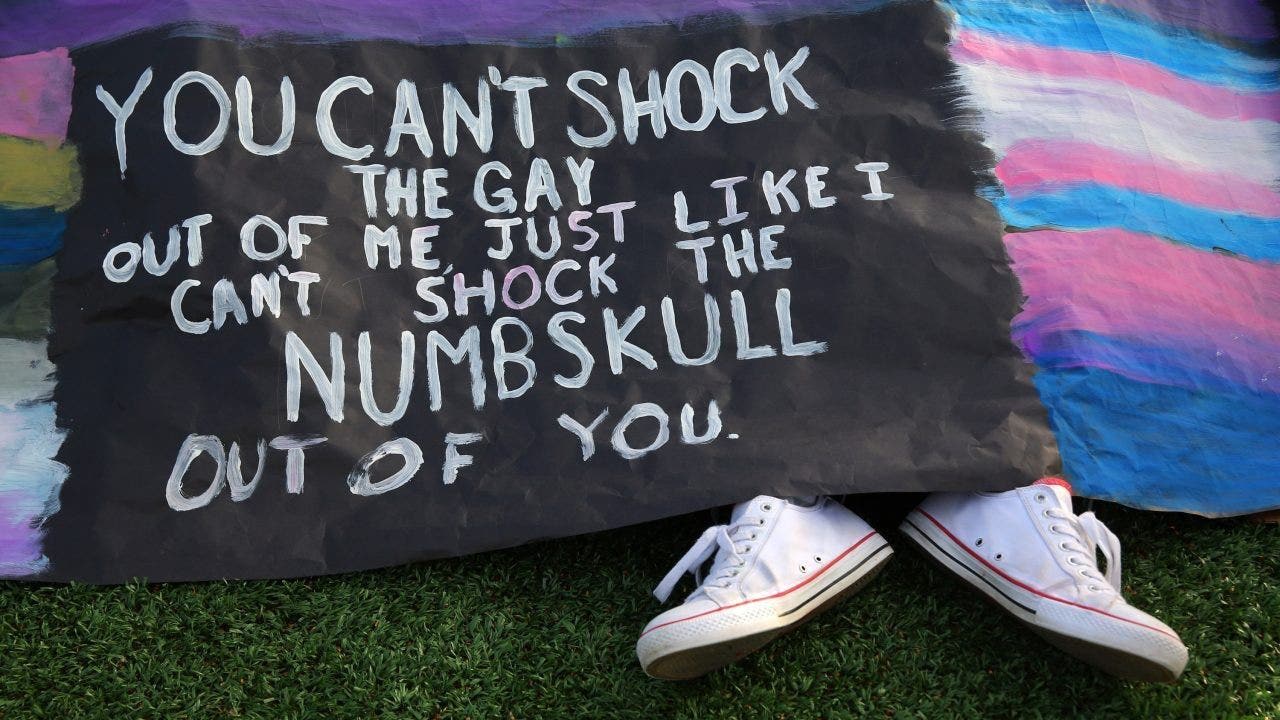 SEATTLE SCHOOL DISTRICT TEACHES YOUNG KIDS HOW 'PEOPLE GET PREGNANT,' TRADES 'MALE' FOR 'PERSON WITH SPERM'
Love quickly responded that she was happy to help and added, "Also, it is helpful to know whether there is a current situation folks are grappling with, or if there are any 'landmines,' I should be aware of."
The next day, Shaw obliged, telling Love of two alleged instances on campus: One in which an SPS principal asked a teacher to remove a Pride flag from her classroom at the request of a parent, and in the other instance, a principal had directed a teacher to notify the parents of a student who asked to be addressed with "they/them" pronouns.
"Another teacher told me that she had a student who asked to be addressed with they/them pronouns," he wrote. "The teacher emailed the other staff who worked with the student (specialists). The principal directed the teacher to notify parents first. The teacher did not feel that that would've been the best choice; the principal notified the parents on their own."
"After learning these things I called an SEA building meeting," he continued. "The group decided to ask for training. I brought the request to the principal. She approved it and directed me to arrange for the training. I believe that she is sincere in her wish for training, and to know best practices; I trust her good intentions, though I disagree with the decision she made regarding the student in their family."
BOSTON CHILDREN'S HOSPITAL DELETES REFERENCES TO VAGINOPLASTIES FOR 17-YEAR-OLDS AMID ONLINE FUROR
Shaw added that the principal had given him a couple of "warnings" about how some Christian families and staff members might object.
"Some families are uncomfortable with any discussion of sexuality regarding elementary students," he recalled the principal saying. "We have a number of staff members who identify as Christian, who have indicated, implied, or said outright (I'm not exactly sure) that they would not be comfortable dealing with these issues directly. (I don't suspect that anybody on staff would intentionally or overtly reject a student.)"
Love thanked Shaw for the information and added, "Spoiler alert; flags can be flown, I have posters and lanyards, and will bring or send you some, parents should not be notified without student permission, regardless of age, and any conversation about student identities is just that — identities. We do not discuss sexual activity with elementary age kids."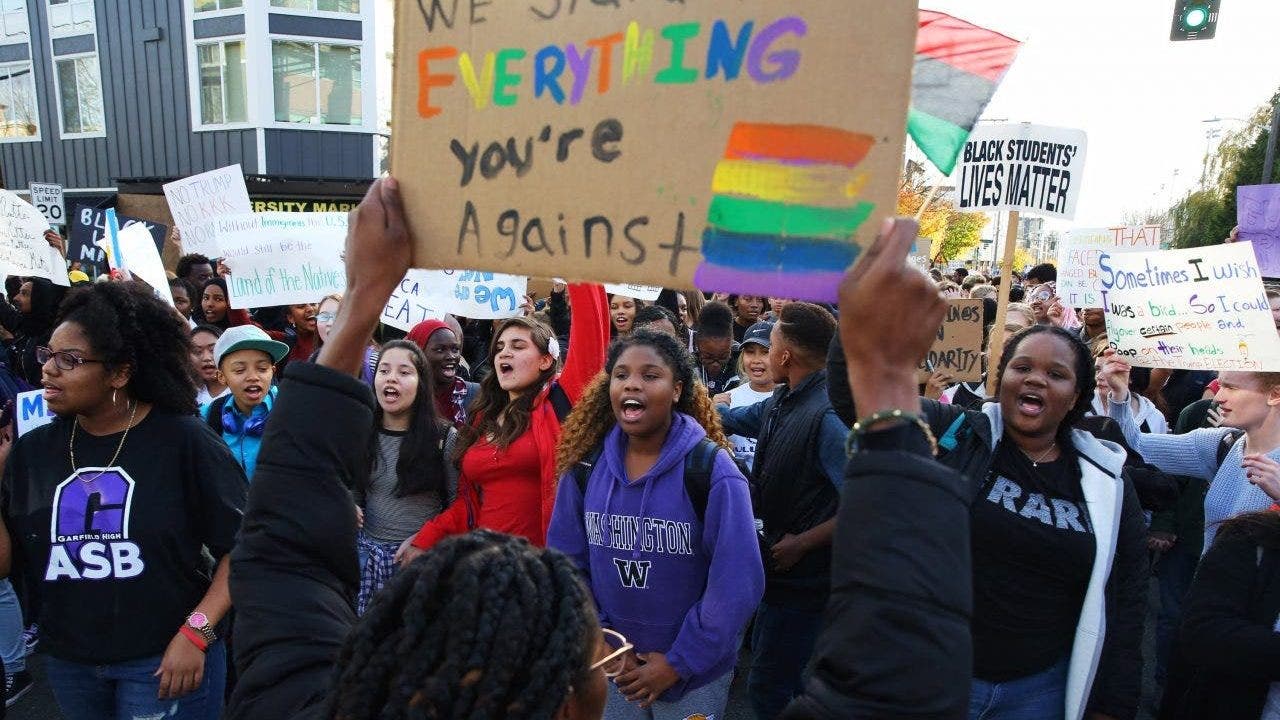 Shaw replied that while the principal agreed to attend the training, she suggested it be optional for staff.
"The principal plans to attend (growth mindset, yay!) and suggested that we make the training optional, though she said that if we request it, she would make it mandatory," Shaw said. "She wants to respect those staff member members who would not want to participate. I said that I understand her hesitation, and would get back to her."
FLORIDA EDUCATION BOARD EXPANDS LIMITATIONS ON GENDER IDENTITY LESSONS IN PUBLIC SCHOOLS
Love said the training should be mandatory before climbing on her so-called "soapbox."
"As you might imagine, I think it should be mandatory," Love told Shaw. "Optional training suggests it is not important for all staff to have the same information. Just because someone is uncomfortable, does not excuse them from learning about their role, responsibility, and what they are obligated to do or not do by state law or district policy."
"I would love to see your whole staff, receive the same important information that can help alleviate fears and provide concrete steps and skills they can use in classes," Love continued. "Also, all of our schools have had, currently have, and will have LGBTQ students, staff, and families. We don't have the option to select who we serve, and therefore should all learn about how to best support these folks."
"OK off my soapbox," she concluded.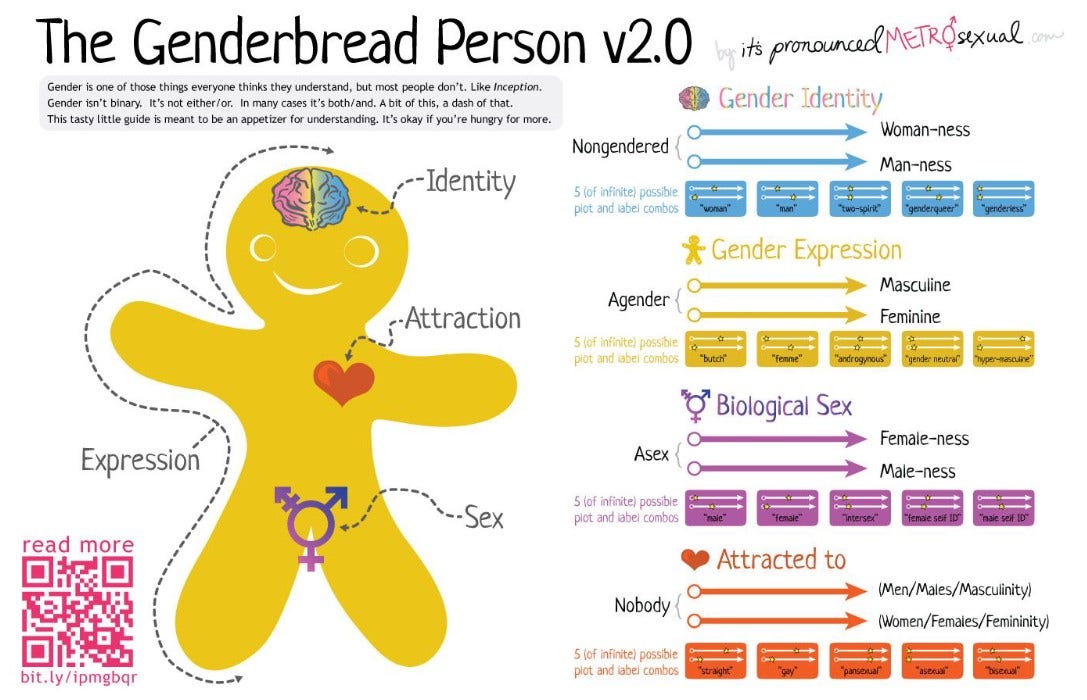 Shaw responded the next day, saying he felt bad for initially questioning whether the training should be mandatory.
"I feel sheepish about my waffling on that," he said. "I spoke with the two teachers who brought concerns to me; the first one said essentially the same as you, and how could I disagree? An optional training would result in… Maybe half the staff attending, I would guess."
"I'll talk to the principal today," he added.
SPS policy on transgender and nonconforming students stipulates that "school personnel should not disclose a students transgender status to others, including the students, parents and/or other school personnel, unless 1) legally required to do so, or 2) the student has authorized such disclosure."
"Whenever discussing a particular issue such as conduct, discipline, grades, attendance, or health with a transgender, or gender nonconforming student, focus on the conduct or particular issue, and not on any assumptions regarding the students actual or perceived gender identity," the policy continues. 
"When contacting the parents of a transgender or gender nonconforming student, school personnel should avoid gender pronouns, unless the student has been consulted first to determine an appropriate way to reference the students gender identity. For example, one could say 'I am calling about P.J.'s attendance,' rather than, 'I am calling about your son's attendance.'"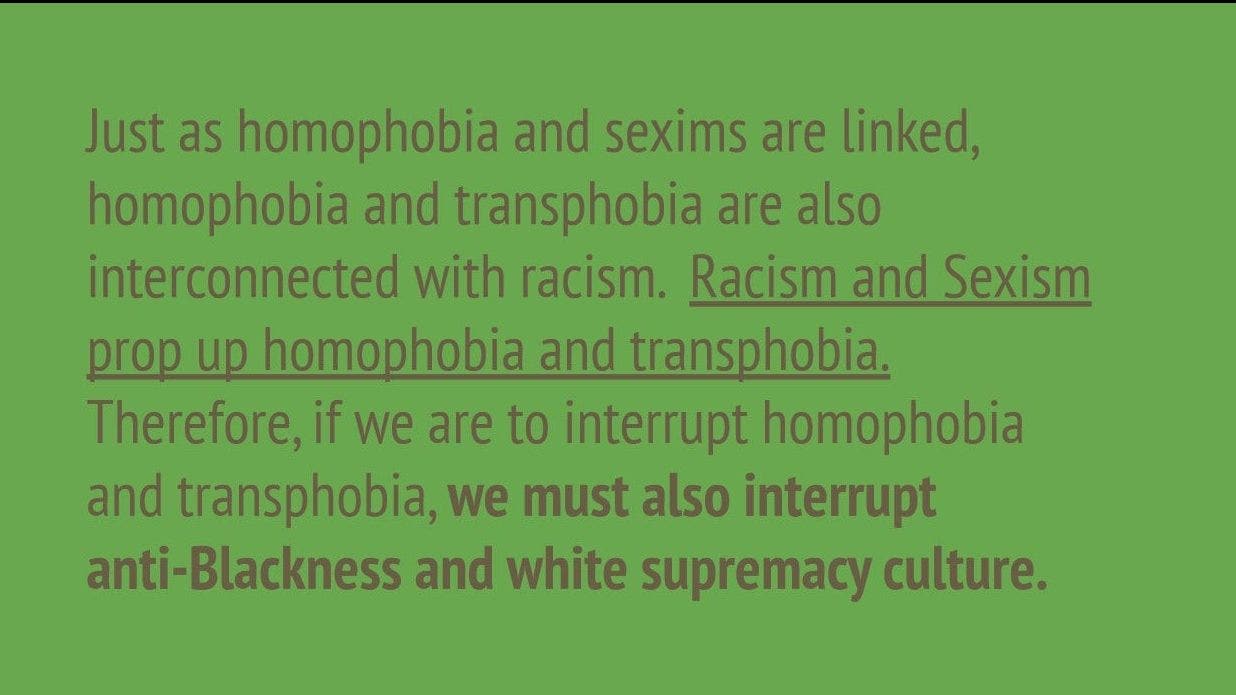 Love's comments to Shaw in the email thread call into question whether it's SPS policy that 5-year-olds have an expectation of privacy on campus.
Love, Shaw, and the principal did not respond to Fox News Digital's requests for comment.
Meanwhile, a 2022 school district presentation for parents obtained by Fox News Digital, titled, "Creating and Sustaining Safe and Supportive Environments for LGBTQ2+ Students at SPS," says the school district's role is to "help create a safe and welcoming environment for ALL students so that they can reach their full social and academic potential. This includes LGBTQ2+ students."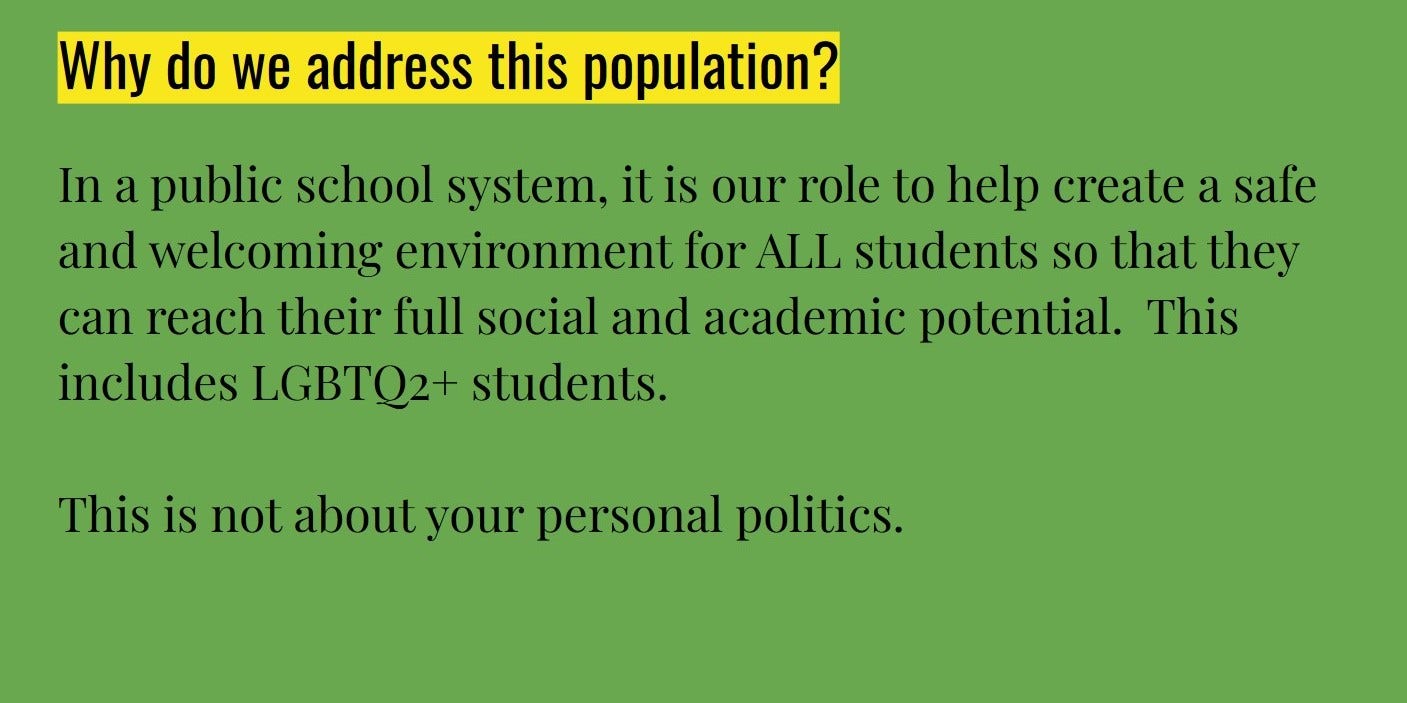 "This is not about your personal politics," the presentation declares.
The presentation, which includes the infamous "Genderbread Person" graphic, also states that homophobia and transphobia are interconnected with White supremacy.
"Just as homophobia and sexism are linked, homophobia and transphobia are also interconnected with racism. Racism and Sexism prop up homophobia and transphobia," it says. "Therefore, if we are to interrupt homophobia and transphobia, we must also interrupt anti-Blackness and white supremacy culture."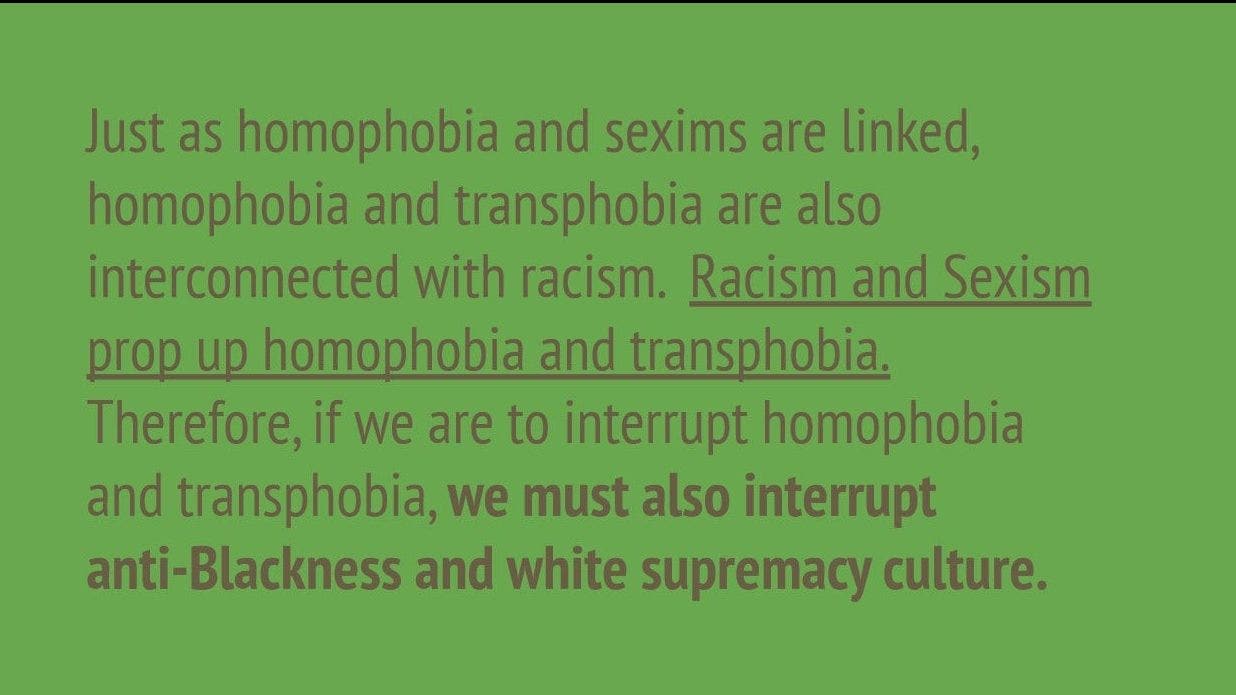 CLICK HERE TO GET THE FOX NEWS APP
Fox News Digital reported in March that SPS training materials encouraged educators to "use inclusive language" and "get comfortable with using They/Them pronouns" in most situations.
According to an SPS presentation for elementary school educators for the 2022-2023 school year, fourth-graders are provided lessons on sexual health that ditch words like "female" and "male" in favor of "person with a vagina" and "person with sperm"