Republicans and gun rights activists say the Biden administration unlawfully handed out federal funds to states that did not qualify under a program intended to promote so-called "red flag" laws.
In 2022, Congress passed and President Biden signed the Bipartisan Safer Communities Act in response to mass shootings in Buffalo, New York, and Uvalde, Texas, that left dozens dead. The law incentivizes states to pass extreme risk protection laws, also called "red flag" laws, that allow members of the public and law enforcement to petition courts for a civil order to temporarily suspend a person's access to firearms for fear that person might do violence. After gun rights advocates raised Second Amendment concerns, Congress included requirements that states applying for federal grants to implement red flag laws include certain due process protections. 
But Sen. Roger Marshall, R-Kan., and Rep. Alex Mooney, R-W.Va., assert in a letter to Attorney General Merrick Garland that the Justice Department has handed federal funds to states that did not meet the minimum due process criteria. The letter accuses the Biden administration of ignoring Congress and demands to know why grants to at least eight states and territories with no red flag laws on the books nevertheless received federal funds under the DOJ program. It was signed by seven GOP senators and 26 House lawmakers. 
"The Department of Justice appears to have weaponized the Bipartisan Safer Communities Act to illegally fund ineligible 'red flag' laws and bribe pro-gun states into passing gun confiscation laws," the lawmakers wrote.
GUN RANGE OWNER BLASTS BLUE STATE'S NEW SWEEPING GUN CONTROL BILL: 'MAKES LAW-ABIDING PEOPLE INTO CRIMINALS'
"Since the passage of the Bipartisan Safer Communities Act, no states have revised their statutes to comply with the 'due process' requirements imposed by the 117th Congress," the letter states. "Nevertheless, the Bureau of Justice Programs has funded every state that applied with a 'red flag' gun confiscation law on the books without enforcing Congress' 'due process' requirements. The federal government should have no part in funding state level gun confiscation programs which violate the due process rights of gun owners." 
The Republicans, quoting a Myth vs. Fact sheet from Texas Republican Sen. John Cornyn's office, say Congress made explicitly clear that the Bipartisan Safer Communities Act was not intended to require or incentivize states to adopt red flag laws. The law also prohibits federal funding from being used to lobby state legislatures to pass any legislation or law. 
"Disturbingly, several states and territories without 'red flag' laws on the books have been granted funding for the creation and implementation of such programs – including Arizona, Arkansas, Kansas, Minnesota and West Virginia," the Republicans wrote. "It appears that this Bipartisan Safer Communities Act grant program is being used by the federal government to influence states into enacting 'red flag' gun confiscation laws." 
The lawmakers called it a "federal bribery program" and demanded that DOJ explain the lawful purpose of its federal grants to states without red flag laws.  
MI PLANS TO PASS RED FLAG LAW THAT WOULD REMOVE FIREARMS FROM THOSE WHO POSE THREATS TO THEMSELVES, OTHERS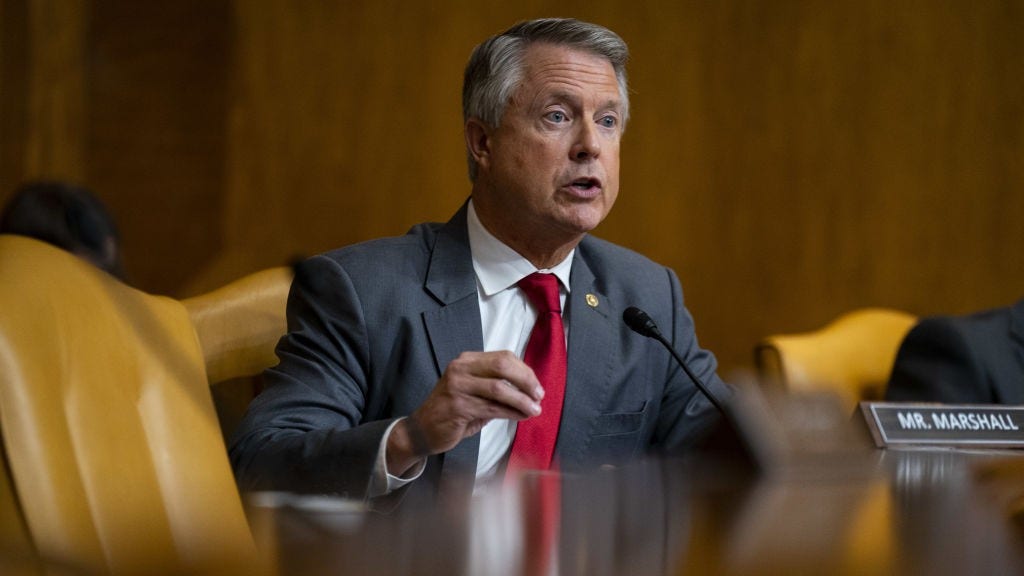 "The DOJ's efforts to disarm law-abiding gun owners is unconstitutional," Marshall told Fox News. "The Biden administration must immediately stop this scheme to strong-arm states into enacting these laws and answer for the millions of dollars illegally distributed in an attempt to do so. Kansans will not accept any attempts by this administration to strip them of their Second Amendment rights."
"This scheme by the Biden Department of Justice is clearly intended to bribe and coerce states into adopting gun confiscation laws," said Mooney. "West Virginia is a constitutional carry state and has no business receiving federal dollars to restrict Second Amendment rights. West Virginians deserve to know how the federal and state governments are spending tax dollars to limit your constitutional rights."
READ THE LETTER BELOW. APP USERS: CLICK HERE
Gun Owners of America (GOA), a Second Amendment group, said it has tracked the grant program and was first to notify Congress of state recipients failing to qualify for funding under the terms of the law. 
"We've been closely following this grant program since the passage of Senator Cornyn's gun control last summer, and it's turned out to be worse than we feared. Despite assurances this money wouldn't bribe states to pass 'red-flag' laws, Biden's DOJ granted anti-gun bureaucrats in several pro-gun states funding to enact gun confiscation programs anyway. And, every state with 'red flag' gun confiscation laws on the books received funds – despite none of them meeting the apparently worthless due-process requirements mandated by the federal legislation," said Aidan Johnston, federal affairs director at GOA. 
"These concerns are just some of the reasons GOA opposed this law from the beginning, and we will continue to fight back in the courts and on Capitol Hill," he said. 
BIDEN ADMIN ANNOUNCES $231M FOR GUN VIOLENCE PREVENTION EFFORTS, INCLUDING RED FLAG LAWS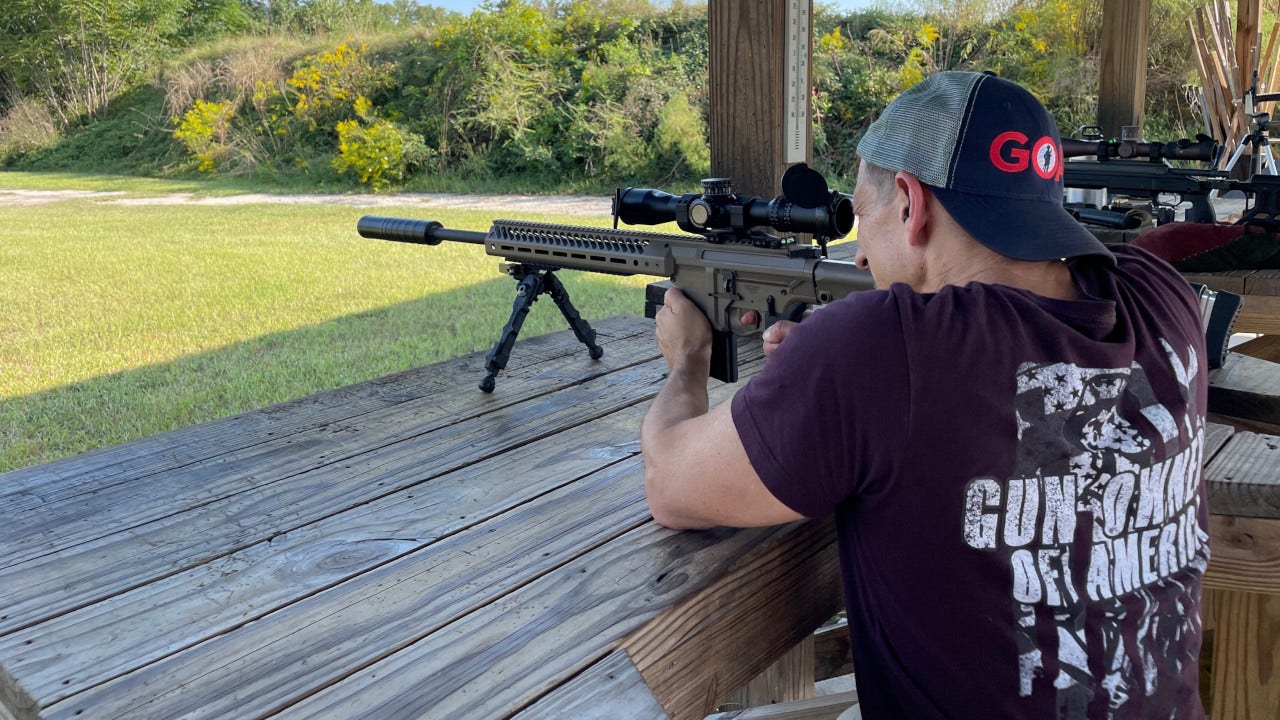 Fox News contacted the Justice Department for comment but did not receive an immediate response. 
DOJ in February announced it will give $231 million to states for crisis intervention, including efforts to strengthen red flag programs and prevention efforts to curb gun violence. The funding came from the Bipartisan Safer Communities Act. 
"These awards will support the kinds of crisis intervention programs that we know save lives and help protect children, families and communities across the country from senseless acts of gun violence," Garland said at the time. 
CLICK HERE TO GET THE FOX NEWS APP
Biden said in a statement that he supports red flag laws. 
"Red flag laws, however, only save lives if community members effectively use this tool. Today's announcement gives states funding to educate the public about extreme risk protection orders and train law enforcement and other officials regarding this intervention," he said.
Fox News' Louis Casiano contributed to this report.