Stanford Law School DEI administrator Tirien Steinbach resigned from her post on Thursday, months after a viral altercation when she accosted a conservative judge.
Dean Jenny Martinez announced Steinbach's departure in a Thursday message to the campus, saying Steinbach had found another opportunity to pursue. The letter went on to say that Steinbach had taken responsibility for her role in the March 9 dust-up.
"I write to share that Tirien Steinbach has decided that she will be leaving her role as Associate Dean for Diversity, Equity, and Inclusion at Stanford Law School to pursue another opportunity," he wrote. "Associate Dean Steinbach and I both hope that SLS can move forward as a community from the divisions caused by the March 9 event. The event presented significant challenges for the administration, the students, and the entire law school community."
"As I have previously noted, tempers flared along multiple dimensions. Although Associate Dean Steinbach intended to de-escalate the tense situation when she spoke at the March 9 event, she recognizes that the impact of her statements was not as she hoped or intended," he continued.
STANFORD LAW PROTESTORS DEMAND TO HAVE NAMES REDACTED FROM NEWS REPORTS: 'NOT HOW THE FIRST AMENDMENT WORKS'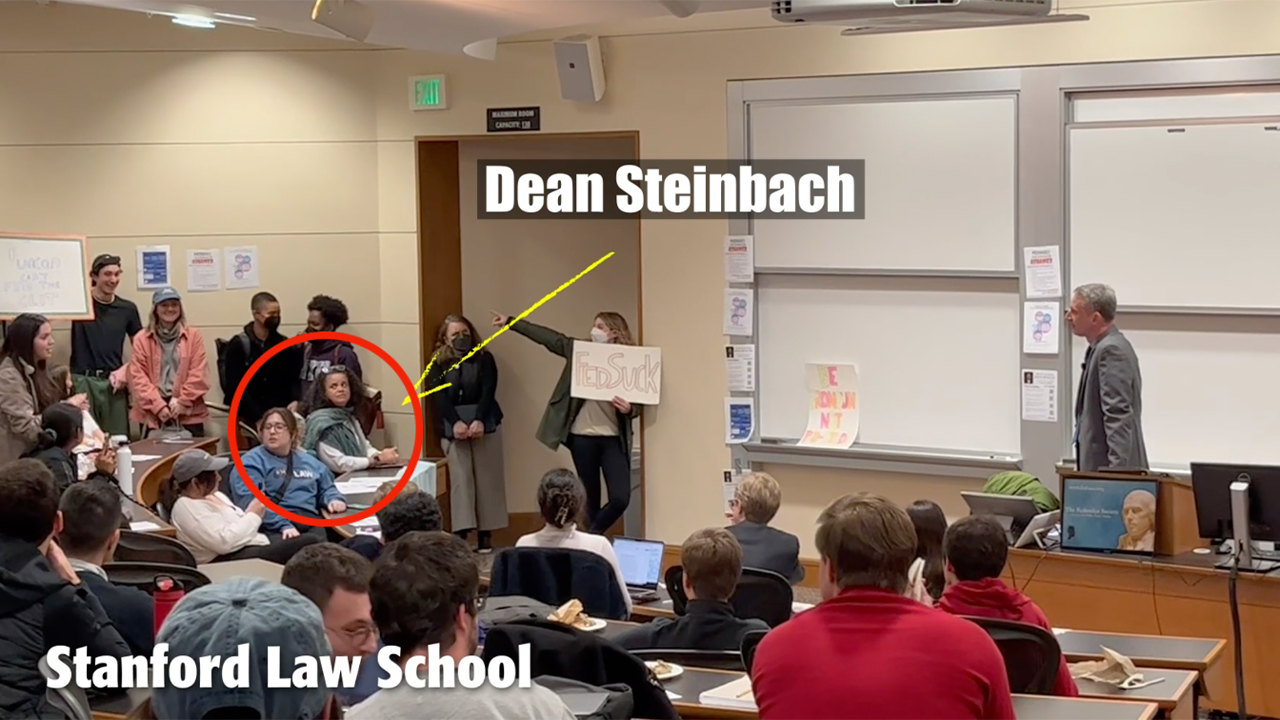 "Both Dean Steinbach and Stanford recognize ways they could have done better in addressing the very challenging situation, including preparing for protests, ensuring university protocols are understood, and helping administrators navigate tensions when they arise. There are opportunities for growth and learning all around," the letter concluded. 
JONATHAN TURLEY: STANFORD LAW DEAN'S SHAMEFUL ATTACK ON FREE SPEECH MEANS THIS FOR THE EDUCATION MOB
The incident occurred when U.S. Circuit Court Judge Kyle Duncan delivered an address to students as an invited guest.
Duncan immediately met with angry protesters who held explicit posters that read "FED SUCK" and "Trans Lives Matter" and yelled insults like, "We hope your daughters get raped."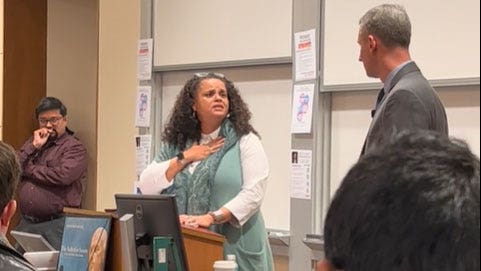 Steinbach wrote an op-ed in the Wall Street Journal on March 23, when she explained she planned to use deescalation techniques.
"I stepped up to the podium to deploy the de-escalation techniques in which I have been trained, which include getting the parties to look past conflict and see each other as people," she wrote. "My intention wasn't to confront Judge Duncan or the protesters but to give voice to the students so that they could stop shouting and engage in respectful dialogue."
Posters also accused Duncan of crimes against trans people for denying a pedophile prisoner's request to change pronouns in 2020. He called the left-wing campus protesters "juvenile idiots" and said that "prisoners are now running the asylum."
CLICK HERE TO GET THE FOX NEWS APP
Stanford ultimately apologized for the incident in a letter to Duncan.
Fox News' Kendall Tietz contributed to this report.