FIRST ON FOX: The White House is honoring law enforcement at the front lines of the battle to keep illicit fentanyl and other illegal drugs out of American communities — as the Biden administration says its sweeping drug control strategy is getting results in the fight against the opioid crisis.
The White House Office of National Drug Control Policy (ONDCP) Director Dr. Rahul Gupta is recognizing law enforcement groups who have shown themselves to be the "best of the best."
The ONDCP U.S. Interdiction Committee Awards recognize the efforts and achievements of law enforcement agencies and individuals, and the awards show the broad scope of the fight against stopping drug trafficking.
"The awards highlight the best of the best out of almost 100 applications that our nation has to offer in terms of investigations, as well as going after in every way possible the bad guys to disrupt and dismantle the drug trafficking organizations, which are really criminal networks," Gupta said in an interview ahead of the awards with Fox News Digital.
MEXICAN CARTELS' DRUG DEALINGS 'TOP PRIORITY' AS FENTANYL POURS ACROSS SOUTHERN BORDER, DEA SAYS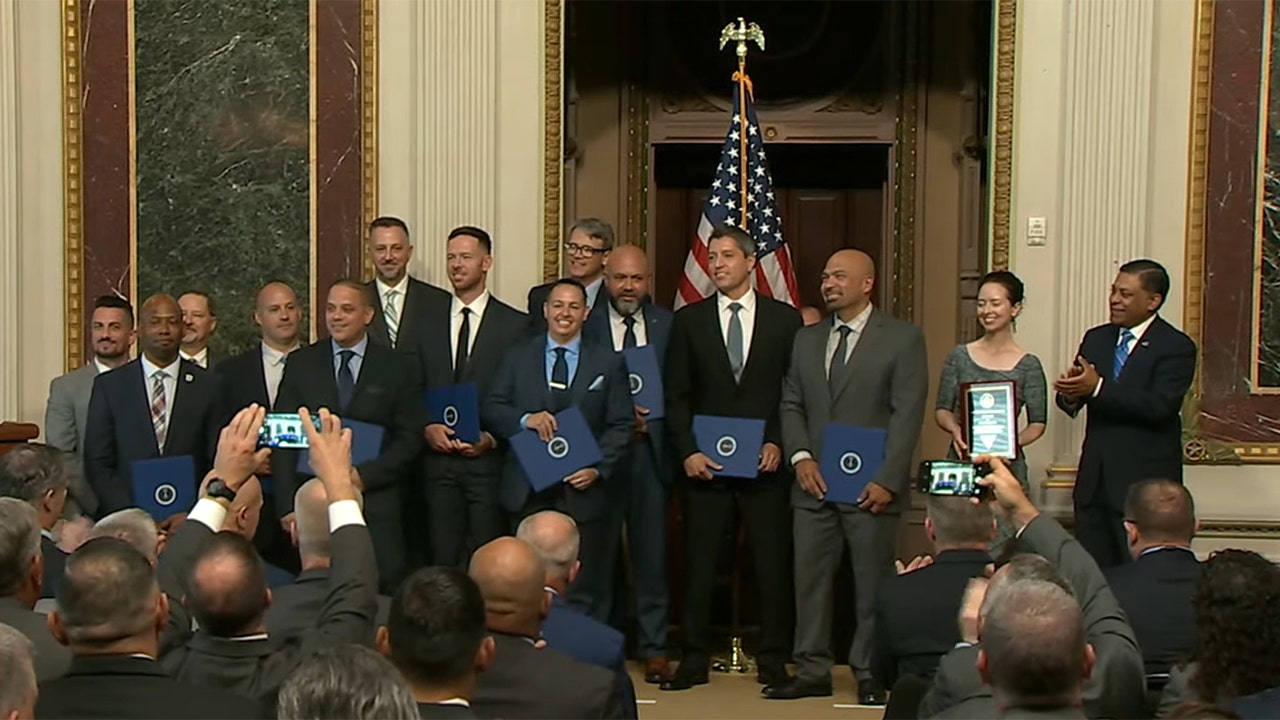 The U.S. has been locked in an opioid crisis for years, with deaths from fentanyl overdoses spiking into the tens of thousands in recent years. The drug is primarily created in Mexico using Chinese precursors and then trafficked across the U.S. southern land border. The U.S. has called for an international coalition to tackle the crisis.
However, the threat is evolving, as highlighted in the efforts recognized at the White House. One of the investigations highlighted was a probe by the Department of Homeland Security, FBI, Postal Service and the Palm Beach County Sheriff's Office targeting a dark web vendor that was trafficking fentanyl, heroin, MDMA and cocaine. The vendor had been linked to at least one death in Utah. The investigation shut down the vendor and arrested those associated with it. 
Gupta said the case shows how the threat is "constantly changing."
BIDEN ANNOUNCES NEW NORTHERN BORDER DEAL, FENTANYL COALITION WITH CANADA
"The drug traffickers and produce will continue to evolve because they'll be responsive to our actions. Now, what has happened in the past administrations often is we are. Exclusively reactionary. And what we're doing different in this administration is both looking at the task at hand today, as well as preparing for the future actions that will happen as a result of reactionary forces of the cartels," he said.
The awards will also highlight the Drug Enforcement Administration's Operation Titan Fall — which took down a violent drug trafficking organization in Florida and seized firearms and over 100 kilograms of cocaine, fentanyl and heroin.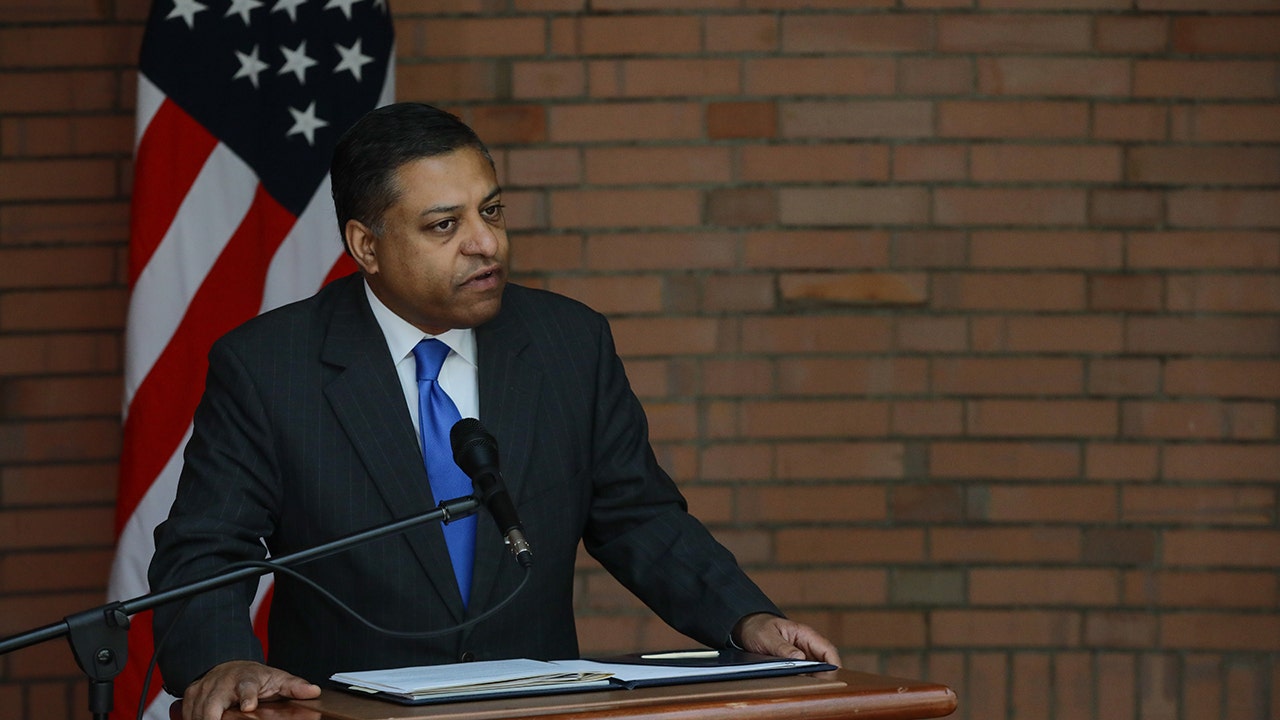 Gupta noted a Nov. 17, 2022 operation, in which Customs and Border Protection's Air and Marine Operations chased two ships to Puerto Rico, believing them to be smuggling cocaine. They were fired upon, leading to one agent — Michael Maceda — being killed and two others injured. However, the boats were stopped, the suspects arrested and over 2,800 pounds of cocaine seized. A moment of silence was held at the ceremony on Thursday to honor Maceda's sacrifice.
"So his ultimate sacrifice in defense of our nation is what we're celebrating today. We're also celebrating not just the great work, investigatory and hard work that our women and men do in uniform every single day. But we're thankful to people who have paid this sacrifice with their life, the ultimate sacrifice in their work," Gupta told Fox.
Meanwhile, Operation Chain Break — launched by Immigration and Customs Enforcement and Homeland Security Investigations — targeted Chinese pill press manufacturers and Mexican cartels that used it. The DEA will also be honored for its investigation into the Revolutionary Armed Forces of Colombia, which led to dozens of arrests and the seizure of thousands of pounds of cocaine.
The awards are tied to the Biden administration's National Drug Control Strategy, which has looked to simultaneously address addiction and aid in treatment for those addicted, while also tackling the criminal organizations behind the multibillion-dollar effort to get Americans hooked on poison.
FENTANYL IS BECOMING MORE ACCESSIBLE TO KIDS ON SOCIAL MEDIA, RAISING ALARMS FOR PARENTS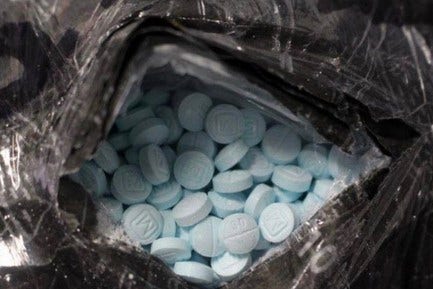 Gupta said there were two drivers of the strategy, "One, untreated addiction, which is creating the addiction infrastructure there needs to be to help Americans get the help when and where they need it. Two, Drug trafficking and its profits that push the trade of this. So we're both getting people the help they need when and where, as well as going after the drug traffickers, producers and their profits."
Gupta said there are signs of success. He pointed to 34,000 pounds of fentanyl seized and $22 billion denied to drug producers and traffickers, and more law enforcement operations accompanying the expansion of treatments and availability of drugs like Narcan. He also pointed to the use of non-intrusive inspection tech at ports of entry — including in Nogales, Arizona, which led to a 445% increase in seizures and about 38 million pills seized.
CLICK HERE TO GET THE FOX NEWS APP
Additionally, the White House has highlighted that the spike in overdose deaths since 2018 has flattened in 2022 and 2023. Gupta doubled down on President Biden's calls for additional funding from Congress to fight the crisis, calling it now an "inflection point."
"We need to double down on our efforts that are working, clearly, and that that that includes making sure that we're implementing all these policies and getting the Congress to provide the funding that the president has requested for the drug control budget, which is $46.1 billion and is historic and unprecedented because there's no more important things to do than to save American lives," Gupta said.