HUDSON, N.H. – EXCLUSIVE – Former Vice President Mike Pence in recent days has faced a handful of stories questioning his Republican presidential campaign's durability in the wake of his lackluster fundraising figures.
But Pence, in an exclusive interview with Fox News Digital on Wednesday during a campaign swing through New Hampshire, emphasized "I'm confident we'll have the resources to take our case to not only here in New Hampshire, but in Iowa and every state all across this country."
Pence raised $1.2 million from his campaign launch on June 7 through the end of last month, which marked the close of the April-June second quarter of 2023 fundraising.
Committed to America, a super PAC supporting Pence's 2024 White House bid which launched in mid-May, said it brought in $2.7 million in fundraising.
TRUMP VS DESANTIS: HOW EACH IS FARING IN FUNDRAISING FIGHT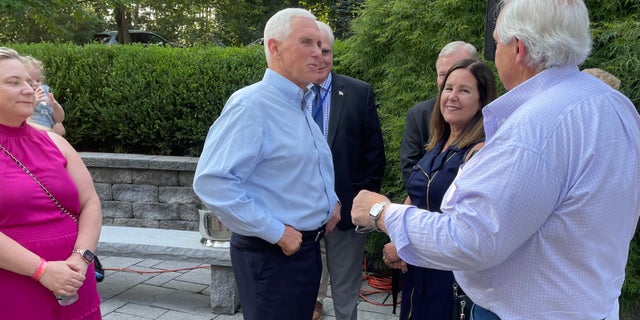 "I couldn't be more grateful for the fact that in between our campaign committee and the folks at our super PAC that we were able to raise $4 million in about three weeks," Pence highlighted. "You know, for a small town guy from southern Indiana, that's a whole lot of money. And we continue to see that support growing."
But Pence's fundraising lags far behind many of his rivals for the GOP nomination, including his one-time boss, former President Donald Trump and Florida Gov. Ron DeSantis. 
TRUMP'S LEAD OVER DESANTIS, REST OF GOP FIELD, NARROWS A BIT IN KEY EARLY STATE: POLL
Trump, who's making his third straight White House bid, is the commanding front-runner in the latest polls in the Republican nomination race, holding a significant double-digit lead over DeSantis in most surveys.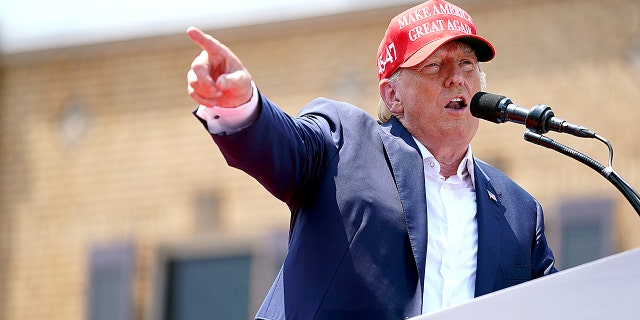 Pence – due to his actions upholding the Constitution on Jan. 6, 2021 by certifying Trump's defeat in the 2020 election which alienated him from the former president's loyal MAGA base – has struggled to gain much traction to date in the 2024 race.
And the former vice president, along with the rest of the large field of Republican contenders, is polling in the single digits. 
North Dakota Gov. Doug Burgum, who launched his Republican presidential campaign on the same day as Pence, brought in $11.7 million in the same time period. But $10.2 million of Burgum's haul was a personal investment from the multi-millionaire former software company CEO turned two-term governor.
WHO'S IN AND WHO'S ON THE SIDELINES — YOUR GUIDE TO THE 2024 GOP PRESIDENTIAL NOMINATION RACE
Former New Jersey Gov. Chris Christie, who ran unsuccessfully for the 2016 GOP nomination and who launched his 2024 campaign a day ahead of Pence, slightly out raised the former vice president.
But Pence, unlike some orf his rivals who've used giveaways and gimmicks to bring in contributions, has made only minor investments in trying to secure on-line donations to his campaign.
Pence remains confident he'll reach the thresholds needed to make the stage at the first Republican presidential nomination debate – a Fox News hosted showdown August 23 in Milwaukee, Wisconsin.
"We're very confident that we'll meet that criteria," Pence told Fox News as he pointed to the debate threshold required by the Republican National Committee (RNC) for candidates to qualify for the first debate.
The RNC is also requiring candidates bring in donations from 40-thousand individual contributors, with 200 donors in 20 different states or territories.
"We're working around the clock to hit that 40,000 individual donors," Pence said, adding that he was confident he'd also reach the donor threshold ahead of the debate.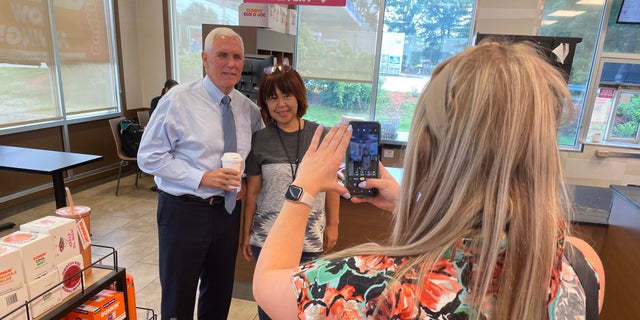 Pence, who was interviewed as he kicked off a three-day swing in the state that holds the first primary and second overall contest in the GOP presidential nominating calendar, said that a key focus of his campaign is "meeting people."
"That's how we're spending the next three days here, in the first-in the nation primary state. I'm excited about doing a half a dozen town hall meetings and backyard parties, and Karen and I are grateful for the outpouring of support that we're seeing," he said.
CLICK HERE TO GET THE FOX NEWS APP
And Pence, as he's done in his other recent campaign swings through New Hampshire, stopped at one of New England's most beloved institutions: Dunkin.
"You always got to stop at Dunkin Donuts. One look at me. You can tell I'm a fan of Dunkin Donuts. And it's not just the coffee," Pence said during his Fox News interview, which was held at the Dunkin' location in Hudson.