Former President Trump said the Justice Department has become "an absolute weapon" for Democrats, while slamming Special Counsel Jack Smith's investigation as "election interference."
Trump, who is leading the 2024 Republican presidential primary field, during an exclusive town hall hosted by Fox News' Sean Hannity Tuesday night, reacted to the news that he is the "target" of Smith's investigation into the Capitol riot on Jan. 6, 2021. 
TRUMP SAYS HE IS DOJ JAN. 6 GRAND JURY INVESTIGATION TARGET
"It bothers me," Trump said, explaining that Smith's team "sent a letter on Sunday night" notifying him that he had "four days" to report to the grand jury — something, he said, "almost always means an arrest and indictment." 
A government source with direct knowledge of the situation also told Fox News that Smith's office sent Trump a target letter.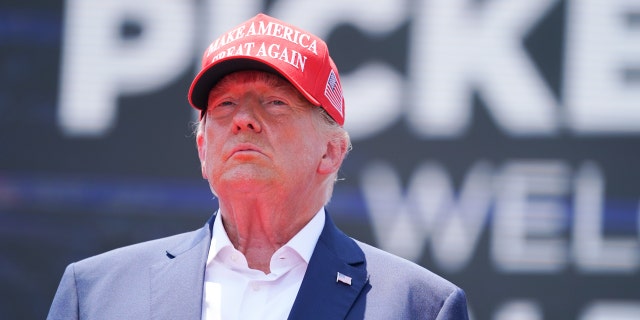 "They're in a rush because they want to interfere. It's interference with the election — it's election interference," Trump said. "Never been done like this in the history of our country, and it is a disgrace what's happening to our country — whether it is the borders or the elections or kinds of things like this, where the DOJ has become a weapon for the Democrats."
He added: "An absolute weapon."
Trump, last month, pleaded not guilty to 37 federal charges stemming from Smith's investigation into his alleged improper retention of classified records at Mar-a-Lago last month. 
The charges include willful retention of national defense information, conspiracy to obstruct justice and false statements.
The indictment from Smith's classified records investigation is the first time in United States history that a former president has faced federal criminal charges.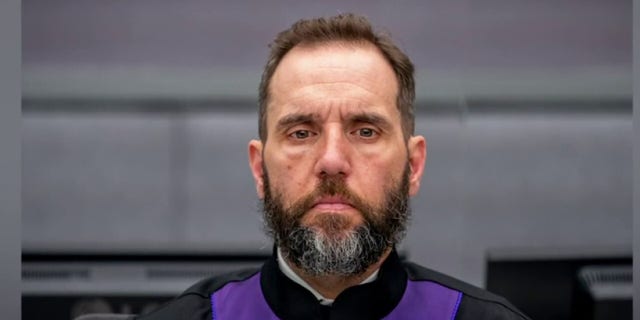 But Trump reminded that President Biden is also under special counsel investigation for alleged improper retention of classified records. Special Counsel Robert Hur is investigating Biden. The status of that probe is unknown.
TRUMP PLEADS NOT GUILTY TO 37 FEDERAL FELONY CHARGES IN CLASSIFIED RECORDS CASE
"They go after me on documents, and I have the Presidential Records Act, which is a big deal," Trump said, adding that Biden is not protected by the Presidential Records Act, as his classified documents were from his time as vice president and in the U.S. Senate.
Trump went on to slam Smith as a "deranged prosecutor" and a "nasty, horrible human being," and said the Department of Justice has been "totally weaponized."
Separately, Trump, in April, pleaded not guilty to state charges in New York stemming from Manhattan District Attorney Alvin Bragg's investigation. Trump is accused of falsifying business records related to hush-money payments made during the 2016 campaign.
Meanwhile, Trump also reflected on the FBI's original investigation into whether the Trump campaign was colluding with Russia to influence the 2016 presidential election. Special Counsel Robert Mueller found that there was no evidence of collusion, and Special Counsel John Durham found that the FBI's investigation never should have been opened in the first place.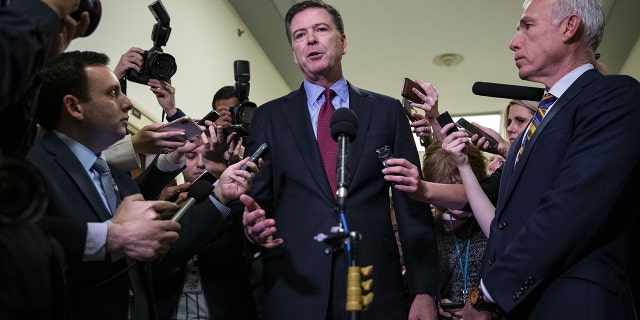 DURHAM FINDS DOJ, FBI 'FAILED TO UPHOLD' MISSION OF 'STRICT FIDELITY TO THE LAW' IN TRUMP-RUSSIA PROBE
Trump said that his decision in May 2017 to fire then-FBI Director James Comey was the right one and said "the whole thing collapsed."
"I said, this guy's bad news. I realized it very early, very early in the administration," Trump said. "I fired him and it was wild. That's when we found out all of the corruption."
FBI IGNORED 'CLEAR WARNING SIGN' OF CLINTON-LED EFFORT TO 'MANIPULATE' BUREAU FOR 'POLITICAL PURPOSES'
He added: "Had I not fired Comey, you wouldn't know any of the things…They were trying to take me out—I mean, it was like a coup. It was like a coup."
Trump said as president he "got rid of a lot of" dishonest people.
"But we're going to get rid of a lot more because you have some bad people," Trump said.
As for other investigations, the former president said it is "very disappointing" the Secret Service closed its investigation into who brought cocaine to the White House earlier this month, saying he believes they "know who" the illegal substance belonged to. 
Trump said the incident is an embarrassment for the country, telling Fox News that the United States was respected under his presidency. 
"This country was respected and Putin knew he couldn't do it, and President Xi of China knew he couldn't do it," Trump said, seemingly referring to Putin's invasion of Ukraine and Xi's ambitions for Taiwan. 
Shifting to the Biden family's overseas business dealings, Trump said: "We have a compromised president." 
CLICK HERE TO GET THE FOX NEWS APP
"China gives him millions of dollars, he's compromised," Trump said, pointing to allegations that the president was involved in his son, Hunter Biden's, Chinese business dealings. "He's getting millions of dollars illegally from China, and then you say, hey, they impeached me over a phone call that was perfect." 
"Why aren't they impeaching Biden for receiving tens of millions of dollars? Why isn't he under impeachment?" Trump asked. 
Trump was impeached twice by the House of Representatives, but acquitted both times by the Senate.