Prominent gun-control activist Shannon Watts is trying to get country music star Jason Aldean canceled over a song she claims is "racist and violent." 
Aldean denies that his song, "Try That In A Small Town," has racial undertones following its music video release last week, in which he touts how small towns wouldn't put up with the kind of lawlessness found in big cities.
Country Music Television (CMT) yanked the video without comment on Monday, prompting Aldean to lash out on Twitter, writing, "There is not a single lyric in the song that references race or points to it – and there isn't a single video clip that isn't real news footage – and while I can try and respect others to have their own interpretation of a song with music – this one goes too far."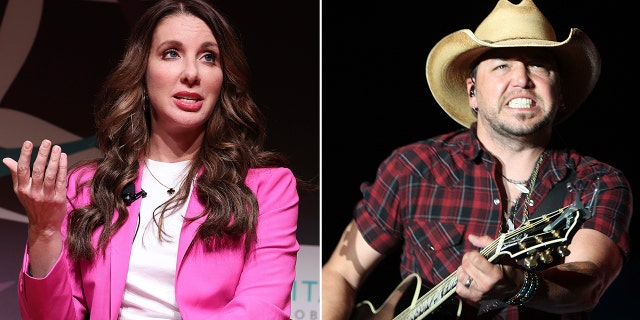 JASON ALDEAN ADDRESSES CRITICISM OF CONTROVERSIAL COUNTRY MUSIC VIDEO: 'THIS ONE GOES TOO FAR'
Watts first called attention to the song's lyrics in a late-night tweet Sunday, saying it's about "how he and his friends will shoot you if you try to take their guns." 
Watts later took credit for CMT's decision in scrubbing the video.
"Proud to have had a hand in getting CMT to reject this racist and violent song," she tweeted Tuesday evening.
Watts then set her sights on trying to get Aldean canceled from the Grand Ole Opry.
"The @opry is hosting Jason Aldean at a fundraiser for the Covenant School in Nashville," she wrote. "One would think there are many other country music artists they could invite instead?"
Aldean, who was onstage during the 2017 mass shooting in Las Vegas, is joining a star-studded lineup at the Opry on Aug. 7 to benefit the Covenant School Community Fund after the Nashville private school was targeted by a mass shooter earlier this year.
Aldean defended his song in a lengthy Twitter post Tuesday afternoon, saying it "refers to the feeling of a community that I had growing up, where we took care of our neighbors, regardless of differences of background or belief."
"My political views have never been something I've hidden from, and I know that a lot of us in this Country don't agree on how we get back to a sense of normalcy where we go at least a day without a headline that keeps us up at night. But the desire for it to – that's what this song is about," he added.
The lyrics of the song juxtapose big-city crime with small-town values: "Cuss out a cop, spit in his face / Stomp on the flag and light it up / Yeah, ya think you're tough," Aldean sings in the song. "Well, try that in a small town / See how far ya make it down the road / Around here, we take care of our own / You cross that line, it won't take long."