Migrant numbers at the southern border dropped sharply in June in the full first month after the ending of the Title 42 public health order and as the Biden administration implemented its post-Title 42 strategy — bringing numbers to the lowest in two years.
There were 144,571 migrant encounters in June, compared to 207,834 in June last year and 189,034 in June 2021. In June 2020, there were just 33,049 at the border.
While the numbers are still high historically (June's numbers are still higher than any month of the 2019 border crisis) they mark a sharp drop from the 206,702 seen in May and 211,999 in April — when many experts and commentators had expected a surge in migrant apprehensions when Title 42 ended on May 11.
But the end of the public health order, which allowed for the rapid expulsion of migrants at the border, was accompanied by a carrot-and-stick approach by the Biden administration, which combined increased border measures with significantly expanded programs to parole migrants in by the tens of thousands.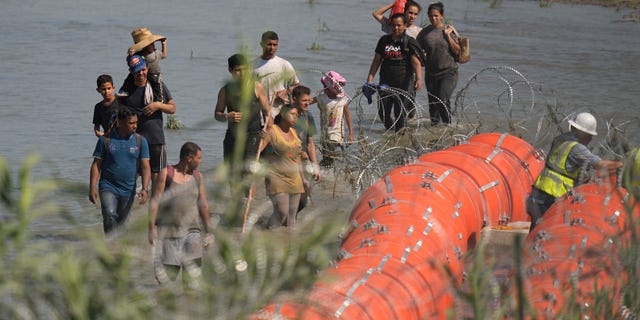 BIDEN ADMIN AGAIN INCREASES NUMBER OF MIGRANTS ALLOWED INTO US VIA CONTROVERSIAL APP
The cornerstone of DHS Secretary Alejandro Mayorkas' post-Title 42 strategy was an asylum rule that makes migrants ineligible for asylum if they entered the U.S. illegally and failed to claim asylum in other countries through which they passed. It has also ramped up the use of expedited removal and "credible fear" screenings. 
Linked to that is a requirement that those entering the U.S. at the border schedule an appointment via the controversial CBP One App. Initially there were 1,000 appointments a day for migrants to be paroled into the U.S., but that number has since ballooned to 1,450 a day. 
OVERSIGHT REPUBLICANS SEEK ANSWERS FROM BIDEN ADMIN ON 'FLAGRANT ABUSE' OF PAROLE TO RELEASE MIGRANTS INTO US 
Meanwhile, other programs open up pathways without migrants having to travel to the border. One allows for 30,000 nationals from Cuba, Haiti, Venezuela and Nicaragua to fly directly into the U.S. a month, while the U.S. has also set up processing centers across Central America and has recently expanded a family unification program for relatives of citizens and permanent residents from certain countries.
The strategy has drawn criticism from right and left, with left-wing groups challenging the asylum rule in court, arguing that it unlawfully limits the right of foreign nationals to claim asylum. Meanwhile, conservative states have accused the administration of abusing the parole system to allow migrants in by their tens of thousands, noting that Congress says the power is to be used on a "case by case" basis due to urgent humanitarian reasons or significant public benefit. Separately, a May policy that allowed for the release of migrants into the U.S. due to overcrowding was blocked in May after a lawsuit from Florida. 
NEARLY 17 MILLION ILLEGAL IMMIGRANTS LIVING IN US, 16% INCREASE SINCE 2021: ANALYSIS
The Biden administration says the new numbers show that its strategy is working. It pointed to numbers showing that there were 99,545 encounters of illegal migrants by Border Patrol — a 42% decrease from May. 
"Our sustained efforts to enforce consequences under our longstanding Title 8 authorities, combined with expanding access to lawful pathways and processes, have driven the number of migrant encounters along the Southwest border to their lowest levels in more than two years. We will remain vigilant," acting CBP Commissioner Troy Miller said.
But former acting Immigration and Customs Enforcement Director Thomas Homan pushed back, noting that numbers remain "far above the Trump administration" and the Biden administration "continues to perform poorly compared to 2019-2020."
"Around 4,000 a day is far from a victory. When Mayorkas was Deputy Secretary under [Obama-era Secretary] Jeh Johnson, we all got called in if there were over 1000 a day," Homan, a visiting fellow at the Heritage Foundation, said. "If you take a dive into what these 'low' numbers really mean, it is due in part to the fact that they have unlawfully paroled more than half a million into the country in about two years. Compare that number to any time in our history. Violating parole authority to unlawfully allow illegal aliens into the U.S. at historic numbers, all as part of an effort to knowingly misrepresent the border crisis, is disgusting."
CLICK HERE TO GET THE FOX NEWS APP
Meanwhile, some Republican states have been taking matters into their own hands to tackle the crisis. Earlier this month, Gov. Greg Abbott announced the deployment of a new water barrier to stop illegal migrants crossing into the state, while both Texas and Florida have implemented migrant transportation programs to "sanctuary" jurisdictions.