MANCHESTER, N.H. – Moderate Sen. Joe Manchin of West Virginia disputes arguments from fellow Democrats that if he joins a potential third-party 2024 presidential ticket with the centrist group No Labels, he'll serve as a spoiler.
"I've never been in any race I've ever spoiled. I've been in races to win. And if I get in the race, I'm going to win, "Manchin said on Monday as he headlined No Labels "Common Sense" town hall, which was held at the New Hampshire Institute of Politics at Saint Anselm College.
Manchin, who often clashes with his party's progressive wing, Senate leadership and the White House, has yet to announce whether he will seek another six-year term in the Senate in 2024 in a state that's turned dark red in recent years. 
The senator's also refused to shut down speculation about a possible presidential run and his trip to the state that for a century's held the first primary in the race for the White House only fueled more buzz.
WHAT NO LABELS IS SAYING ABOUT A POSSIBLE JOE MANCHIN RUN ON THE CENTRIST GROUP'S POTENTIAL 2024 THIRD-PARTY TICKET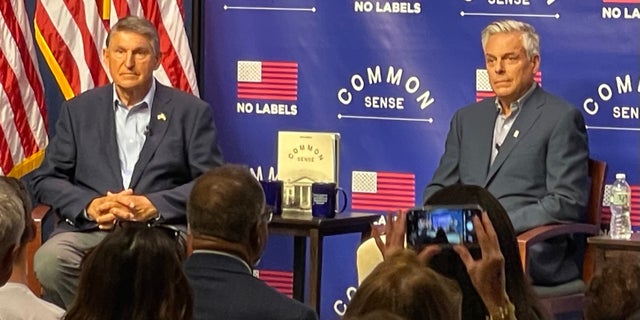 But Manchin reiterated that when it comes to his political future, "I haven't made a decision."
In an interview with Fox News' Bret Baier on "Special Report,"the senator emphasized that when it comes his potential Senate reelection, "I have until Jan. 15 of 2024. That's when my filing date is. And I've never filed early."
"Only in America does the next election start the day after the last election. We're still almost a year and a half out. And people are all wound up. I think they're sick and tired of it. They'll be totally worn out by next year," Manchin stressed.
NO LABELS TAKES NEXT STEPS IN FORMING POTENTIAL 2024 THIRD PARTY TICKET
Manchin told the crowd that "I'm the most independent Democrat you've ever met."
But when asked by reporters after the event if he'd consider leaving the Democratic Party and become an independent senator, Manchin said, "We'll see what happens."
Manchin on Monday was serving as an honorary co-host of the No Labels town hall, where the 13-year-old group formally unveiled its policy platform.
"I'm not here running for president tonight. I'm trying to save the nation," Manchin emphasized as he spoke to the overflow crowd packed into the Institute.
Manchin was joined by his fellow honorary co-host, former Republican Gov. of Utah Jon Huntsman – who served as ambassador to China in former President Barack Obama's administration before unsuccessfully running for the GOP presidential nomination in the 2012 cycle. Both are former No Labels co-chairs.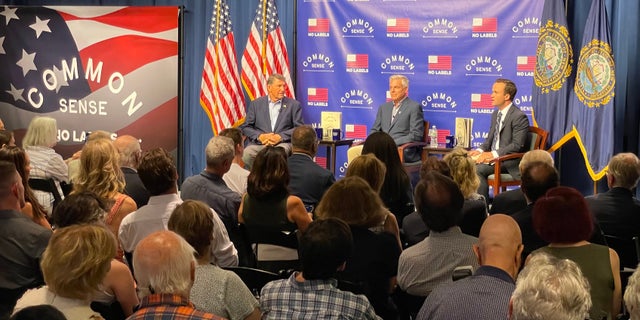 "Right now's about sharing ideas. It's about building out the infrastructure state-by-state. We'll tackle the issue of candidates later on," Huntsman highlighted as he joined Manchin on "Special Report."
And Manchin told Fox Digital after the town hall that the large crowd that gathered shows that people "are hungry" for a third-party option at the ballot box.
The founding co-chair of No Labels, former Sen. Joe Lieberman of Connecticut, said it's not a done deal that the centrist group will sport a bipartisan, third-party presidential ticket, if President Biden and former President Donald Trump are the major party nominees in the 2024 election.
"We haven't decided to run a ticket. It's not even clear that if it ends up being Trump and Biden, as it looks like it will now, that we'll do that," Lieberman said in a Fox News Digital interview ahead of the No Labels town hall.
No Labels for months has been discussing the possibility of bipartisan, third party "unity ticket" the organization could field in next year's presidential election if it appears the nation is headed for a Biden-Trump rematch in 2024, which poll after poll has indicated many Americans would like to avoid.
DEMOCRATS GROW WORRIED ABOUT POTENTIAL MANCHIN THIRD PARTY 2024 PRESIDENTIAL BID
Lieberman, a former longtime senator from Connecticut who served as the Democratic vice presidential nominee in the 2000 election and ran unsuccessfully in 2004 for his party's presidential nomination before winning a final election to the Senate in 2006 as an independent, reiterated that No Labels is aiming to get on the ballot in all 50 states in order to be in the position to possibly field a third party ticket next year.
"We call it the insurance policy project. We're trying to qualify for a third ticket, bipartisan ticket in all 50 states. We're working hard at that now," Lieberman explained.
But he emphasized that "we want to make sure is that we're not going to be spoilers. We're not going to elect one or another of the candidates. We want to run because we think we have a chance to win. And if we don't have a chance to win, at least we will bring a different voice to the national debate in the election next year, which is toward the center and putting the country first and not the interest of the political parties first."
Lieberman, ahead of Monday's No Labels event, reiterated that "we haven't really started to think about candidates, although naturally the media and others are."
But he added that "we are going to start a process by the fall in which we can both talk to people who may be interested in being on a bipartisan party ticket, or frankly reach out and ask some people to think about it. And I think we want this search to be as wide as possible. Not just current elected officials or former elected officials but a lot of the other areas of leadership in our country."
Democrats have been raising alarms for months about a third party "spoiler" effort that could upend the 2024 elections and allow Trump to win back the White House.
Longtime New Hampshire Democratic Party chair Ray Buckley charged that "No Labels is bankrolled by several high-profile Republican donors and supporters of former President Trump. They refuse to disclose their donors because they don't want anyone to know what this truly is — an attempt to knock out President Biden and pave the way for another four years of scandal and division with Donald Trump."
And on Monday, former longtime House Democratic leader Richard A. Gephardt helped launch a new bipartisan group to oppose the potential No Labels third-party presidential effort.
The group – Citizens to Save Our Republic – says it's forming a super PAC and also released polling that suggests a significant third-party ticket would drain support from Biden in the 2024 election.
"All credible political polling makes it clear that a No Labels third party candidate would very likely throw the election to Trump – and thereby put our democracy and system of free elections in peril," Citizens to Save Our Republic said in a statement released on Monday. 
Lieberman, asked about the group ahead of their launch, told Fox News "I have the greatest respect and affection for Dick Gephardt, so I guess I'm disappointed that he's taken this leadership role."
And he argued, "I think the Democrats have really, totally overreacted to what we're doing. Look, they've got a problem now. Trump is either close or ahead of Biden in all the polling we've seen lately. I think to focus on No Labels and the possibility we would run a third ticket – even though we said over and over again we're not going to do it if we think it will elect Trump – is just frankly wasted time."
CLICK HERE TO GET THE FOX NEWS APP
"I don't know what the Dick Gephardt group is going to do but somebody out there is convincing state election officials to try and block us from gaining access to the state ballots even when we've submitted enough signatures and satisfied enough legal requirements," Lieberman claimed. "Frankly that goes beyond freedom of expression. They're violating a constitutional right that the Supreme Court has upheld which is that people have a right of political association, to form a new party and try to gain access to the ballot. I certainly hope and trust that Dick Gephardt won't be part of doing anything like that."
And Manchin, asked about the efforts to derail No Labels' potential third-party presidential ticket, told reporters "I understand that everybody has their motive. OK. The business of politics is big business."