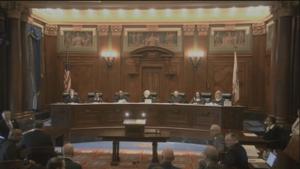 (The Center Square) – In 60 days, cash bail in Illinois will be no more after the Illinois Supreme Court upheld the Pretrial Fairness Act portion of the Safety, Accountability, Equity, Transparency-Today Act.
The sweeping criminal justice measure narrowly passed in early 2020 and had been amended multiple times, including in December 2022 with a law Gov. J.B. Pritzker signed to clarify that criminal defendants charged with violent crimes can be held pretrial while those charged with nonviolent crimes can be let go without bail.
The no-cash bail provision was supposed to go into effect statewide Jan. 1, 2023, but was put on hold by the Illinois Supreme Court after a Kankakee County judge declared the law unconstitutional.
The challenge from state's attorneys across Illinois claim the measure violated the constitution's separation of powers. They argued if the legislature wanted to change the surety portion of the pretrial process, they should have posed the question to voters.
"The Illinois Constitution of 1970 does not mandate that monetary bail is the only means to ensure criminal defendants appear for trials or the only means to protect the public," the majority opinion said. "For the reasons that we have stated, we reverse the circuit court's decision to grant summary judgment in favor of plaintiffs. Sixty days after the filing of this opinion, on September 18, 2023, this court's stay of pretrial release provisions in Public Acts 101-652 and 102-1104 shall be vacated."
The majority opinion came from Chief Justice Mary Jane Theis and was concurred by Justices P. Scott Neville, Joy Cunningham, Elizabeth Rochford and Mary O'Brien.
In a dissenting opinion, Justice David Overstreet said the state's high court should have struck down the law.
"On the contrary, the legislature's abolishment of monetary bail is in direct violation of the plain language of our constitution's bill of rights and, more specifically, the vested rights of crime victims set out in article I, section 8.1, of the Illinois Constitution. Ill. Const. 1970, art. I, § 8.1(a)(9)," Overstreet said. "Therefore, this court has an absolute obligation to declare the pretrial release provisions of the Act to be invalid and unenforceable no matter how beneficial the abolishment of monetary bail may be."
Justice Lisa Holder White concurred with the dissent.
Various other provisions off the SAFE-T Act that already went into effect deal with regulations on police like requiring body cameras over time and restricting certain types of restraints police can deploy as well as allow for anonymous complaints against law enforcement.