Rep. Matt Gaetz, R-Fla., announced Tuesday he would be introducing legislation in the House of Representatives "to defund" Special Counsel Jack Smith's grand jury investigation into the Jan. 6 Capitol riot and efforts to overturn the 2020 presidential election.
"I will be introducing legislation to DEFUND Jack Smith's witch hunt against President Trump," Gaetz wrote on Twitter just hours after former President Donald Trump confirmed on social media that he had been notified he was a target in the investigation and expected to face an arrest and indictment.
"They are attacking our democracy and engaging in election interference right now. The United States Congress has the capability to stop this election interference, and we must act immediately!" Gaetz added.
DESANTIS LAUNCHES STAUNCH DEFENSE OF TRUMP AHEAD PF POSSIBLE THIRD INDICTMENT: 'I HOPE HE DOESN'T GET CHARGED'
In a video he included in his post, Gaetz argued Trump wouldn't be facing a potential third indictment if he wasn't a leading contender for president. 
He also blasted what he called the "lack of transparency" from the DOJ in terms of who is involved in the investigation, citing concerns stemming from "the team of vicious Democrats" that made up the Mueller investigation looking into alleged collusion between Trump's 2016 campaign and Russia.
The DOJ did not immediately respond to Fox News Digital's request for comment.
BLACKBURN, GOP DEMAND ANSWERS FROM BIDEN ADMIN ON ILLEGAL ALIEN ACCUSED OF RAPING CHILDREN IN TENNESSEE
Gaetz's bill comes after Trump pleaded not guilty to 37 federal charges stemming from Smith's investigation into his alleged improper retention of classified records at Mar-a-Lago last month. 
The charges include willful retention of national defense information, conspiracy to obstruct justice and false statements. The indictment is the first time in U.S. history that a former president has faced federal criminal charges.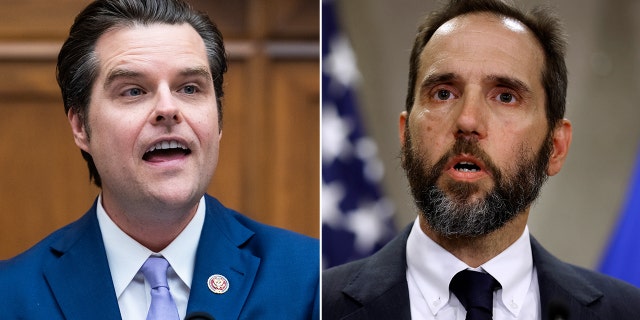 CLICK HERE TO GET THE FOX NEWS APP
Trump is also facing 34 felony charges in New York for allegedly falsifying business records.