Two brothers from Delaware who are longtime friends of the Biden family, and who Hunter Biden introduced to his Chinese Communist Party (CCP)-linked business associate in 2016, recently donated over $30,000 to the Biden campaign and its joint fundraising committee. 
Robert and Christopher Buccini, co-presidents of the real estate investment firm Buccini/Pollin Group, each donated $6,600 last month to the Biden campaign, Federal Election Commission records show.
They each also donated $10,000 in June to the Biden Victory Fund, the Biden campaign's joint fundraising vehicle, totaling $33,200, records reveal.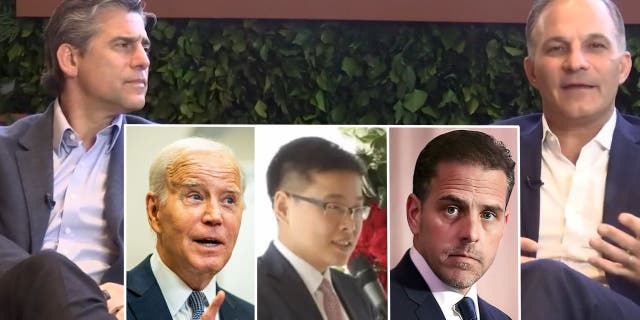 HOLLYWOOD MOGUL WITH DEEP CHINA TIES, WIFE DROP OVER $1.7 MILLION INTO COFFERS SUPPORTING BIDEN'S REELECTION BID
Christopher Buccini told local media in 2021 that he and his brother grew up with President Biden's sons and that they spent a lot of time in the Biden household.
Fox News Digital reported last year that when his father was vice president, Hunter Biden introduced the Buccini brothers to Bo Zhang, a Chinese executive who founded Harves Group and has ties to officials at some of the highest levels of the Communist Party of China.
Hunter, Zhang and Hunter's business D.C. partner Eric Schwerin met at the Delaware offices of Buccini/Pollin Group, the Buccinis' real estate investment firm, on July 14, 2016, according to emails of Hunter's schedule on his infamous abandoned laptop, which have been verified.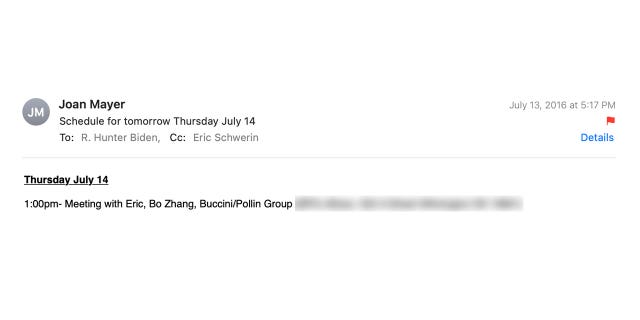 BILLIONAIRE WHO VISITED EPSTEIN ISLAND DROPS MASSIVE SIX-FIGURE DONATION BACKING BIDEN'S RE-ELECTION BID
Days later, Hunter's assistant sent an email to Hunter and Schwerin, the president of Hunter's Rosemont Seneca Partners, about a call with "the Buccinis and Bo Zhang" on July 25, 2016.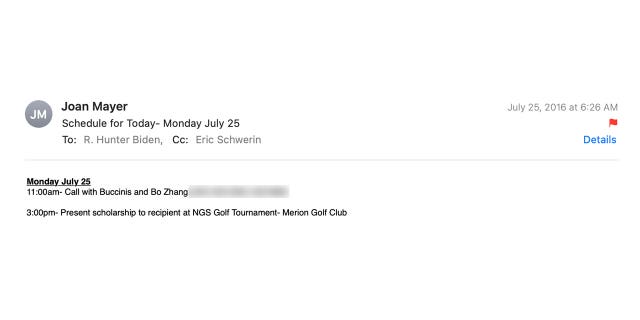 On the same day as the call, Schwerin sent a PowerPoint presentation with the subject line, "Shenzhen Project Info," to Hunter, Zhang and both of the Buccinis, and the presentation was titled, "DuPont ppt July 7th 2015."
"Bo may have a more updated deck on this project but here's the latest one I have for your information," Schwerin wrote. "Please keep this as an internal document for now."
Hunter had previously introduced DuPont executive George Duko to Zhang in an email discussing a potential business partnership between DuPont and Harves, Fox News Digital reported last year.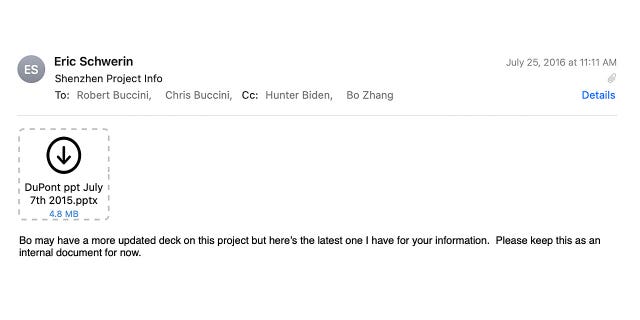 Soon after Schwerin's email on July 25, 2016, he sent a PDF with an email subject line "Harves Deck" to Hunter and both of the Buccinis.
"Also, attached is a deck that gives you some background on the Harves Century Group in China," Schwerin wrote.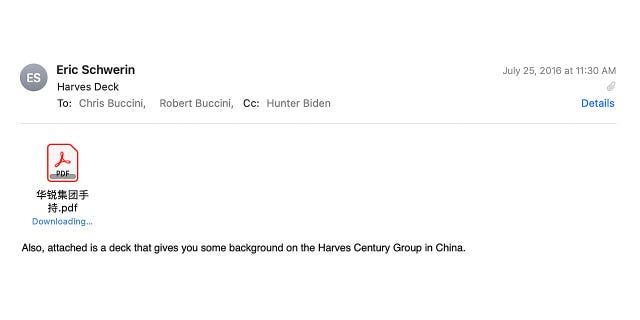 Neither of the attachments could be accessed by Fox News Digital.
Fox News Digital has extensively reported on Harves Investment Group and other Washington, D.C.-based Harves affiliates and their ties to the CCP. Bo Zhang, the founder and CEO of the Harves Investment Group, among other U.S. based Harves affiliates, was being "groomed to take over his family's dynasty" in China, according to an email top former Biden aide Fran Person wrote to Hunter Biden in 2015, inviting him to China.
"Bo Zhang and his family would host us. They are a great family with great respect and relationships in China. Bo graduated from American Univ and is in his late 20's, and his parents own Harves Century Group of Shenyang – which is a top tier private chinese real estate development firm," Person wrote. "His mom is actually the Chairman of the company, which is unique in China. They are very private, and wouldn't tell anyone about you coming. Bo's father-in-law is actually the Governor of Hainan (Chinese Hawaii), which he doesn't advertise at all."
CLICK HERE TO GET THE FOX NEWS APP
"I'd like for you to get to know Bo. He's a brilliant guy – he's been groomed to take over his family's dynasty, but he's very humble. He will do great things one day, but he needs good people around him. He and his wife live in DC, and are expecting a child," he continued. "He is building a huge house in McLean, and plans on working and living in the US. This isn't about a partnership, or selling you on anything. We just want to grow that relationship, and there will be plenty of big things that come down the road that we can work on."
Robert and Christopher Buccini did not respond to Fox News Digital's requests for comment.