Mass riots that have torn through France in recent weeks have made migration, particularly mass migration from Africa, a top European issue once again while also resonating in the U.S. as it also continues to tackle an ongoing crisis at its southern border.
"As the horrific riots in France have proven, we must also redouble our efforts to ensure that anyone who comes to America shares our values and assimilates into our culture," former President Donald Trump said last week. "We don't want people coming into our country that hate us."
The riots began after the June 27 death of Nahel Merzouk, a 17-year-old of Algeria-Morocco descent, who was shot and killed by a police officer during a traffic stop in Nanterre, a suburb of Paris.
FRANCE BANS FIREWORKS SALES AHEAD OF BASTILLE DAY AS COUNTRY REELS FROM RIOTS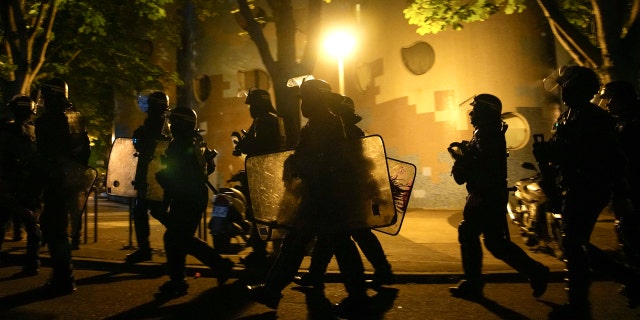 It sparked historic violence even in a country known for its regular rioting on issues such as pensions. But these riots have led to hundreds of police officers injured and the destruction of buildings. An Associated Press tally found that more than 6,000 vehicles have been destroyed and more than 1,100 buildings attacked. France remained on edge ahead of its July 14 Bastille Day celebrations, with firework sales banned out of concern of "serious disturbances" to public order.
It is similar in some respects to rioting seen in 2005 when there were weeks of rioting after the deaths of two teens of African heritage killed at a power station while fleeing police.
The riots have raised issues to do with alleged racism and discrimination by police against men of African descent, similar to the way that the 2020 riots in the U.S. in the wake of the death of George Floyd sparked a national conversation on race. Advocates have pointed to statistics that show Black or Arab men are 20 times more likely to be stopped by police. Some outlets have also cited statistics that only one in 10 of those arrested is a non-citizen.
But in France and across Europe, the unrest is reviving discussion about immigration, particularly from North Africa and Muslim countries, which became a major EU-wide issue during the 2015 migrant crisis but then largely drifted when COVID-19 hit in 2020.
The 2015 migrant crisis played a key role in both the victory of a number of right-wing movements in Europe, including Britain's exit from the European Union, and the rise of a number of populist governments in countries, including Italy and Austria. It is also seen as playing a role in the victory of Donald Trump in the 2016 U.S. presidential election. Now, with the riots having torn through France, many on the right in Europe and the U.S. are highlighting the connection with migration, arguing that it emerges from a lack of assimilation amid large numbers of arrivals.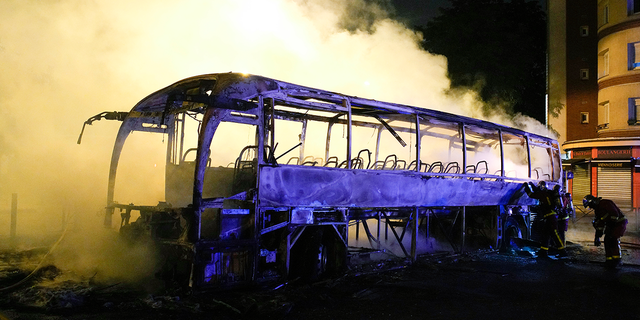 In France, former right-wing presidential candidate Eric Zemmour was blunt in his assessment of the problem.
"You tell us that these riots have nothing to do with immigration because many of the rioters are French. But it's even worse. We have forged for 40 years a people of French people who hate France," he said.
FRENCH GOVERNMENT RECOMMENDS TIKTOK RESTRICTIONS AFTER MACRON BLAMED CHINESE APP FOR FUELING YOUTH RIOTERS
Meanwhile, Poland cited the French riots when rejecting an EU migration agreement that would require countries to accept a certain number of migrants or be fined.
"Shops looted, police cars set on fire, barricades in the streets – this is now happening in the center of Paris and many other French cities. We don't want such scenes on Polish streets," Polish Prime Minister Mateusz Morawiecki tweeted. "We don't want scenes like this in any city in Europe. That is why we will defend the conclusions of the 2018 European Council, we will defend the principle of voluntary admission of immigrants. Stop illegal migration. Safety first."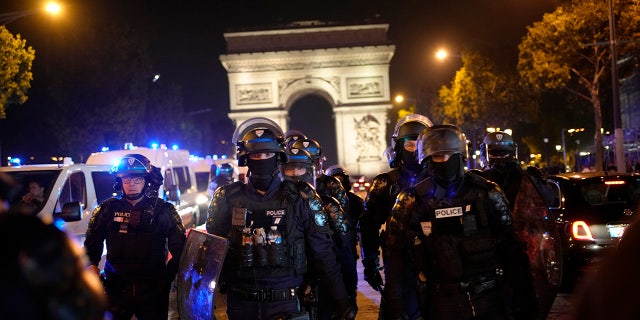 "Europe is threatened by mobs of anti-Europeans who smash police stations, burn libraries and stab to steal a mobile phone, who are unwilling to adapt to our way of life and our laws," Spanish Vox party leader Santiago Abascal said, according to Politico. "They think that we are the ones who have to adapt."
Douglas Murray, author of the 2017 book "The Strange Death of Europe: Immigration, Identity, Islam," told Fox News Digital that France and many other developed countries have "badly mismanaged migration."
"France has segments of the country that are populated by people who find it convenient to be in France because the standard of living is better than their home countries, but they're not of France. Now, what normally happens at this stage is that people say, 'Well, what can we do to integrate better?' And the answer is: maybe nothing. Maybe they can't be integrated. And that's the fatalistic conclusion that an increasing number of French people come to: This isn't working."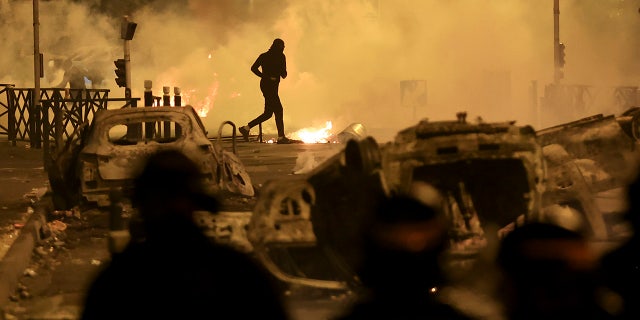 "Why do I say that? Because when, for instance, an incident like [the shooting] occurs, the idea that it automatically should lead to, as in 2005, mass civil disturbance, rioting, looting, burning is a suggestion that something else is going on," he said.
He disagreed with the claim made by some that police racism was the issue, saying that no matter the debate about the incident, it doesn't justify the intense violence seen across the country.
"It's not about police racism. It's not even about the police. It's about a significant chunk of the migrant community who are not integrated and will not integrate and dislike the country they're in," he said.
Alan Mendoza of the Henry Jackson Society recently told Fox News Digital that the riots are "the consequence of a failure to integrate the country's Muslim immigrant population" while also connecting the violence to French culture.
"The France of legend is far removed from the daily realities of life in a ghettoized community that does not have the same opportunities to progress and succeed as the native population," he said. "France's forgotten communities are showing that they will stay forgotten no longer. The simmering rage felt in the banlieues (suburbs) just needed a spark to explode and is now being taken advantage of by an anarchical strain of French society that has always welcomed disorder in the form of rioting and looting."
The U.S., too, has been in the middle of a heated national about immigration – primarily illegal immigration. Presidential candidate Ron DeSantis, the governor of Florida, has come out promising to "stop the invasion" as the U.S. continues to face a crisis at its southern border now into its third year that has seen historic numbers of migrants seeking entry.
FUNDRAISER FOR FRENCH COP ACCUSED OF KILLING TEEN SURPASSES $1M AS VIOLENCE RAGES
As a result, the French riots are resonating with U.S. Republican politicians, too. Trump cited the riots when he promised to bring back his travel ban on certain countries if elected to the White House.
Rep. Marjorie Taylor Greene of Georgia also cited the riots, writing on social media, "Muslims migrated to France over the past two decades and France took them in while making it difficult for the people of France to own guns for [self-protection]. We need strict immigration laws and strong borders and always defend our great [Second Amendment] rights."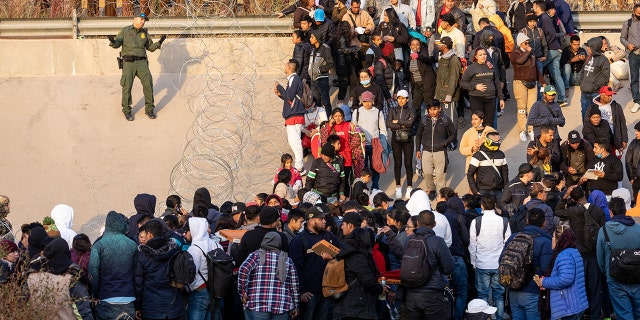 France is not the only European country that is having difficulties with tackling migration. In the U.K., the government's plan to send migrants to Rwanda was shot down by an appeals court last month. Britain has seen record numbers of migrants crossing from France in small boats, and its conservative government is under pressure to tackle the issue.
Murray, a Fox News contributor and National Review Institute fellow, says there are three key factors when it comes to mass migration: the speed at which people arrive, the number of arrivals, and the identity of those people.
What the U.S. is facing, a crisis of illegal immigration at its southern border primarily from Latin America, may have similarities in terms of numbers and speed, but Murray says the identity issue is a key difference.
"Most people who study migration, like me, would say that America has a serious border problem, and there is much to be said about the importance of plugging that problem. Nevertheless, by comparison, and I'm not by any means downplaying this, America has migration from the Central, South American world. Europe, France has migration from Africa. And it's a simple truism to say that that is a harder integration process," he said.
Murray said, however, that there is a common factor connecting the U.S. and Western Europe on the question of migration.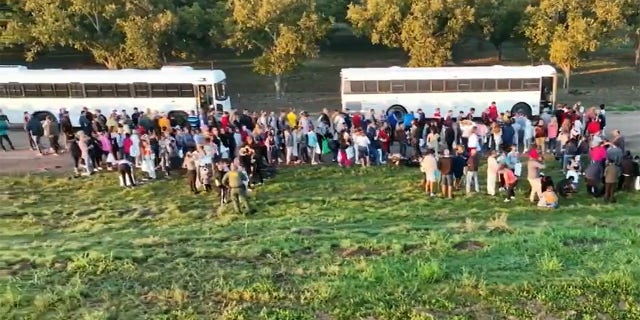 CLICK HERE TO GET THE FOX NEWS APP
"The huge similarity is that both America and Western Europe seem to have lost the ability to say 'no.' There are too many people in charge who cannot justify why the world should not come in," he said. "And remember, it was not long ago that mainstream Democrats like [Senate Majority Leader] Chuck Schumer used to acknowledge that you've got to get rid of illegals in America. Now it's all about amnesty, it's all about welcoming people at the border, helping them, people fleeing oppression, economic deprivation and much more."
He also warned that the U.S. could eventually see the sort of violence that recently tore through France.
"The American political class has increasingly ended up in the same position as the European political class, which is they cannot find a way to justify having secure borders and repelling illegal migration," he said. "And so it continues, and it gets encouraged, and it acts as a pull factor, which will only increase the numbers in the years ahead. And the results will be of the kind that we've seen in France."
Fox News' Peter Aitken and the Associated Press contributed to this report.