New legislation to declassify and release UFO-related records could start new age of transparency about extraterrestrial matters. 
The Senate approved the Unidentified Anomalous Phenomena (UAP) Disclosure Act, which says, "All federal government records concerning Unidentified Anomalous Phenomena (government-derived word for UFO) should carry a presumption of immediate disclosure." 
It's unknown how many of these records exist, but the legislation says "credible evidence and testimony" indicates documents "have not been declassified or subject to mandatory declassification review" under the Freedom of Information Act.
Legislative action "is necessary to restore proper oversight over UAP records" that have "otherwise been lacking," and to further scientific and technologic research. 
ONLY 4 DEMS VOTE WITH GOP TO PASS DEFENSE POLICY BILL ROLLING BACK ABORTION POLICY, 'WOKE' INITIATIVES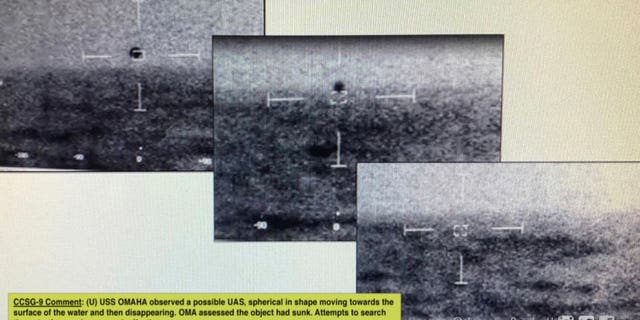 The bipartisan legislation, which the Senate passed on Friday, was modeled after the President John F. Kennedy Assassination Records Collections Act of 1992 and will create a UAP Records Collection as well as an independent UAP Records Review Board.
The review board will have 72 hours to either release the documents or provide a reason to keep them classified. 
CONGRESSMAN HAS GRIM TAKE AFTER ACCESS TO UFO FOOTAGE: THIS TECH 'COULD TURN US INTO A CHARCOAL BRIQUETTE'
Majority Leader Chuck Schumer, D-N.Y., who authored the legislation with Sen. Mike Rounds, R-S.D., is expected to include it as an amendment in the National Defense Authorization Act (NDAA). 
"For decades, many Americans have been fascinated by objects mysterious and unexplained, and it's long past time they get some answers," Schumer said in a statement. 
"The American public has a right to learn about technologies of unknown origins, non-human intelligence, and unexplainable phenomena. We are not only working to declassify what the government has previously learned about these phenomena but to create a pipeline for future research to be made public."
VIDEO POTENTIAL UFO SIGHTING IN NAPLES, FLORIDA
Senate action sets a 300-day deadline for government agencies to provide UAP-related records to the Review Board, which has 72 hours to either release the records or postpone disclosure. 
The sitting president can agree or overturn the board's decision, but documents will be released to the public after 25 years.
SEN. KIRSTEN GILIBRAN SECURES 'FULL-FUNDING' FOR GOVERNMENT OFFICE ON RESEARCH UFO SIGHTINGS
A similar version was introduced in the House by Tim Burchett, R-Tenn., who has been outspoken on the UFO topic and pushed for more transparency.
His UAP declassification effort was included as an amendment in the House version of NDAA, which narrowly passed on Friday with a 219-210 vote after four Democrats' "yes" votes matched the four Republicans who voted against it.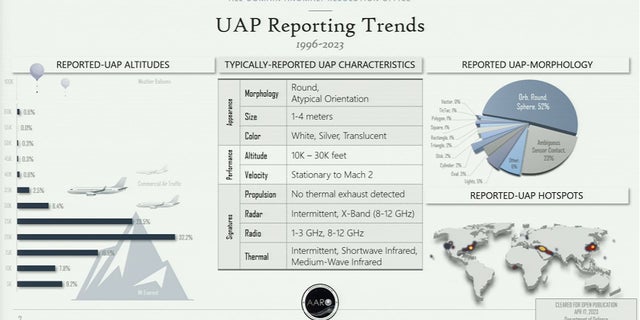 The hunt for UFOs, and the subsequent destigmatization of the topic, has been like a pressure cooker for the last few years. 
It became boiling hot when decorated Air Force veteran David Grusch blew the whistle on a secret UFO retrieval program run by the government.
FOOTAGE OF UFOS OVER CONFLICT ZONES SEEN FOR FIRST TIME: 'THIS IS DEVASTATING'
He claimed they hid information from Congress about "dead, non-human" pilots and reverse engineering extraterrestrial technology.
Although nothing has been publicly verified, Grusch is believed by many experts in the field, and recent statements by Sen. Marco Rubio, R-Fla., seem to back his claims.
WATCH: HARVARD PROFESSOR AVI LOEB'S INTERVIEW ABOUT POTENTIAL UFO DEBRIS FROM BOAT ON THE PACIFIC OCEAN
Rubio told NewsNation in a recent interview that other members of the intelligence committee have come forward with "firsthand" accounts of crashed UFO tech.
"There is a lot we still don't know about these UAPs and that is a big problem," Rubio said after the Senate's UAP Disclosure Act was announced. 
MILITARY WHISTLEBLOWER GOES PUBLIC WITH CLAIMS US HAS SECRET UFO RETRIEVAL PROGRAM: 'TERRESTRIAL ARMS RACE'
"We've taken some important steps over the last few years to increase transparency and reduce stigmas, but more needs to be done. This is yet another step in that direction, and one that I hope will spur further cooperation from the executive branch."
All "recovered technologies of unknown origin (TUO) and biological evidence of non-human intelligence (NHI)" is considered to be property of the federal government by eminent domain.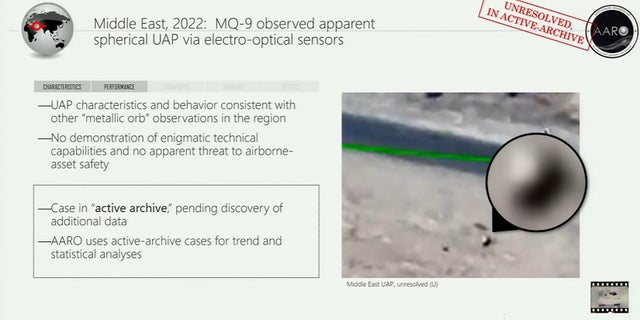 CLICK HERE TO GET THE FOX NEWS APP
AARO is a specialized department in the Pentagon that investigates UAPs. It's headed by Dr. Sean Kirkpatrick, who said about 2%-5% of the 800 cases AARO is looking into are "truly anomalous."
NASA is also investigating UFOs, running on a separate but parallel track as AARO. 
Both NASA and AARO are expected to release separate reports this summer.