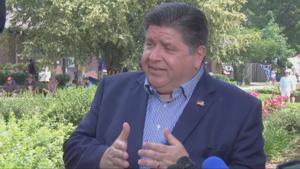 (The Center Square) – Gov. J.B. Pritzker has been touting Illinois' budget surplus for the fiscal year that just ended. However, some financial analysts believe a surplus is impossible for the state.
At more than $50.4 billion in spending, the state's budget that started July 1 is the largest in the state's history.
For the previous fiscal year that ended June 30, the Illinois Commission on Government Forecasting and Accountability reported the "base" receipt actual total was $50.7 billion. That is $295 million higher than the commission's May 2023 forecast of $50.4 billion. The report shows the actual was $726 million above the Governor's Office of Management and Budget's May 2023 revised forecast of $50.7 billion.
According to Pritzker, he's managing a surplus.
"It's always good to have a surplus, and that's something we've done consistently now for four years," Pritzker said. "I would add that much of the surplus we saw that came in at the end of the year is one-time dollars that were added to our revenues."
Pritzker said it is the first substantial budget surplus the state has had in a long time.
"It is the first real significant surplus we have had because we have taken all the surpluses in the previous years and assigned them to those one-time expenditures," Pritzker said.
Sheila Weinberg of Truth in Accounting told The Center Square that the state has too many outstanding bills to have a true budget surplus.
"The state continuously does not pay its pension payments," Weinberg said. "I would say that, is the state really running a budget surplus of more than $700 million if they are not contributing the proper amount into their pension?"
Illinois has around $140 billion in unfunded state employee pension liabilities that doesn't include annual costs of other post employment benefits.
Weinberg said any budget surplus that the governor claims the state has is due to new taxes and money from the federal government.
"It comes from a lot of federal money that is not going to continue and from additional taxes that were collected," Weinberg said. "This would be like me saying, 'hey, I got more money in my bank account than I did last year, and the way I got there was by not even paying the minimums on my credit card payments.'"
COGFA said while assessments of a possible recession in the U.S. economy are easing, "many economic forecasters still have a recession in the short-term as a distinct possibility."