Former Vice President Mike Pence was among a handful of Republican presidential candidates who failed to make a splash with the announcement of his second-quarter fundraising total, bringing into question whether he will be able to participate in the first GOP debate next month.
Since launching a campaign for the White House on June 7, Pence raised only $1.2 million, his campaign told the Washington Post.
Combined with the $2.6 million that was reportedly raised by Committed to America, a super PAC supporting Pence's candidacy in the race, the former Indiana governor's second-quarter total reaches approximately $3.8 million.
The total raised by the Republican presidential hopeful – who faces an uphill battle to serve as the nation's commander in chief – puts Pence on the low end in fundraising, compared to his GOP challengers, sparking concern from Pence supporters.
TRUMP CAMPAIGN RAISES EYE-POPPING AMOUNT WHILE BATTLING DUAL INDICTMENTS, MULTIPLE GOP CHALLENGERS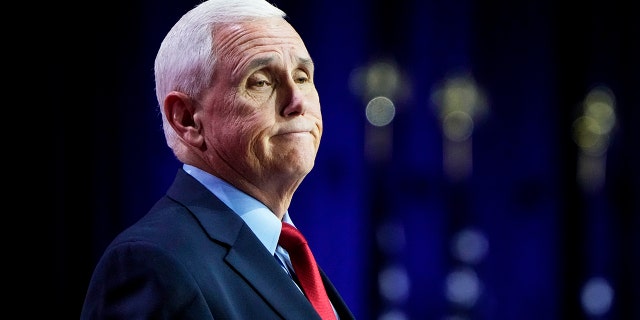 Former President Donald Trump – who has dominated the Republican race for president thus far – hauled in more than $35 million during the April-June second quarter of 2023 fundraising, Trump's campaign confirmed to Fox News last week. That's nearly double the $18.8 million the Trump campaign brought in during the January-March first quarter of fundraising.
Second to Trump, Florida Gov. Ron DeSantis has brought in an impressive $20 million in fundraising during the first six weeks of his campaign for the 2024 Republican presidential nomination, his political team told Fox News last week. Never Back Down, the super PAC supporting the Florida governor's presidential run, also told Fox News that it has hauled in $130 million in fundraising since the committee launched in early March.
Former South Carolina Gov. Nikki Haley's Republican presidential campaign and two aligned political committees brought in $7.3 million during the April-June second quarter of 2023 fundraising, according to FEC reports.
North Dakota Gov. Doug Burgum's presidential campaign reported raising $11.7 million in the 23 days from June 7 — when the governor declared his candidacy for president — through the end of the month, which marked the close of the April-June second quarter of 2023 fundraising. That figure, shared first with Fox News on Friday, included a $10.2 million personal investment from Burgum.
NIKKI HALEY HAULS IN NEARLY $16M SINCE LAUNCHING GOP PRESIDENTIAL CAMPAIGN IN FEBRUARY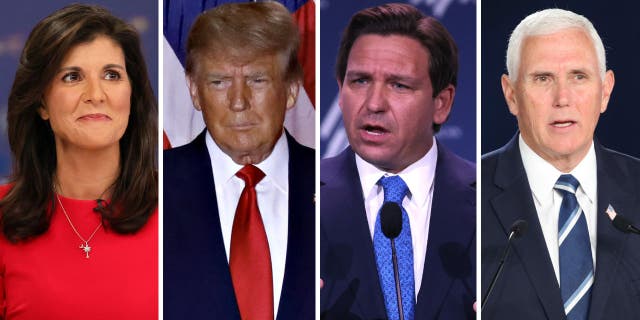 The lackluster fundraising total also raises doubts about Pence's eligibility to compete in the first presidential debate next month.
The first Republican presidential primary debate of the 2024 cycle – which will be hosted by Fox News and is slated to be held in Milwaukee, Wisconsin, on August 23 – has a list of requirements from the Republican National Committee that candidates must meet in order to take the stage.
To reach the debate state, a candidate must have 40,000 unique donors to their campaign committee (or exploratory committee), with "at least 200 unique donors per state or territory in 20+ states and/or territories." The RNC says candidates must present their fundraising figures at least 48 hours prior to the first debate.
A campaign aide told the New York Times on Friday that Pence, 64, has not reached the 40,000 individual donors that are required.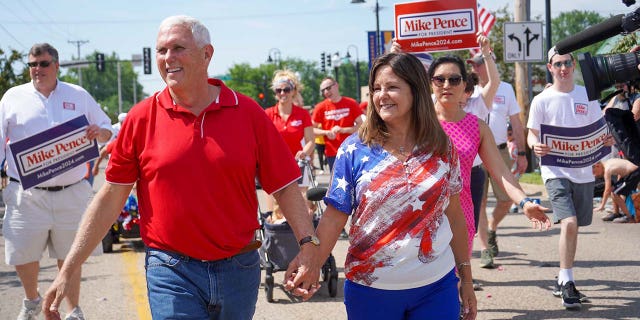 In an effort to reach the 40,000 threshold, a WinRed site supported by Burgum's campaign is offering donors a $20 gift card if they donate at least $1, with a limit of one per person.
CLICK HERE TO GET THE FOX NEWS APP
To make the stage, candidates will also have to reach 1% in three national polls, or 1% in two national polls and 1% in a poll conducted in one of the four early-voting states in the GOP presidential nominating calendar – Iowa, New Hampshire, South Carolina, and Nevada.
Fox News' Paul Steinhauser contributed to this report.