"We're cutting the woke out of the military," declared Rep. Ralph Norman, R-S.C. "Getting this country back on a conservative basis."
 "I think it's demoralizing to our troops when you see one of our leaders up there in a dress, or they're doing these drag shows," offered Rep. Tim Burchett, R-Tenn.
Conservatives believe the battlefield may be inside the Pentagon. Republicans aimed to give "woke" policies in the armed forces a dishonorable discharge in this year's defense policy bill.
 "My amendment would ban CRT – Critical Race Theory – from any military instruction," bragged Rep. Michael Waltz, R-Fla.
KIRBY CLAIMS ANTI-WOKE DEFENSE BILL PUTS TROOPS, MILITARY READINESS AT 'GREATER RISK'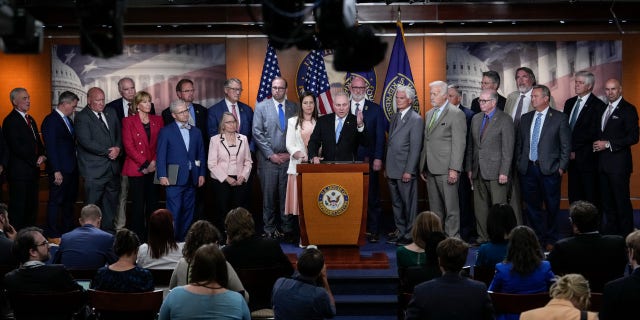 Rep. Chip Roy, R-Tex., went a step further.
 "We're focused on building a national defense and a military that is focused on blowing things up and killing people. N on social engineering wrapped in a uniform," said Roy.
The House Armed Services Committee approved an initial version of the annual defense plan, 58-1. 
That package may have passed on the floor with a coalition of Democrats and Republicans. For 62 years, lawmakers approved the defense bill on a bipartisan basis. 
But that may not be the case this year.
House Speaker Kevin McCarthy, R-Calif., only has a four seat majority. So McCarthy let conservatives have their say on this legislation – even if those priorities may not wind up in the final version.
House members filed a staggering 1,500-plus amendments to the annual defense policy bill. Live amendments on the floor to legislation is an organic process. No one quite knows what amendments will pass or fail. And, in circumstances like these, it's hard to track if a bill has the necessary votes. That's because the underlying measure metamorphoses in real time on the floor. Changing and updating, contingent upon the adoption or failure of amendments. That means lawmakers who were for the bill before may not like how the measure evolved. Of course, another cadre of lawmakers suddenly flip to yea because the bill now contains provisions more palatable to them.
There wasn't a lot of debate about missiles and troops in this year's defense bill. But once the amendments hit, it was all about abortion, transgender surgeries and diversity initiatives.
"We're voting to get rid of this left-wing, socialistic, woke agenda," declared Rep. Mike Collins, R-Ga., on the floor. "Now we can get back to protecting the citizens of this country."
Conservatives aimed to prohibit service members from using the military's health plan to pay for transgender treatments. There was an effort to restrict books with "radical gender ideology" in military libraries. Burchett authored an amendment to require those who identify as men to register for the draft.
"If these folks want to be treated like man, they need to act like men," said Burchett.
That said, Burchett's plan never received formal consideration on the floor.
But no other issue loomed as large as a conservative effort to slash reimbursements for troops or those under the military health care system umbrella to seek abortions across state lines.
"It feels like House Republicans want to live in the 1950s," said House Democratic Caucus Chairman Pete Aguilar, D-Calif.
HOUSE VOTES TO KILL PENTAGON'S CONTROVERSIAL ABORTION TRAVEL POLICY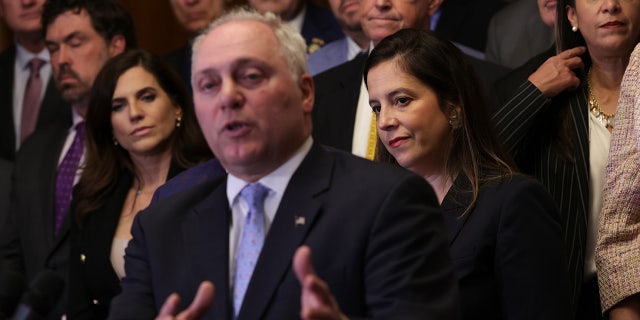 There was worry the military culture clash could crash the entire defense bill. Some Republicans fretted that the conservative social policy issues went too far.
"We were told we're not going to mess with women traveling out of state. What we are we doing this week? NDAA? Potentially messing with women who are traveling out of state," said Rep. Nancy Mace, R-S.C. "We have a chance to show compassion to women this week. And I really just hope we don't screw it up. I hope we don't drop the ball."
Yet despite Mace's consternation about the abortion plan, she seemingly reversed course to support the very abortion amendment in question.
"Research told me today, and looking at the amendment and the legislation, it didn't have to do with the women getting time off after they've had the procedure. The military doesn't reimburse travel for elective procedures as a general policy rule," said Mace.
When pressed further, Mace noted that the abortion provision wasn't "going to pass the Senate anyway. It doesn't matter."
Democrats honed in on the abortion question.
"It's gone," said Rep. Adam Smith, D-Wash., the top Democrat on the House Armed Services Committee. "If Republicans insist that it has to be in it, then we will not have (a defense policy bill) this year. If by some unbelievable miracle the Senate allowed that to go through, Biden would veto it."
Democrats excoriated the GOP for inclusion of the amendment.
"This is an insult to all who serve – particularly women – in uniform.," fumed Rep. Pat Ryan, D-N.Y., an Army veteran and West Point graduate. "They're being told your service and willingness to risk your life – we don't care. You don't get health care services. You don't get reproductive health care services. This is un-American."
Rep. Jamaal Bowman, D-N.Y., characterized the legislation as a "culture war document."
The House eventually approved the package 219-210. The social issue amendments courted the votes of skeptical conservatives. Four Republicans voted nay. Four Democrats voted yea. More Democrats would have voted yea had the legislation not veered so far from center.
"The far right hijacked this hijacked our national security," declared Ryan. 
The House Rejected an amendment by Rep. Marjorie Taylor Greene, R-Ga., to curb money for Ukraine. But Greene still voted yes. That's because McCarthy tapped Greene to serve on a conference committee, negotiating the final version of the bill with the Senate.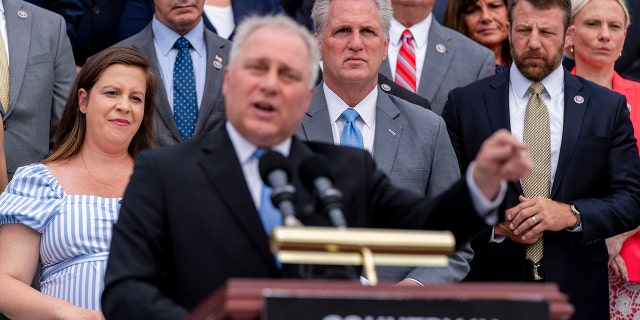 "That allows me to go and be a voice in the room to talk about removing money going to Ukraine," said Greene.
But Democrats reminded Republicans that the House version isn't the final say.
"We are going to cut out the cancer that the extreme Republicans have put in the National Defense Authorization Act," said House Minority Leader Hakeem Jeffries, D-N.Y. He characterized some of the provisions as "malignant."
CLICK HERE TO GET THE FOX NEWS APP
But House conservatives warn the bill better not change too much from the current form or they may balk.
 "Striking that balance ought to be a whole lot closer to our position than just defaulting to whatever the Senate says," said Chip Roy.
Conservatives are watching McCarthy closely. They remember that he cut a deal with Democrats and President Biden on the debt ceiling in the spring. More Democrats voted for that package than Republicans.
 This means McCarthy could face a new headache with a "must-pass" bill very soon.