Abigail Disney, the heiress of the Disney fortune, was arrested in New York on Friday after she and several climate activists blocked a small airport servicing private jet departures and arrivals.
Disney was joined by members of New York Communities for Change, Planet Over Profit and Sunrise Movement NYC in the action held to protest and disrupt the "exclusive vacations of wealthy fossil fuel investors and polluters driving the climate crisis," a press release stated. The activists blockaded the regional East Hampton Airport in Wainscott, New York.
"As a person who has been privileged enough to use private jets, I know it's hard to give up a luxury that is special," Disney said in a statement Friday. "But I also know that the time has passed for spewing greenhouse gasses like this merely for our personal comfort."
"The events of the past week alone, with Earth's average temperature hitting an all time high, drought and fatal heat waves across the country, floods in Vermont and New York, and ocean temperatures around Florida well over 90 degrees, should remove all doubt once and for all," she added. "The wealthiest 1% uses as much greenhouse gas as the entire bottom 50%. It is time for real change and this is the most obvious place to start."
AOC'S PAC FUNNELED THOUSANDS TO ORG FINANCING DISRUPTIVE CLIMATE PROTEST GROUPS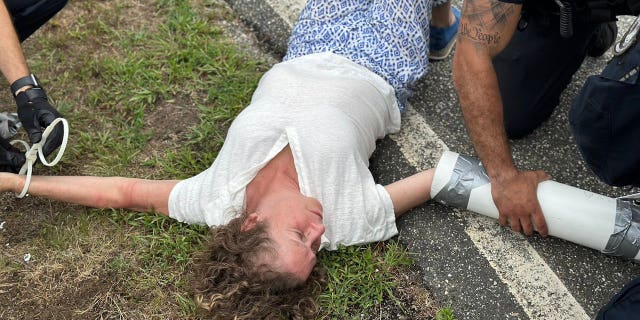 According to photos and videos of the incident, Disney and the other protesters formed a blockade at the main entrance of East Hampton Airport which serves private and charter flights, not commercial. It is situated in the Hamptons, a ritzy community in eastern Long Island that is home to a number of celebrities and affluent residents.
CLIMATE ACTIVISTS FORCIBLY DRAGGED FROM EVENT WITH BIDEN ENERGY SECRETARY JENNIFER GRANHOLM
"These same rich people farting into the Hamptons on private jets are often the ones who make their money in industries that hugely accelerate the climate crisis," said Teddy Ogborn, an organizer of Planet Over Profit who was also arrested at the protest. 
"As long as the 1% continues to needlessly poison our air and heat our earth, we will continue to escalate our actions against them."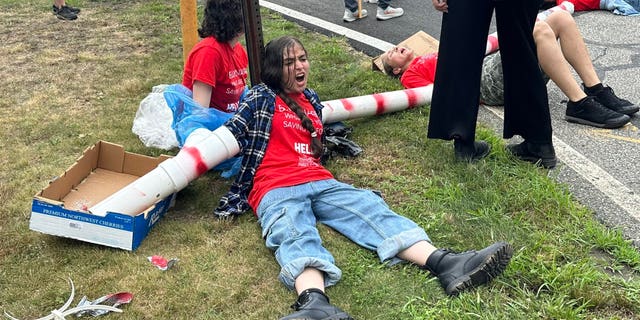 The protest Friday is the first in a series of actions climate activists are planning in the Hamptons over the coming days. 
CLICK HERE TO GET THE FOX NEWS APP
On Saturday, activists will hold a "Tax the Rich for Climate Justice" march; on Sunday, they will protest near the private Sebonack Golf Course in Southampton; and on Monday, they are rallying outside the home of a Citibank board member with pitchforks.
The actions are part of a growing number of climate protests centered around disrupting public areas in an effort to push leaders to take more aggressive actions to curb global warming.