Republicans made huge gains among Hispanic, Asian and young voters in the 2022 midterm elections, a new Pew Research Center post-election analysis released Wednesday found.
According to the report, the margin between Hispanic voters who voted Democrat and those who voted Republican shrunk by a massive 26 points in the 2022 midterms compared to the 2018 midterms.
Although Democrats maintained their lead among Hispanic voters, their share of the Hispanic vote dropped from 72% in 2018 to 60% in 2022, while Republicans increased their share from 25% in 2018 to 39% in 2022. The margin went from 47 points in Democrats' favor, to just 21 points.
An even larger margin shift toward Republicans came from Hispanic men, who favored Democrats by 42 points (69%) in 2018, but just 13 points (56%) in 2022. Republicans' share of the vote from Hispanic men increased from just 27% in 2018 to 43% in 2022.
VICE PRESIDENT KAMALA HARRIS ATTEMPTS TO EXPLAIN AI IN LATEST WORD SALAD GAFFE: 'KIND OF A FANCY THING'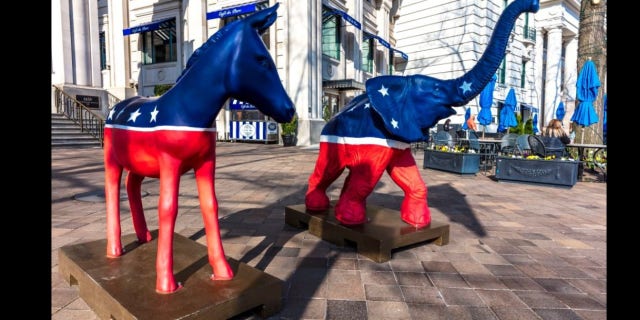 Hispanic women also saw a massive shift toward Republicans, dropping from a 52-point margin in Democrats' favor in 2018 to a 30-point margin in 2022. Republicans won just 23% of Hispanic women votes in 2018, but that increased to 34% in 2022. Democrats won 75% and 64% respectively.
The report noted that 37% of Hispanic voters who voted in 2018 did not turn out to vote in 2022, but the total percentage of the electorate made up by Hispanic voters increased from 8% in 2018 to 9% in 2022.
Another, albeit smaller, shift toward Republicans happened among Asian voters. In 2018, Democrats garnered 72% of the Asian vote with Republicans at just 26%, a margin of 47 points. Republicans jumped to 32% in 2022 while Democrats won to 68%, shrinking the margin to 36 points. 
The share of Asian voters making up the total electorate increased from 2% in 2018 to 3% in 2022.
WATCH: BIDEN CONFUSES UKRAINE WITH RUSSIA, ZELENSKYY WITH PUTIN DURING GAFFE-FILLED TRIP TO LITHUANIA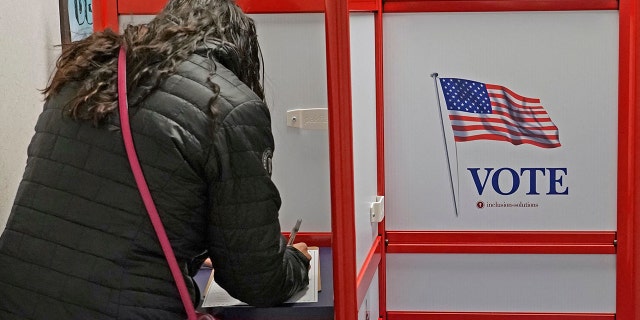 Support from Black voters remained largely unchanged with Democrats winning 92% in 2018 and 93% in 2022, compared to Republicans' 6% in 2018 and 5% in 2022.
Republicans also made gains with voters under the age of 30, traditionally a source of strong Democratic support. The share of the electorate made up of voters aged 18 to 29 fell slightly to 10% from 11%, but the margin fell from 49 points in Democrats' favor in 2018 to 37 points in 2022. 
The age group voted just 23% for Republicans in 2018, but that jumped to 31% in 2022 while Democrats dropped from 72% to 68% respectively. 
The report found that, despite Republicans winning control of the House of Representatives, there was no large shift in voters' party preference for those who cast a ballot in 2018 and 2022. For those that did shift their party support, the net flip fell at 1% to 2% from Democrat to Republican.
HOUSE DEM JAYAPAL GRILLS FBI'S WRAY ON COLLECTING AMERICANS' DATA, WARNS OF 'DIFFICULT' FISA REAUTHORIZATION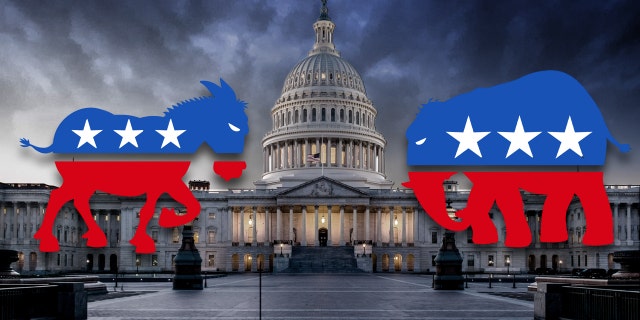 If voters who voted in both 2018 and 2022 were broken down by party, 92% of voters who voted for Democrats in 2022 also voted for Democrats in 2018, while 95% of voters who voted for Republicans in 2022, also voted for Republicans in 2018.
CLICK HERE TO GET THE FOX NEWS APP