FBI Director Christopher Wray, during what at times was a heated appearance before the House Judiciary Committee on Wednesday, took a solemn moment to remember his "single darkest day I've had in this job." 
During a hearing on Oversight of the Federal Bureau of Investigation, Rep. Eric Swalwell, D-Calif., asked Wray about his workforce, noting that FBI headquarters welcomed employees from across the agency to attend Family Day a few weeks ago. 
"You see any little kids at Family Day?" Swalwell asked. 
"Many, many, many," Wray answered. "It's an opportunity for us to say thank you to the families. And we talk a lot in law enforcement about sacrifice. But the reality is that law enforcement officers and professionals are sacrificing to do what they love. Our families are sacrificing because of who they love." 
GOP REP CHALLENGES WRAY OVER COURT RULING ON FBI SUPPRESSION OF CONSERVATIVE FREE SPEECH: 'YOU SHOULD READ IT'
"And what would you say in your experience is the number one worry of a little kid about a mom or dad who was a special agent out in the field?" Swalwell asked.  
"Obviously, they're worried that their mom or dad won't come home at night because they've been killed and that has happened, unfortunately, already," Wray said. 
The congressman noted that it happened a few years ago in Fort Lauderdale, Florida.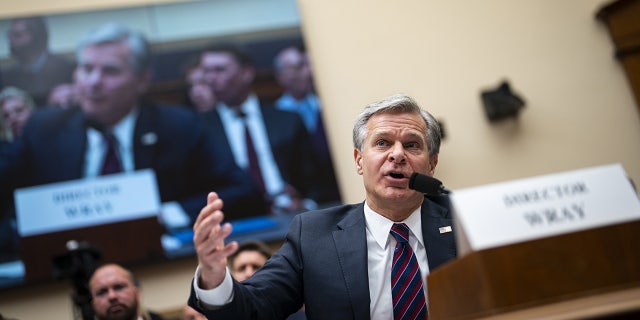 "Laura Schwartzenberger and Dan Alfin," Wray affirmed. "Two of our agents killed in connection with a child exploitation case down there. It was the single darkest day I've had in this job." 
Schwartzenberger and Alfin were shot and killed on Feb. 2, 2021, in the line of duty while executing a federal court-ordered search warrant in a crimes against children investigation in Sunrise, Florida. Three other agents were shot and wounded, the FBI has said. 
Remembering the fallen at the time, Wray described Schwartzenberger and Alfin as "two warriors who took on one of the hardest jobs in the FBI, crimes against children."
"Two best friends who shared the same passion, the same determination, and — in spite of all they had witnessed in their extraordinary careers — the same sense of optimism and hope that comes from work that matters. Two of the very best the FBI had to offer," Wray said at Alfin's memorial service.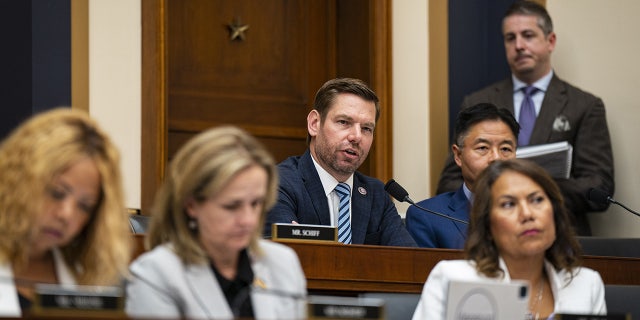 During the hearing Wednesday, Swalwell went on to describe an organization called Marco Polo, which he said is run by former President Donald Trump's aide Garret Ziegler. 
"Over the past couple of weeks, he has doxxed the addresses of a former special agent connected to the Biden case. He has put up the dates of births and pictures of two current special agents who work for you. He has said the name, which I will not say, of an assistant U.S. attorney who worked in the Hunter Biden case," Swalwell said, quoting Ziegler as saying that the attorney will "answer for her crimes."
FBI DIRECTOR WRAY TO TESTIFY BEFORE HOUSE JUDICIARY PANEL AMID ALLEGATIONS OF POLITICIZATION WITHIN BUREAU
"But do these types of threats and doxxing concern you about threats to your workforce and what it could mean?" he asked Wray.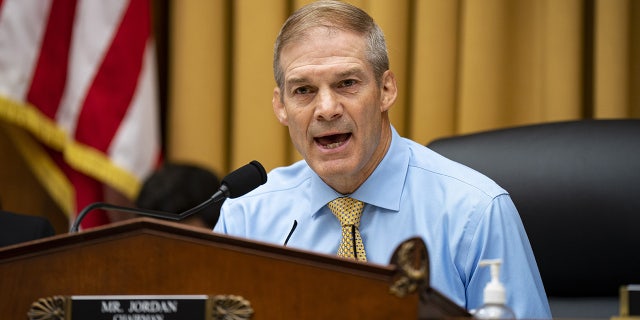 CLICK HERE TO GET THE FOX NEWS APP
"Well, obviously, what we're most concerned about are the actual acts of violence which themselves have happened and as we just discussed. But this kind of phenomenon, doxxing, is itself hugely problematic because the more information, personal and information about law enforcement professionals that are out in the internet, the more people who may be unstable or inclined to violence there are out there who can choose act on it," Wray said. 
"And we're seeing that all too often. The number of officers across law enforcement killed in the line of duty has been up alarmingly over the last few years. And I know that because one of the things I committed to doing early in my tenure was every time an officer anywhere in the country is shot and killed in the line of duty, I was going to personally call that sheriff or that chief and on behalf of the FBI, express our support and condolences and relay that to the family. And I have done that now close to 400 times since I've been in this job."