FIRST ON FOX: Homeland Security Secretary Alejandro Mayorkas will appear to testify before the House Judiciary Committee later this month, Fox News Digital confirmed on Wednesday – in a hearing that is likely to see fiery questions from Republicans on the border crisis and other hot-button issues.
Mayorkas will appear before the GOP-led committee on July 26. The hearing is called "Oversight of the U.S. Department of Homeland Security."
In an official invite, Chairman Jim Jordan asks that Mayorkas be ready to discuss policies and programs, including those related to Customs and Border Protection "encounters, gotaways, paroles, and releases" at the southern border since Jan. 20, 2021, as well as Immigration and Customs Enforcement (ICE) arrests, removals, releases and detention, and adjudication of immigration benefits.
GOP REP. GIMENEZ SHOWS MIGRANT TRAFFIC MOVING THROUGH PANAMA, HEADING TO US BORDER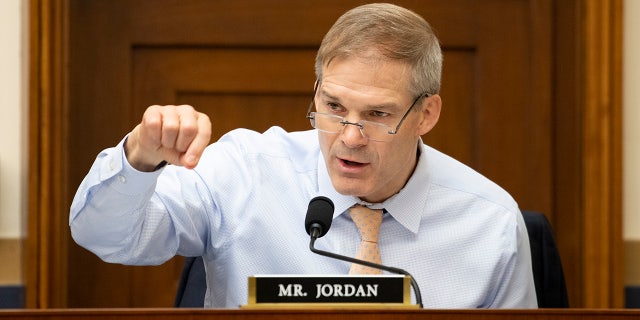 "Committee Members will also likely raise matters concerning the Department's censorship efforts, the Cybersecurity and Infrastructure Agency, the Disinformation Governance Board, and related matters," Jordan said. "We ask that you be fully prepared to discuss in detail these topics as well."
Mayorkas has made a number of appearances before committees in both the House and the Senate this year, where he has faced a number of intense lines of questioning over the ongoing crisis at the southern border.
Numbers rocketed at the border shortly after the Biden administration came into office in early 2021. There were more than 1.7 million migrant encounters in FY 2021, and numbers kept rising in FY 2022 where there were more than 2.4 million.
Republicans have blamed that surge, along with the accompanying chaos, on the Biden administration's rolling back of Trump-era policies including the Migrant Protection Protocols and border wall construction, as well as its narrowing of interior enforcement. Some Republicans have called for Mayorkas to resign, or be fired or impeached over his handling of the crisis, and have told him so in-person. The House Homeland Security Committee is currently investigating his handling of the crisis and what members call a "dereliction of duty."
The administration has argued that it is working within a "broken" system that Congress has failed to fund and fix, while working to expand legal asylum pathways shut down by the prior administration.
"Instead of pointing fingers and pursuing baseless attacks, Congress should work with the Department and pass comprehensive legislation to fix our broken immigration system, which has not been updated in decades," a DHS spokesperson said last month.
EX-DHS CHIEF WOLF ACCUSES BIDEN ADMIN OF 'CRISIS BY DESIGN' AT THE BORDER, CALLS FOR NEW LEADERSHIP
Biden administration officials have pointed to a sharp decline in encounters in May since the ending of the Title 42 public health order on May 11. There were still more than 200,000 encounters across the border, but officials noted a 70% drop in encounters since the record highs seen in the days before the end of the order.
Some policies that the administration have put into place are currently facing legal challenges. An asylum rule which limits asylum claims for those who have crossed illegally is facing lawsuits from Republican-led states and left-wing groups for different reasons.
CLICK HERE TO GET THE FOX NEWS APP
Meanwhile, a policy to release migrants into the interior without court dates due to overcrowding was blocked in May by a federal judge in response to a lawsuit from Florida.
The administration won a key legal battle recently, however, when the Supreme Court dismissed a challenge by Republican-led states to DHS' narrowing of ICE enforcement priorities to recent border crossers, national security threats and public safety threats.