Gov. Sarah Huckabee Sanders, R-Ark., turned the tables on Gov. Gavin Newsom in a short video, blasting his handling of California after he suggested that Republicans "should be on their heels."
"We should not be on the defense as a Democratic Party," Newsom said in the clip. "The Republican Party should be on their heels."
The video, posted Monday, then panned to Sanders, who struts in heels over a report that 500,000 people left Newsom's state over the past two years. Arkansas ranked in the top five states for new movers.
NEWSOM ADMITS CALIFORNIA HAS 'NOT MADE PROGRESS' ON HOMELESS CRISIS WHEN PRESSED BY HANNITY: 'WE OWN THIS'
The 27-second clip recalls how Sanders lowered Arkansas' unemployment rate, cut taxes and raised teacher salaries – all while "in heels."
SARAH HUCKABEE SANDERS: FAITH GUIDES EVERY PART OF MY LIFE
The clip is not the first time the two governors clashed over social media.
Newsom took aim at Sanders in February after she delivered the Republican rebuttal to President Biden's State of the Union address, writing on Twitter, "Arkansas has one of the highest murder rates in the nation," after she expressed concern over rising crime.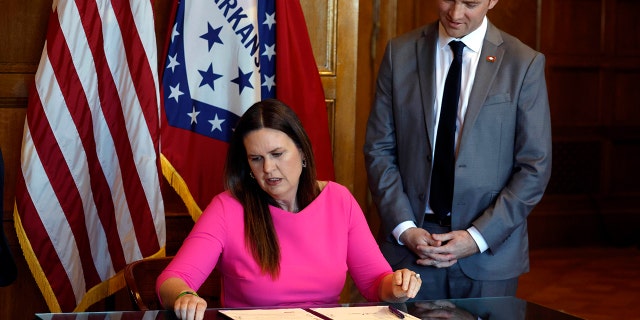 CLICK HERE TO GET THE FOX NEWS APP
The California governor, however, received backlash from Arkansas state Rep. Andrew Collins, a Democrat, who said, "Don't trash my state," adding that crime in Arkansas is a generational issue that needs correcting.