Early in-person voting began Tuesday in an election in Ohio to determine whether to make it more difficult to amend the state's constitution, the results of which could have immediate consequences for an abortion rights amendment in the works.
If approved, Issue 1 would raise the threshold for passing future constitutional changes from a simple majority in place since 1912 to a 60% supermajority.
Proponents of the measure, represented by the Protect Our Constitution coalition, argue that the increased percentage will keep deep-pocketed interest groups from pushing unwanted abortion, gun control, minimum wage, farm and other policies on Ohioans.
OHIO LAWMAKER ARRESTED ON DOMESTIC VIOLENCE CHARGE
One Person One Vote, the opposition campaign, says the rushed effort in an off-year election is intended to prevent passing policies that are popular with a majority of average Ohioans but opposed by the increasingly conservative GOP supermajority at the Statehouse.
Since the landmark Roe v. Wade decision legalizing abortion was overturned last summer, amendments protecting access to abortion in other states, even conservative ones, have passed handily — but generally with less than 60% of the vote.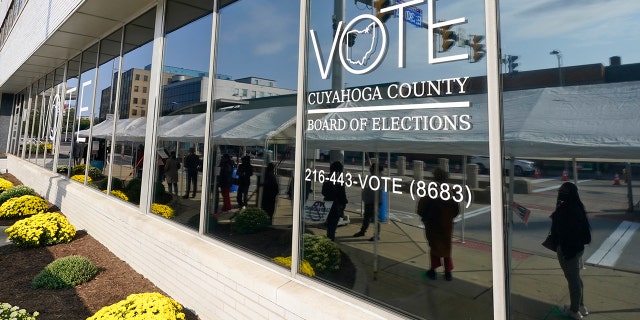 The way the constitutional amendment issue was rushed onto an off-year, summer ballot could mean a tiny percentage of Ohio voters will decide the issue, the opponents contend. County election boards reported initial turnout was steady to robust in an Aug. 8 contest not initially on the 2023 calendar.
INDIANA STATE REP ARRESTED DRIVING WHILE INTOXICATED, LEAVING SITE OF CAR CRASH
The high-stakes election also is taking place under sweeping election law changes enacted in January. Some of those affected registration, which closed Monday.
Eligible Ohioans using a paper form to register or update a registration were required to provide additional identification for the first time this year: either an Ohio driver's license, ID number or the last four digits of their Social Security number. Also, they needed to use a paper form that conformed with the one developed by Republican Secretary of State Frank LaRose, his office said.
CLICK HERE TO GET THE FOX NEWS APP
The language appearing on voters' August ballots has been the subject of litigation. Though the Ohio Supreme Court agreed to order some minor tweaks, justices let stand a description of the amendment as "elevating" the standards for qualifying and passing future constitutional amendments in the state. One Person One Vote had argued that the term carries a positive connotation that could bias voters toward a "yes" vote, but justices said it means basically the same thing as "raising" or "increasing."
The election date also was the subject of a lawsuit, which argued it violated a law eliminating most August elections that state legislators passed only last year. Backers of that law, who initially included LaRose, argued such elections are costly, cause extra work for overburdened county election boards and inspire chronically low turnouts.