President Biden and G-7 nations issued a joint declaration vowing to support Ukraine "long into the future" on Wednesday, adding that Ukraine is likely to join NATO at some point in the future.
Biden made the statement during remarks at a NATO summit in Lithuania on Wednesday, speaking alongside G-7 leaders and Ukrainian President Volodymyr Zelenskyy. The joint declaration makes commitments to support Ukraine against the ongoing Russian invasion, but does not create a path for Ukraine to joint NATO before the end of the ongoing conflict.
"We just concluded the first meeting of NATO's Ukraine council, and all our allies agreed Ukraine's future lies in NATO. That's not a surprise to any of us, I don't think. I hope it's not a surprise to you, Mr. President," Biden said, addressing Zelenskyy. "Allies all agreed to lift the requirements for Membership Action Plan for Ukraine and to create a path to NATO membership while Ukraine continues to make progress on necessary reforms. But we're not waiting for that process to be finished to make the long-term commitments that we're making to Ukraine's security."
"The long-term commitments we're making are backed up by the notion that in the meantime, we're going to provide security to Ukraine against any aggression that may occur. Today, the members of the G-7 are launching a joint declaration of support for Ukraine, to make it clear that our support will last long into the future," Biden added. "This starts a process by which each of our nations and any other nation who wishes to participate will negotiate long-term bilateral security commitments with and to Ukraine. We're going to help Ukraine build a strong, capable defense across land, air and sea."
CRITICAL NATO SUMMIT: BIDEN SAYS UKRAINE PATH UNLIKELY AS ZELENSKYY MAKES LAST-MINUTE BID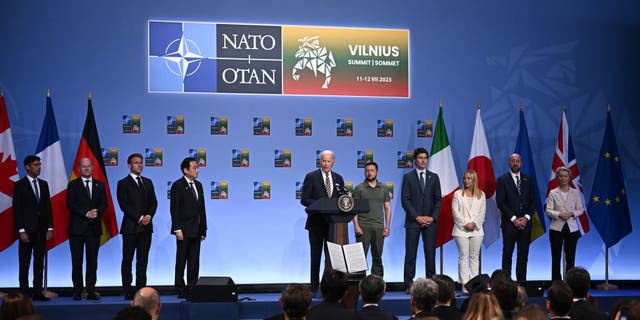 Zelenskyy had urged NATO to fast-track Ukraine's membership amid the ongoing struggle against Russia. Biden shot down that plea earlier this week, saying the U.S. and NATO would be forced into war with Russia if Ukraine joined the group during the conflict.
BIDEN MAKES COY COMMENT ABOUT TURKEY ALLOWING SWEDEN'S NATO BID AS COUNTRY DEMANDS AMERICAN F-16 FIGHTER JETS
On Tuesday, Zelenskyy lashed out at the lack of a clear path for his country to join the alliance.
"It's unprecedented and absurd when [a] time frame is not set neither for the invitation nor for Ukraine's membership. While at the same time vague wording about 'conditions' is added even for inviting Ukraine," Zelenskyy said in a lengthy tweet Tuesday morning. He also said the international alliance was disrespecting his country and was subsequently "motivating" Russia in the process.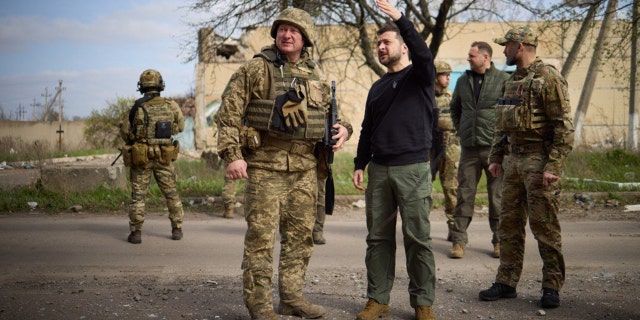 CLICK HERE TO GET THE FOX NEWS APP
The U.S. has delivered tens of thousands of artillery shells, extensive missile defense systems, and information to Ukrainian forces since Russia's invasion began last year. U.S. aid has totaled more than $75 billion. Western allies have also provided modern tanks to assist in Ukraine's ongoing counteroffensive. The U.S. will send 31 of its M1 Abrams tanks once Ukrainian crews have been trained to operate and maintain the vehicles.