British Energy Security and Net Zero Secretary Grant Shapps blasted calls Monday for a rapid shift from fossil fuels during meetings with U.S. Special Presidential Envoy for Climate John Kerry.
Shapps' remarks came during a U.S.-U.K. climate summit in which both President Biden and King Charles III participated on Monday morning. They were made in response to Shell CEO Wael Sawan stating last week that the global energy system continues to "desperately need oil and gas" and that green energy development wasn't advanced enough to allow nations to abandon fossil fuels.
"There always has to be a transition … but it doesn't just happen overnight, in fact, it's idiotic to suggest you can," Shapps said, per the BBC. "If you tried to, you simply impoverish people and tell people they can no longer drive and they can no longer heat their homes."
However, Kerry remarked Monday that companies changing their climate commitments is "moving in the wrong direction" in an interview with BBC. He also called for accelerating the green transition.
JOHN KERRY HEADED TO CHINA FOR CLIMATE TALKS AMID GOP INVESTIGATION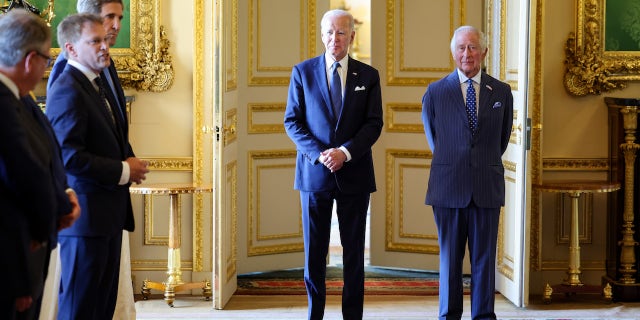 "What we need are company chief executives looking to the future and investing in that future and accelerating the transition to that future," Kerry told the BBC.
"Look, in the last few days, we've had scientists say this is terrifying, we have scientists saying we are in uncharted territory," he continued.
CLICK HERE TO GET THE FOX NEWS APP
The summit on Monday comes amid a widespread push from Western governments and leaders to adopt more aggressive green goals, replacing traditional fossil fuel power with green energy alternatives like wind and solar. Since taking office, Biden has particularly taken aim at the power, transportation and home appliance sectors, aiming to electrify and reduce emissions through regulations.
However, according to International Energy Agency data, oil, coal and natural gas still account for approximately 81% of total energy supplies worldwide.