New York City Mayor Eric Adams argued Tuesday that it is "anti-American" not to allow the approximately 84,000 migrants who have come to the Big Apple to legally work in the United States. 
During a press conference meant to announce the Adams administration's self-proclaimed success at moving homeless people from shelters to permanent housing, the mayor addressed questions regarding his controversial decompression strategy to relocate migrants who arrived to New York City elsewhere in the state. 
"We're at full capacity," Adams said. "It's just unbelievable what's happening to the people of the city of New York that are going through this. And nothing is more anti-American than you can't have a job when you come to America. There's nothing more anti-American. Every one of us in this room, family members came from somewhere. And the guiding light of this country is to be able to come here and work. We have a population of 84,000 people that we're saying you cannot work. That's anti-American." 
Adams – who adamantly criticized Republican Texas Gov. Greg Abbott's bussing program, which sent migrants from the southern border to the Big Apple and other major U.S. cities – has faced legal woes of his own, as predominantly Republican-run New York jurisdictions have sued New York City for sending mostly adult, male migrants upstate.
NYC CONSIDERS HOUSING ILLEGAL IMMIGRANTS IN PUBLIC SCHOOLS OVER THE SUMMER: 'NOT IDEAL'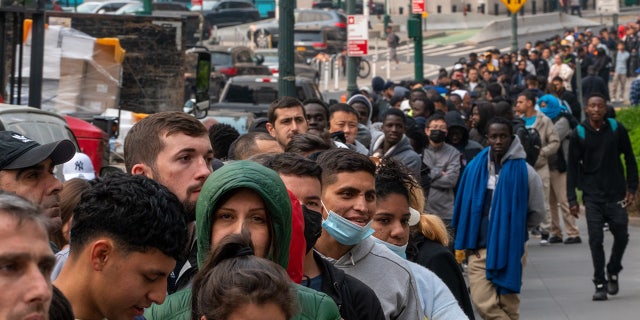 "Although it's no longer on the front pages of our daily tabloids, we are still dealing with a silent crisis. We're receiving hundreds a week. The numbers are increasing, and it's continued to be a heavy lift for this city," Adams said, adding that about 54,100 asylum seekers remain in New York's City care, of the total 84,000 who have arrived thus far. 
"And I always like to point out, unlike other municipalities, you don't see people sleeping on the streets in tents," Adams said, crediting efforts by Deputy Mayor Anne Williams-Isom. The mayor added that the way forward is to have "a decompression strategy throughout the entire state."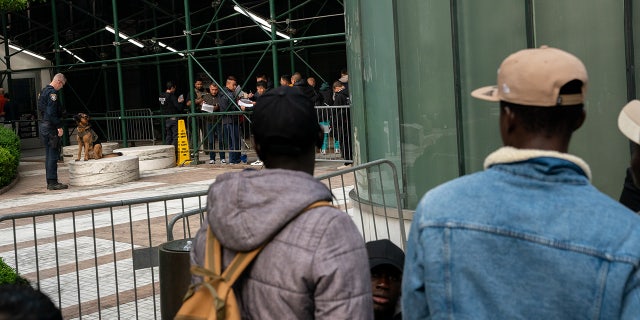 NEW YORK CITY SPENT $50K TO SEND MIGRANTS TO FLORIDA, TEXAS, CHINA: REPORT
"When the storm hit upstate, they called New York City. New York City has always been here for the entire state," Adams said, referencing heavy rain and flooding impacting the Hudson Valley. "The storm of migrants, asylum seekers have hit us for over a year now. We need help. We need help on a national government. We need help on the state government." 
"We need everyone to be on board with this, and we are nowhere near a resolution," Adams said, calling the present situation "unsustainable."
Adams and New York Gov. Kathy Hochul, both Democrats, have called on President Biden for expedited work authorization for asylum seekers.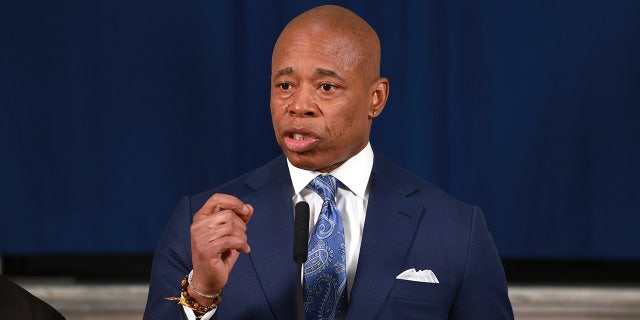 "I just want to say that on behalf of migrants, we ask President Biden to give us the ability to work, to give us a right to work so that we can contribute back to the City of New York and others that have opened the door for us to be here," New York City Immigration Affairs Commissioner Manuel Castro said at a press conference in May. "So that we can have a dignified life that we all deserve as human beings. So that we can provide for our families and continue forward in our journey." 
Regarding his administration's response to homelessness more broadly, Adams announced Tuesday that New York City has increased shelter-to-permanent-housing placements 17% year over year, connected a record number of households to CityFHEPS vouchers this year, and, in the weeks since eliminating the 90-day rule, made over 500 households who would have had to wait until their 90 days passed already eligible for CityFHEPS.