A Maine public high school paid a gay drag performer $1,000 to speak to minors at a workshop, according to Freedom of Access Act (FOAA) documents. 
Drag performer Dominick Varney, also known as "Priscilla Poppycocks," spoke to Bangor High School students on May 4 as part of the school's "Support, Educate, Empower" series to "empower" LGBT students. The school confirmed to Fox News Digital that Varney did not attend in drag.
The school paid Varney and another performer, whose name was redacted from the FOAA documents, $1,000 each out of the school's $15,000 grant from the Nellie Mae Education Foundation, which aims to "advance racial equity in public education," according to its website. 
K-12 CURRICULUM 'SOCIALLY ENGINEERING' MILLIONS INTO ENRAGED YOUNG 'SOCIAL JUSTICE WARRIORS,' PARENTS WARN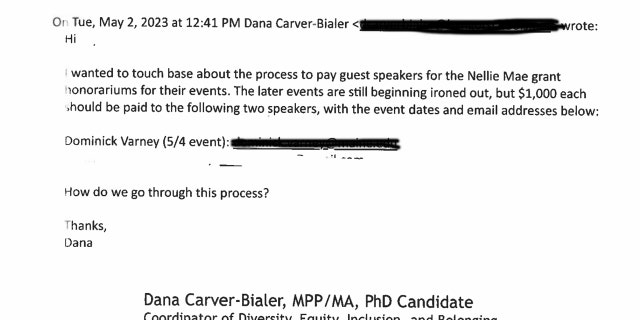 "We believe that applying a racial equity lens is essential for analyzing and solving problems that have endured for generations, impact individuals and communities of color most acutely, and ultimately affect ALL people, whether in other marginalized or privileged groups," the foundation listed second in its "Values" section under "Operate with a Race Equity Lens."
In the 90-minute workshop, titled "Make Them Hear You," Varney discussed "growing up gay in Maine." 
"During our conversations together you will have some opportunities to experience some acting techniques and gain some first hand knowledge of how being different is the biggest advantage we all have to be successful in our lives," the flier for the event reads. "And most likely, you'll hear him sing!"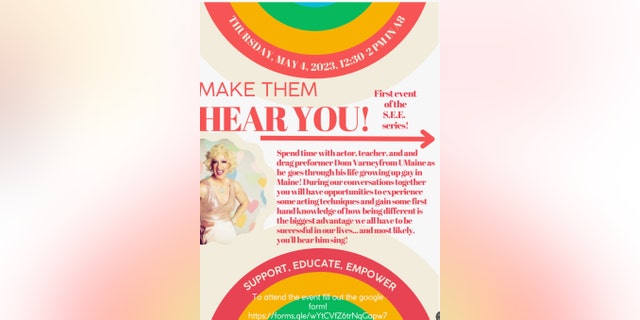 Bangor High School is one of many public schools to promote radical gender ideology through drag queen events. Parents of first-graders at a popular Center City Philadelphia public school were outraged after they were notified of a drag queen story hour in their children's classroom. 
Students who attended the Bangor High School event, which took place during the school day, were excused from class from 12:30-2 p.m. ​​Emilie Brand Throckmorton, an English teacher at Bangor High School and one of the event organizers, said in an email that students who seemed interested were invited to the catered workshop. 
"I just know you are a role model for these kids, and we just want you to shine your light on them," Throckmorton wrote in the email to Varney.
Shawn McBreairty, the Maine father who uncovered the documents, said he is horrified Throckmorton called Varney a role model.
"This is a clear political message from these people running our schools that drag-performers are more important than the basics of education for our Maine students, which all Maine schools are failing at," McBreairty told Fox News Digital. 
Director of Community Outreach and Safety Ray Phinney told Fox News Digital no taxpayer dollars were spent on the event.
Phinney said Varney "spoke to students from Q+, the Bangor High School LGBT organization, the Civil Rights Team, and their advisers about his experience moving from the United Kingdom to Maine and growing up as a gay youth in Winterport, Maine."
"Varney's presentation focused on his extensive theatrical career, providing students with inspiration, skills, and professional development to lead and thrive authentically," Phinney said.
"Reflected within our ongoing Diversity, Equity, Inclusion, and Belonging (DEIB) initiatives, the Bangor School Department proudly supports students and their families in sharing their diverse and unique life experiences within the school community," Phinney told Fox News Digital.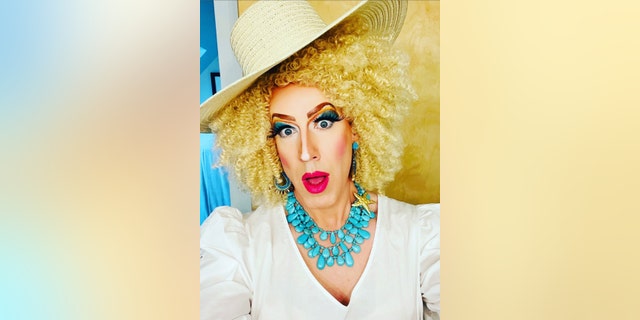 UK GIRL WHO DETRANSITIONED AFTER TRANSGENDER SURGERY SAYS SHE FEELS 'LIKE A MUTILATED EXPERIMENT GONE WRONG'
A spokeswoman from the Nellie Mae Education Foundation, which funded the grant used to pay Varney, told Fox News Digital that Nellie Mae trusts its grantees to vet all speakers and vendors. Bangor High School applied for and received funding from the "Centering Joy: Celebrating LGBTQIA+ Youth and their Allies" grant. 
Throckmorton did not respond to Fox News Digital's request for comment. Varney did not immediately respond to Fox News Digital's request for comment.
CLICK HERE TO GET THE FOX NEWS APP   
In 2022, only 29% of Maine students were proficient in reading and 24% were proficient at math, according to the Nation's Report Card. 
"Parents need to realize what is happening and step forward and demand accountability and change," McBreairty said.