EXCLUSIVE: Several House Republicans are considering a legislative action that would reduce Homeland Security Secretary Alejandro Mayorkas' salary down to zero in response to what they deem to be his failure to enforce the southern border.
"People are sick of inaction against elected officials who betray their oath and refuse to do their jobs. Congress is given the power of the purse by the Constitution, and if the president's Cabinet secretaries won't do their jobs, we should consider using any tool, including the Holman Rule, to defund them and their ability to do further damage," Rep. Nancy Mace, R-S.C., told Fox News Digital.
"Do your damn job or Congress will act," she said.
Mayorkas has taken an avalanche of GOP criticism since he's led President Biden's Department of Homeland Security (DHS) as a record number of undocumented migrants have crossed into the U.S. under his tenure.
SUPREME COURT HANDS BIDEN ADMIN MAJOR WIN ON CHALLENGE TO ICE ENFORCEMENT POLICY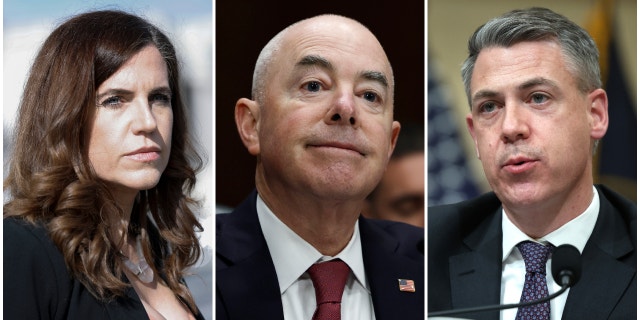 Some Republican lawmakers are now thrusting his paycheck into the middle of the looming government funding battle. They are pushing to use the Holman Rule – a tool in the U.S. House of Representatives that allows lawmakers to file amendments to spending bills that restrict the use of federal funds for programs or even specific federal employees' salaries.
"Secretary Mayorkas has facilitated Biden's large-scale invasion of our southern border by allowing over 6 million illegal aliens – that we know of – to cross and jeopardize our national safety and sovereignty. His salary should be completely zeroed out, and he should be impeached as soon as possible," said Rep. Bob Good, R-Va.
Impeachment articles were filed against Mayorkas just weeks ago over his handling of the border. Rep. Ben Cline, R-Va., an Appropriations Committee member, suggested the Holman Rule be used as a parallel to that process depending on the severity of his shortcomings on the job.
NEARLY 17 MILLION ILLEGAL IMMIGRANTS LIVING IN US, 16% INCREASE SINCE 2021: ANALYSIS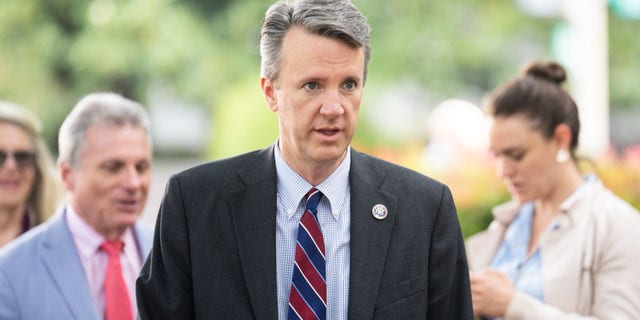 "If we lay out all the facts and determine that Secretary Mayorkas has ignored our laws, then Congress should consider zeroing out his salary using the Holman Rule. That is not an alternative option to impeachment, but it is just another tool in our toolbox to hold members of the Biden administration accountable," Cline said.
Rep. Jim Banks, R-Ind., said, "Secretary Mayorkas has intentionally created the worst border crisis in history. He could be impeached. Defunding his salary is a good start."
Republican Study Committee Chair Kevin Hern, R-Okla., similarly said House Republicans are "looking at both impeachment and the Holman Rule."
MIGRANT NUMBERS EXCEEDED 200,000 ENCOUNTERS AGAIN IN MAY AS TITLE 42 EXPIRED
"Secretary Mayorkas has failed the American people at every point of his public career. He wrecked our borders and allowed cartels to smuggle apocalyptic amounts of fentanyl into our nation. Republicans must stop him from further destroying our national security," Hern said.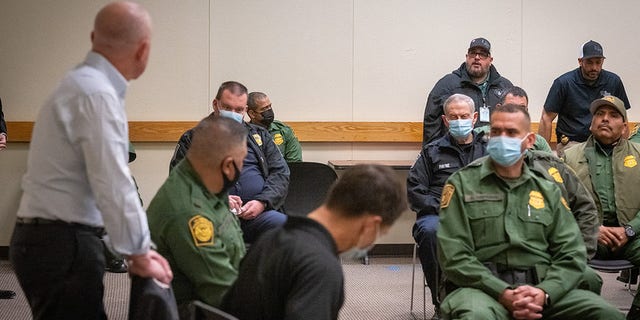 A DHS spokesperson defended Mayorkas in a statement to Fox News Digital from what they called the GOP's "baseless attacks."
"Secretary Mayorkas is proud to advance the noble mission of this Department, support its extraordinary workforce, and serve the American people," the spokesperson said in a statement. "The Department will continue to enforce our laws and secure our border, protect the nation from terrorism, improve our cybersecurity, all while building a safe, orderly, and humane immigration system."
"Instead of pointing fingers and pursuing baseless attacks, Congress should work with the Department and pass legislation to fix our broken immigration system, which has not been updated in decades," the spokesperson added.
The Biden administration has thus far refused to call the situation at the southern border a crisis, but Republicans have consistently painted the issue as a failure of Biden's and Mayorkas' leadership.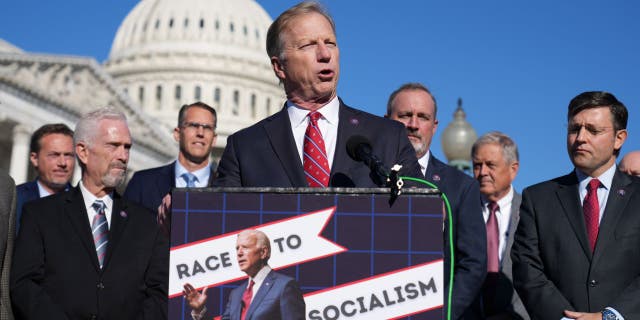 The most recently available Customs and Border Patrol data shows the number of illegal migrant encounters in May is lower than last year, though it remains high compared to levels seen in 2020 and 2021. GOP lawmakers have cited reports of migrants dying along the harsh route many are forced to take to accuse Mayorkas of fomenting a humanitarian crisis at the border.
Both the bid to defund Mayorkas' salary and to impeach him are virtually certain to stop dead in the Democrat-controlled Senate, but that hasn't stopped members of the House Republican majority from calling to use all tools at their disposal against Biden's officials.
CLICK HERE TO GET THE FOX NEWS APP
Rep. Andrew Clyde, R-Ga., suggested going even further with the Holman Rule to also include Attorney General Merrick Garland, accusing him of "treacherous efforts to weaponize the Department of Justice for political gain."
"Given the severely troubling misconduct of numerous Biden officials, I believe it is incumbent upon Congress to use every tool at our disposal – including the powerful Holman Rule – to hold these arrogant offenders accountable," Clyde said.