Republican presidential candidate and Florida Gov. Ron DeSantis on Sunday charged that when it comes to the Justice Department's hand in having Twitter censor the Hunter Biden laptop story ahead of the 2020 election, that "those were Donald Trump's own agencies that were colluding with Big Tech" – taking a shot at the current 2024 GOP front-runner.
During his interview on "Sunday Morning Futures," host Maria Bartiromo referenced a recent Fox News poll of 2024 GOP presidential nominee preference among Republican primary voters that showed Trump earning 56%. DeSantis, in second, is polling at 22%. Vivek Ramaswamy, Mike Pence, Tim Scott, and Nikki Haley are polling in only the single digits.  
"I think one of the reasons Donald Trump is in the lead is because of the corruption, and the unfairness of our justice system. I want to know what you're going to do?" Bartiromo challenged the Florida governor.
"We will end the weaponization of government," DeSantis said in response. "And that's of course, a new FBI director on Day 1. That's the difference from me and Donald Trump. He says the jury's still out on FBI Director Wray. I think you need a new start on Day 1. We're going to clean house at the Department of Justice." 
DESANTIS PAC OFFICIAL ON TWITTER SPACES TALK CALLS TRUMP THE 'RUNAWAY FRONT-RUNNER': 'WE ARE WAY BEHIND'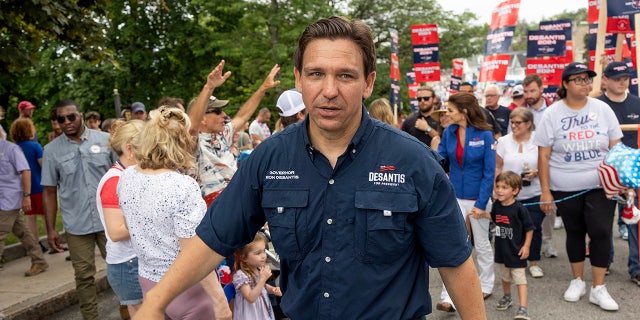 "And you know I look back at the Hunter Biden censorship, which was a huge, huge deal to happen in the 2020 election, and yet those were Donald Trump's own agencies that were colluding with Big Tech. I would never allow that to happen," DeSantis continued. "I would fire those people immediately, and in fact, in Florida, we've signed legislation that prohibits all state and local government officials in our state from colluding with tech companies to try to censor political speech of Americans. We're also going to have one standard of justice in this country, and right now if you're connected to the D.C. elite, like Hunter Biden. I mean look, if he were a Republican, he would have been in jail years ago, and I think we all know that."
"But if you're connected to the D.C. ruling class, you're able to get away with conduct that the average American won't, and so, what we have is these institutions have been captured by one particular faction of our society, and they wield power against other factions they don't like," he said.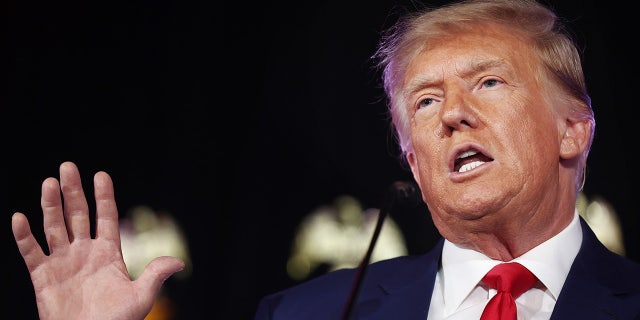 RON DESANTIS CALLS ON NEXT PRESIDENT TO 'CLEAN HOUSE' IN DC: ELITE WON'T 'VOLUNTARILY GIVE UP' POWER
"It requires a president that is disciplined, a president that is focused," DeSantis said. "You can't get distracted on this." 
Earlier in the segment, Bartiromo asked DeSantis to respond to a story in Politico's Playbook that read, "Failure to launch: Florida Gov. Ron DeSantis to topple Donald Trump has stalled," and quoted a DeSantis PAC official as saying, "we are way behind," drawing laughter from DeSantis during the Fox News appearance. 
"I'm wondering what's going on with your campaign. There was a lot of optimism about you earlier in the year," Bartiromo asserted.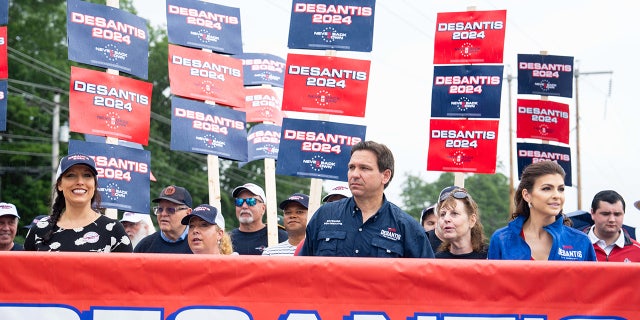 "Maria, these are narratives. The media does not want me to be the nominee," DeSantis said. "I think that's very, very clear. Why? Because they know I'll beat Biden. But even more importantly, they know that I will actually deliver on all these things. We will stop the invasion at the border. We'll take on the drug cartels. We'll curtail the administrative state. We'll get spending under control. We'll do all the things that they don't want to see done, and so, they're going to continue doing that type of narrative." 
CLICK HERE TO GET THE FOX NEWS APP
"I would also point out – my re-election in Florida, we had the greatest victory that any Republican governor candidate in the history of the state had," he added. "Yet a few months before the election, I had media saying that somehow my re-election campaign was stalling, that we weren't doing anything. So we're doing what it takes to win. It's not a national primary. That's not how these things are going. It's really on the ground in those key states."