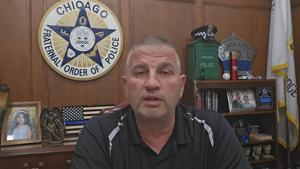 (The Center Square) – Allegations of sexual misconduct against undocumented migrants by Chicago police are being questioned by the Chicago police union. 
Late last week, allegation of sexual misconduct allegations by police against newly arrived undocumented migrants were revealed. One alleged a minor migrant was impregnated. Chicago Mayor Brandon Johnson urged for a thorough investigation. 
"The Johnson administration remains intensely focused on the deeply troubling allegations of sexual misconduct by a Chicago Police Department officer against a minor new arrival, and other allegations of sexual misconduct in the Chicago Police Department's 10th District," Johnson's office said last week. "
Gov. J.B. Pritzker reiterated that. 
"It's a terrible thing and I hope there's a full investigation as fast as possible and if there is wrongdoing, they ought to be held accountable immediately," Pritzker said at an unrelated event in Springfield. 
Chicago Fraternal Order of Police Lodge 7 President John Catanzara questioned the legitimacy of the allegations because of a provision in the criminal justice reform law the SAFE-T Act that allows for anonymous complaints against police. 
"Who knows if it's even true," Catanzara said on a YouTube video Friday. "I could make that same complaint against the superintendent, first deputy, chief of patrol, I could go on down the line, all 12,000-plus members of this department, I could make that same allegations that they did the same thing right now because of the ridiculous SAFE-T Act and the provision that eliminated the signed affidavit making someone attest and swear that the complaint they are making is valid. That requirement is gone." 
Provisions of the SAFE-T Act eliminating cash bail are on hold, pending an outcome of a challenge in the Illinois Supreme Court, but other provisions went into effect Jan. 1. 
Since the allegations were made public, migrants have been moved from the police precinct in question while the investigation continues. 
"The administration is also in the process of relocating all new arrivals from District 10 today in accordance with its ongoing strategy of moving asylum seekers out of all Chicago police stations," Johnson's office said. "New arrivals are being moved to temporary shelters in current operation, with full relocation to be completed by tomorrow morning."   
Pritzker said work continues to find proper housing. 
"And in fact what we're trying to do is make sure that people can get rental assistance so that they can go and have a real apartment to live in, especially families," Pritzker said. 
Since August of last year, more than 10,000 undocumented migrants have arrived in Chicago from the southern U.S. border. The state and city have expended tens of millions of tax dollars on housing migrants in Chicago. Hundreds of millions more of taxpayer subsidies are lined up for migrant health care.