President Biden met King Charles III in the U.K. for the first time since snubbing the invitation to the monarch's coronation earlier this year.
King Charles, 74, greeted Biden, 80, at Windsor Castle after the U.S. president met with U.K. Prime Minister Rishi Sunak at 10 Downing Street on Monday. The pair of meetings will kick off a week of European diplomacy for Biden.
The Biden administration indicated that the meetings will focus on climate issues and Ukraine, though details of their conversations have yet to be made public.
Biden's meeting with Sunak came just days after the pair split over Biden's decision to deliver cluster munitions to Ukraine. While the U.K. has long pressed the U.S. to ramp up its already substantial military aid for Ukraine, Sunak distanced himself from this latest round of aid.
US TO PROVIDE CLUSTER MUNITIONS TO UKRAINE, $800 MILLION MILITARY AID PACKAGE, OFFICIALS SAY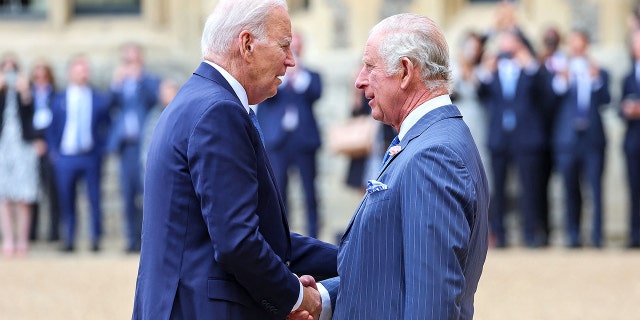 "The U.K. is signatory to a convention which prohibits the production or use of cluster munitions and discourages their use," Sunak said in a Saturday interview with U.K. media.
"We will continue to do our part to support Ukraine against Russia's illegal and unprovoked invasion, but we've done that by providing heavy battle tanks and most recently long-range weapons, and hopefully all countries can continue to support Ukraine," he added.
UKRAINE GAINED ADVANTAGE IN WAR AGAINST PUTIN WITH CUSTOM-BUILT AI: 'UNPRECEDENTED TESTING GROUND'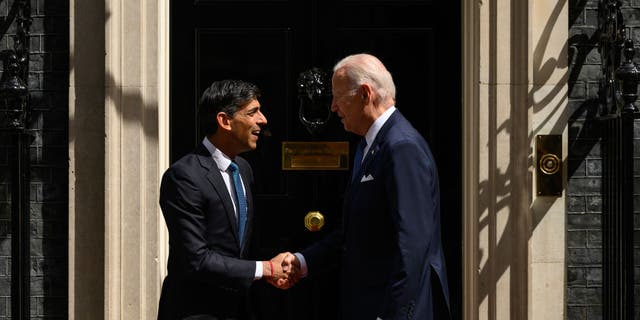 Biden himself acknowledged the difficulty of the decision to send cluster munitions, which pose a greater risk of causing civilian casualties and, in some cases, can lie un-detonated in the ground for long periods, risking post-war casualties as well.
Biden defended his decision to send the munitions in a Sunday interview, framing it as a "transition period" until more traditional munitions can be produced.
RFK JR BLASTS BIDEN FOR SENDING CLUSTER BOMBS TO UKRAINE A YEAR AFTER PSAKI SAID IT COULD 'BE A WAR CRIME'
"This is a war relating to munitions. And they're running out of that ammunition, and we're low on it," Biden told CNN's Fareed Zakaria. "And so, what I finally did, I took the recommendation of the Defense Department to – not permanently – but to allow for this transition period while we get more 155 weapons, these shells, for the Ukrainians."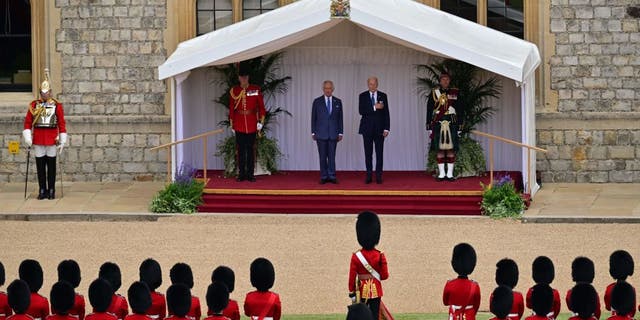 CLICK HERE TO GET THE FOX NEWS APP
Following his meetings in the U.K., Biden will travel to Lithuania for a NATO summit.
This is a developing story. Check back soon for updates.