Detainers issued by Immigration and Customs Enforcement for jailed illegal immigrants dropped sharply in the first months of the Biden administration, new data show, part of a broader drop in interior immigration enforcement under the administration.
Detainers are requests issued by ICE that the agency be notified when an illegal immigrant in another law enforcement agency's custody is being released so that agents can transfer them into ICE deportation proceedings. 
The use of ICE detainers has been the central issue over the "sanctuary city" debate, where so-called sanctuary jurisdictions will bar local law enforcement from cooperation with most ICE detainers. 
SUPREME COURT HANDS BIDEN ADMIN MAJOR WIN ON CHALLENGE TO ICE ENFORCEMENT POLICY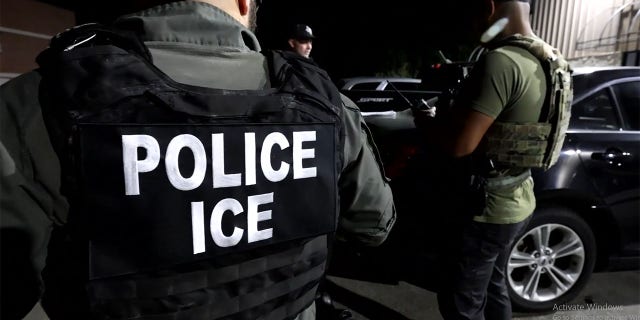 "Detainers are an effective tool in keeping criminals out of local communities by allowing ICE officers to take custody of criminal noncitizens within the confines of a jail," ICE's website says.
"When law enforcement agencies fail to honor immigration detainers and release serious criminal offenders onto the streets, it undermines ICE's ability to protect public safety and carry out its mission."
But data obtained by the Transactional Records Access Clearinghouse (TRAC) at Syracuse University show that, in 2021, the agency under the Biden administration used detainers much less frequently than the Trump administration.
The data show that the number of detainers issued dropped from around 10,000 a month at the end of the Trump administration — after having hit highs of around 15,000 a month in 2018 — to under 3,000 in the first months of the Biden administration. The number of detainers fell to just 2,200 in March 2021 and then increased to just under 4,000 by September 2021.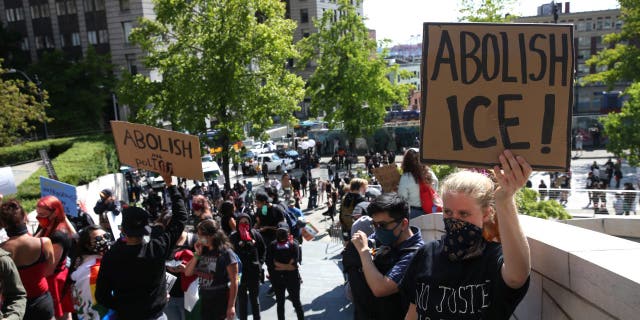 TRAC notes that the number of detainers issued, which does not necessarily coincide with the number of immigrants the agency transferred into its custody, is an indicator of the intensity of interior enforcement.
The highest use of detainers was under the Obama administration. In fiscal year 2010 under Obama there were approximately 300,000 detainers issued. That dropped to under 100,000 by fiscal 2015 before increasing to a high of 175,000 a year under the Trump administration. 
NEARLY 17 MILLION ILLEGAL IMMIGRANTS LIVING IN US, 16% INCREASE SINCE 2021: ANALYSIS
The data obtained by TRAC shows that, in fiscal 2021, there were fewer than 75,000 detainers issued.
The sharp drop in detainers coincided with a radical restriction of ICE priorities by the administration. The Department of Homeland Security first attempted to place a moratorium on all ICE deportations but was blocked by a federal judge in response to a lawsuit from Texas.
It then enacted significant restrictions on priorities that told agents to limit their focus to three categories of illegal immigrants: recent border crossers, national security threats and public safety threats. It also made other moves, including limiting where ICE could make arrests.
The new strategy, a significant departure from the maximalist approach taken by the Trump administration, coincided with a sharp drop in deportations.
MIGRANT NUMBERS EXCEEDED 200,000 ENCOUNTERS AGAIN IN MAY AS TITLE 42 EXPIRED
ICE's numbers show the agency deported only 59,011 illegal immigrants in fiscal 2021, down dramatically from 185,884 in fiscal 2020 — the final full fiscal year of the Trump administration — and 267,258 in fiscal 2019. 
In fiscal 2022, the number increased slightly to 72,177. The majority of the deportations were illegal immigrants for whom Customs and Border Protection (CBP) was the arresting agency. Of those deportations for which ICE was the arresting agency, numbers were down to just 28,204 from 31,557 in fiscal 2021 and 62,739 in fiscal 2020.
Homeland Security Secretary Alejandro Mayorkas hailed the strategy, saying in 2022 that the agency had "fundamentally changed immigration enforcement in the interior." 
ICE DEPORTATIONS REMAINED WELL BELOW TRUMP-ERA LEVELS IN FY 2022, AMID HISTORIC BORDER CRISIS
"For the first time ever, our policy explicitly states that a noncitizen's unlawful presence in the United States will not, by itself, be a basis for the initiation of an enforcement action," he said. "This is a profound shift away from the prior administration's indiscriminate enforcement."
The ICE priorities were blocked last year in response to a lawsuit from Republican states, but last month the Biden administration won a victory at the Supreme Court when the justices found that the GOP-led states did not have standing to challenge the policy.
CLICK HERE TO GET THE FOX NEWS APP
In a statement, Mayorkas applauded the ruling and said the department "looks forward to reinstituting these guidelines, which had been effectively applied by [ICE] officers to focus limited resources and enforcement actions on those who pose a threat to our national security, public safety and border security.
"The guidelines enable DHS to most effectively accomplish its law enforcement mission with the authorities and resources provided by Congress."