Democratic presidential candidate Robert Kennedy Jr. has called on President Biden to "stop the ceaseless escalation" between the United States and Russia after he gave his administration the green light to send controversial weapons known as cluster munitions to Ukraine.
"Last year, WH Press Secretary Jen Psaki called the use of cluster bombs a 'war crime.' Now President Biden plans to send them to Ukraine. Stop the ceaseless escalation! It is time for peace," Kennedy wrote in a tweet.
"Biden was opposed to cluster bombs in 1982 as well, when he opposed their sale to Israel," Kennedy, who entered the White House race in April, added in a separate tweet. "What happened to his conscience?"
'TERRIBLE MISTAKE': TOP DEMOCRAT BLASTS BIDEN DECISION TO SEND UKRAINE CONTROVERSIAL CLUSTER BOMBS
Kennedy's remarks come after the Biden administration announced this week that its latest aid package to Ukraine would include cluster munitions, which are bombs that release smaller explosives across a wide area when detonated. Cluster-type bombs have been banned by more than 100 countries, because they are known to kill or maim civilians. In many cases, dud submunitions fall to the ground without exploding but unexpectedly detonate later, even years after they were dropped.
Both Russia and Ukraine have used cluster munitions since Moscow first launched its attack in February 2022. White House national security advisor Jake Sullivan acknowledged on Friday that cluster munitions do pose a risk to civilians but said the danger to their lives would be higher if Kyiv did not have enough weapons to fight off Russia's troops. The "dud rate" for munitions the Pentagon is sending to Ukraine is below 3%.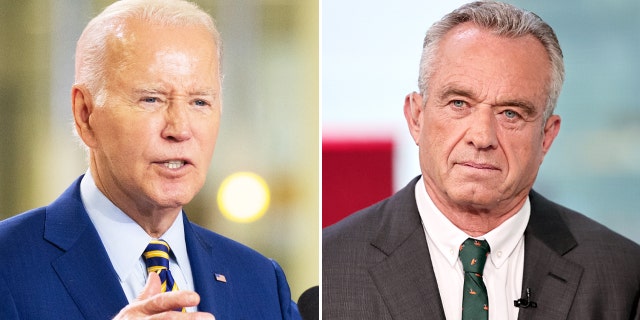 In February 2022, while fielding questions from the press, then-White House press secretary Jen Psaki asserted that Russian use of cluster bombs could amount to a "war crime."
"There are reports of illegal cluster bombs and vacuum bombs being used by the Russians. If that's true, what is the next step of this administration? And is there a red line for how much violence will be tolerated against civilians in this manner that's illegal and potentially a war crime," one reporter asked.
"It is – it would be. I don't have any confirmation of that. We have seen the reports. If that were true, it would potentially be a war crime," Psaki responded at the time.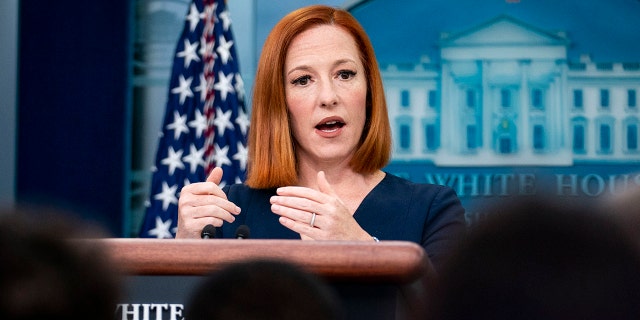 In a Washington Post report published Friday, the outlet recalled Biden's "complicated history" on the issue of cluster munitions and highlighted how Biden has flip-flopped on the issue over time as it relates to Israel's use of the weapons.
Biden's decision to send cluster bombs to Ukraine also garnered concern from some Democrats in the House, including Rep. Betty McCollum, D-Minn., and Rep. Barbara Lee, D-Calif.
"The decision by the Biden administration to transfer cluster munitions to Ukraine is unnecessary and a terrible mistake," McCollum, the top Democrat on the House Appropriations defense subcommittee, said in a statement. "The legacy of cluster bombs is misery, death, and expensive cleanup generations after their use. The U.S. pays tens of millions of dollars annually to remove cluster munitions in Laos from the Vietnam era as these remnants of war continue to kill and maim civilians."
"As a strong supporter of the Biden administration's policy in Ukraine, I must state in the strongest possible terms my absolute opposition to the U.S. transferring cluster munitions," she added. "These weapons should be eliminated from our stockpiles, not dumped in Ukraine."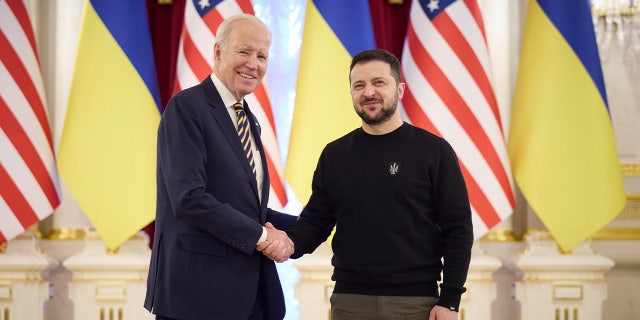 CLICK HERE TO GET THE FOX NEWS APP
Lee, another Democrat who serves on the House Appropriations Committee, said she was "alarmed" that Biden was "considering sending cluster bombs to Ukraine."
"Cluster bombs work by scattering tiny 'bomblets' over a wide area. Many of these bomblets don't explode – but remain a threat to civilians for decades," Lee said on Twitter.
"The Ukrainian people are engaged in a just struggle for their rights, freedom and humanity. The US and Ukraine don't need to stoop to Putin's level," she added in another tweet.
Kennedy is considered a longshot in his race against incumbent Biden, who has overwhelming support from the Democratic Party. In many polls, however, Kennedy garners double-digit support among likely Democratic voters.
Fox News' Elizabeth Elkind and The Associated Press contributed to this report.