Republican Kansas Attorney General Kris Kobach sued in state court Friday to mandate biological sex be listed on driver's licenses and be immalleable to requests for changes by transgender motorists.
Kobach argues that Democratic Gov. Laura Kelly — to whom he lost his bid for the governorship to in 2018 — is allowing state agencies to violate a recently-enacted law by letting sex changes be recognized on licenses.
 The law Kobach cites in the suit officially defines sex as immutable and designated by the "biological reproductive system" identified at birth.
The Republican attorney general of Kansas sued in state court Friday to block transgender residents from changing their sex on their driver's licenses and to rebuke the Democratic governor for defying his interpretation of a new law.
Attorney General Kris Kobach is seeking an order to stop Gov. Laura Kelly, and agencies under her control, from allowing the changes to transgender people's licenses. Kobach contends a law that took effect Saturday prevents such changes and requires the state to reverse any previous changes in its records.
Kobach has argued that the law applies in the same way to birth certificates, but the lawsuit filed Friday doesn't address those documents. The settlement of a 2018 federal lawsuit requires Kansas to allow transgender people to change their birth certificates.
KANSAS AG MOVES TO BLOCK CHANGING SEX ON BIRTH CERTIFICATES
More than 900 people have changed the listing for sex on their birth certificates in the past four years. About 400 have changed their driver's licenses in that period, about four times as many a month this year as previously. The number of driver's licenses changes accelerated in May and June as LGBTQ+ rights advocates encouraged people to do it ahead of the new law.
That new law defines a person's sex as male or female, based on the "biological reproductive system" identified at birth, applying that definition to any state law or regulation. It also says that "important governmental objectives" of protecting people's privacy, health and safety justify single-sex spaces such as bathrooms and locker rooms. Kansas is among at least 10 states with a law against transgender people using facilities in line with their gender identities, though the new law includes no enforcement mechanism.
Kobach's lawsuit seeks to force the governor to enforce the law as he sees it. It names as defendants two officials who oversee driver's licenses.
While Kelly isn't named as a defendant, the lawsuit holds her responsible for the policy on driver's licenses. It quotes John Adams, the nation's second president, and cites the Declaration of Independence in arguing that Kelly "does not possess the power that English monarchs claimed" centuries ago.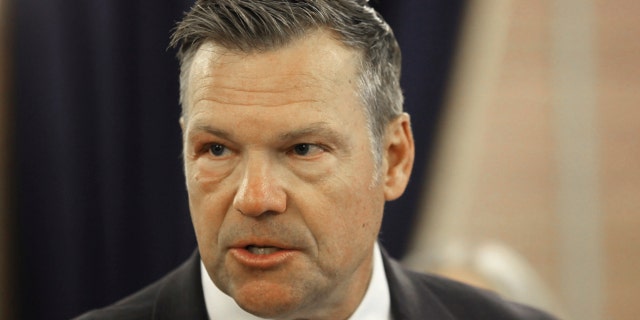 "The Governor cannot pick and choose which laws she will enforce and which laws she will ignore," part of the lawsuit reads.
Kelly's office did not immediately respond to requests for comment.
It isn't clear how quickly the district court in Shawnee County, home to the state capital, Topeka, could deal with the case.
The governor's office said last week that the state health department, which handles birth certificates, and the motor vehicle division, which issues driver's licenses, would continue allowing transgender people to change the markers for sex on those documents. Her office said lawyers in her administration had concluded that doing so doesn't violate the new law. Kelly is a strong supporter of LGBTQ+ rights and vetoed the measure, but the Republican-controlled Legislature overrode her.
The new Kansas law was among a raft of measures rolling back transgender rights enacted this year in statehouses across the U.S. But only a few states do not allow transgender people to change their birth certificates. Federal judges last month upheld policies in Oklahoma and Tennessee, and a no-changes rule in Montana is expected to face a legal challenge.
Kelly won her first term as governor in 2018 by defeating Kobach, then the Kansas secretary of state. He staged a political comeback last year by winning the attorney general's race as she captured a second term, both of them by slim margins.
KS GOV. LAURA KELLY SAYS STATE WILL STILL ALLOW TRANSGENDER RESIDENTS TO ALTER DRIVER'S LICENSES DESPITE LAW
The governor's statements about the new law are at odds with descriptions from LGBTQ+ rights advocates before the Republican-controlled Legislature enacted it over Kelly's veto. The advocates predicted that it would prevent transgender people from changing their driver's licenses and amounted to a legal "erasure" of their identities, something Kobach confirmed as the intent when he issued his legal opinion.
"For me to go into a bathroom and not have a marker that represents who I am, I was terrified. I was afraid I was going to get accosted or harassed," said Ty Goeke, a 37-year-old transgender Topeka resident who changed both his birth certificate and driver's license last month.
Goeke participated in a transgender rights rally last week with his wife, Mallory, who carried a sign made from a toilet seat, calling for the new law to be "flushed." Ty Goeke said he sobbed with joy in a state health department office when he changed his birth certificate.
CLICK HERE TO GET THE FOX NEWS APP
"Now that I have the correct marker, I feel much better, feel more confident," he said. "I feel at ease with myself."