Special Presidential Envoy for Climate (SPEC) John Kerry is traveling to China later this month to restart climate negotiations with his Chinese counterparts, he told the New York Times on Thursday.
Kerry's plans to travel to China and meet with Chinese officials comes about a year after climate talks between the two nations stalled in response to former House Speaker Nancy Pelosi's, D-Calif., high-profile trip to Taiwan. The State Department confirmed in May that Kerry had quietly restarted climate talks with China and that his office was planning future in-person meetings.
"We need genuine cooperation," Kerry told the New York Times on Thursday evening. "China and the United States are the two largest economies in the world and we're also the two largest emitters. It's clear that we have a special responsibility to find common ground."
The trip is expected to take place during the week of July 16 and will include meetings with Xie Zhenhua, China's lead climate negotiator.
STATE DEPARTMENT FAILED TO PROPERLY ASSESS JOHN KERRY'S CARBON FOOTPRINT DESPITE BIDEN ORDER: GOV WATCHDOG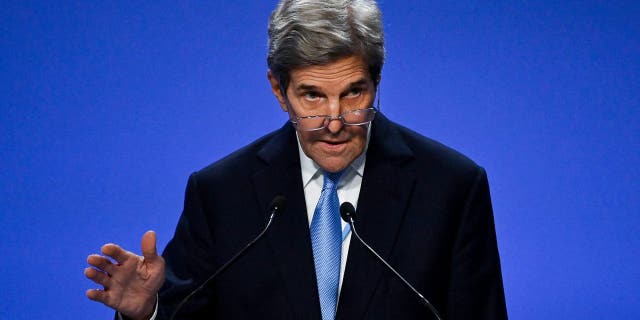 Since assuming the SPEC position, Kerry has engaged in various private talks with Chinese counterparts, including two 2021 meetings in China. Following a regional climate summit in April 2021, though, Kerry told CNBC that solving climate change was "not about China."
"This is not about China. This is not a counter to China," he said at the time. "This is about China, the United States, India, Russia … a bunch of countries that are emitting a pretty sizable amount."
China accounts for about 27% of total global emissions — nearly tripling the total in the U.S., the world's second-largest emitter, according to Rhodium Group — and continues to approve and construct a large amount of coal power plants.
WATCHDOG HITS JOHN KERRY WITH SCIENCE ETHICS COMPLAINT OVER CLIMATE CHANGE DEATHS CLAIM
In 2022, China permitted a staggering 106 gigawatts of new coal power capacity, roughly quadrupling the amount permitted in 2021, according to an analysis published in February by the Centre for Research on Energy and Clean Air and Global Energy Monitor showed. The new coal power generation is equal to about 100 large coal-fired power plants.
"Despite not being confirmed by the U.S. Senate, John Kerry is still negotiating with the Chinese Communist Party to push a radical, Green New Deal agenda detrimental to American interests," House Oversight and Accountability Committee Chairman James Comer, R-Ky., said in a statement to Fox News Digital on Friday.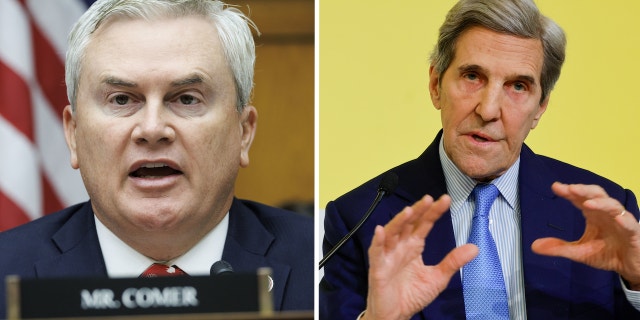 "President Biden granted his Climate Czar the ability to unilaterally set foreign policy and bind the United States to international agreements without consent from Congress," Comer continued. "China now recognizes that this is an opportunity to take advantage of this Administration's weak leadership that consistently puts the priorities of Americans last."
In one of his first actions leading the Oversight Committee, Comer opened a probe in February into Kerry's office over its negotiations with China. And in May, Comer again promised "intense scrutiny" of Kerry's China climate talks.
Shortly after taking office in 2021, President Biden appointed Kerry to be the U.S. SPEC, a position that hadn't previously existed, didn't require Senate approval, and gives him a spot on the president's cabinet and National Security Council. The SPEC office is housed at the State Department and has an estimated $13.9 million annual budget with approval for 45 personnel.
CLICK HERE TO GET THE FOX NEWS APP
"To date, the Biden Administration has failed to provide the Oversight Committee any information on Kerry's unchecked position," Comer said. "The American people deserve to understand Kerry's cabinet-level role in the Biden Administration, how their tax dollars are being spent, and what closed-door deals he is making with China."
Since taking on the role, Kerry has traveled worldwide, attending high-profile climate summits and diplomatic engagements in an effort to push a global transition from fossil fuels to green energy alternatives.
Despite the high-level role leading the Biden administration's global climate strategy, Kerry's office has been tight-lipped about its internal operations and staff members, sparking criticism from Republicans, including Comer, who have demanded transparency from his office.