A Republican presidential candidate from Florida was bodied online after boasting about his 5K run time on Independence Day.
Miami Mayor Francis Suarez, a long-shot GOP candidate for president, announced on July 4 that he had done the impossible: he had placed sixth in a 5K as a presidential candidate.
"Name another presidential candidate who can place 6th in a 5k with a 24 and a half minute run time," Suarez tweeted on Wednesday.
2024 CANDIDATE SUAREZ FACEPLANTS IN RADIO INTERVIEW: 'WHAT IS A UYGHUR?'
"Go," he added.
It didn't take long for Suarez's time to be topped – by a fellow presidential candidate no less.
"Looks like [Vivek Ramaswamy] edges you out here!" Ramaswamy spokesperson Tricia McLaughlin responded with a winking emoji as well as a link and screenshot of the Ohio GOP candidate's 23-minute 5K time.
Users online dogpiled Suarez over the tweet, as well, blasting the presidential candidate over boasting about his time.
"An 8 minute mile is fine but it's not really something to brag about," journalist Jerry Dunleavy tweeted in response.
Based Politics editor in chief Brad Polumbo tweeted that Suarez's time wasn't actually as fast as he was making it out to be.
"You realize that's quite slow, right?" Polumbo tweeted.
FOX NEWS POLL: TRUMP GAINS GROUND POST-INDICTMENT
Kansas City LGBTQ commission chair Justice Horn tweeted that physical "fitness does NOT equal one's fit to serve in political office."
"The republican presidential candidates are all having a p—— match on who is more of a man and it shows how truly lost that party is," Horn continued. "It's a bunch of insecure men projecting their insecurities."
Columnist Andrew Donaldson got historical and quipped that President Franklin Delano Roosevelt "won WW2 without the ability to stand unassisted."
As it turns out, Suarez's race placement is higher than his primary polling placement.
In the latest Fox News poll from last week, Suarez – one of the newest additions to the GOP presidential field – is cruising in the race at under 1% of the vote with other new additions, North Dakota Gov. Doug Burgum and former Texas Rep. Will Hurd.
The two other Florida candidates in the race for the White House are polling much higher than Suarez.
Former President Donald Trump continues to be the front-runner GOP candidate in the 2024 primary fight with 56% of the vote.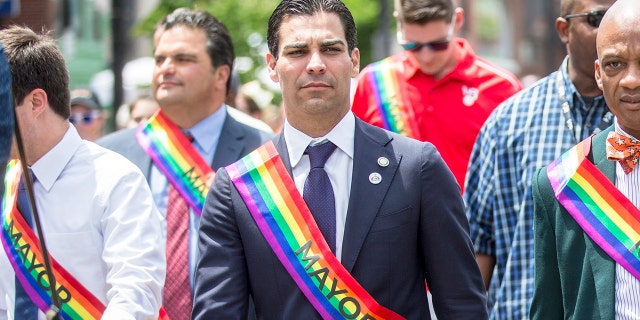 Florida Gov. Ron DeSantis has maintained a solid No. 2 position in the polls, taking in 22% of GOP voters as he seeks to unseat Trump from the top.
CLICK HERE TO GET THE FOX NEWS APP
Meanwhile, on the other side of the aisle, President Biden is the clear front-runner but still struggling to stop a modest portion of Democratic voters from going to his two rival candidates: environmental lawyer Robert F. Kennedy, Jr. and self-help guru Marianne Williamson.
Biden regained a couple of points from the May poll, rising to 64%. Meanwhile, Kennedy gained a point, taking 17% of Democratic voters. Williamson broke into double-digits with 10%.