The Supreme Court's decision Thursday striking down affirmative action in the college admission process included language that will exclude military academies from the ruling.
The majority opinion from Justice John Roberts came with a footnote explaining that military academies are not subject to the ruling because they were not involved in the prior cases that were eventually heard in the Supreme Court.
"The United States as amicus curiae contends that race-based admissions programs further compelling interests at our Nation's military academies," the footnote said. "No military academy is a party to these cases, however, and none of the courts below addressed the propriety of race-based admissions systems in that context. This opinion also does not address the issue, in light of the potentially distinct interests that military academies may present."
Supreme Court Justice Sonia Sotomayor called out the exception in her dissent and argued that it proves the majority opinion is arbitrary.
THIS ASIAN AMERICAN SUCCESS STORY APPLAUDS SUPREME COURT AFFIRMATIVE ACTION RULING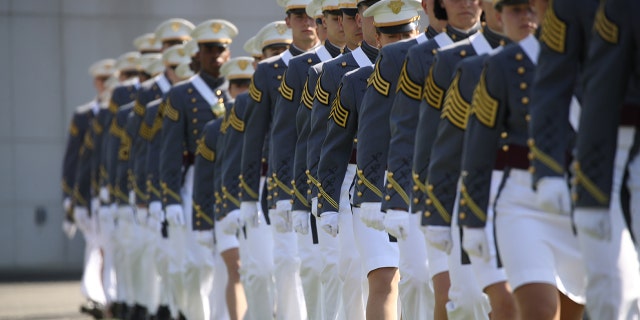 "The majority does not dispute that some uses of race are constitutionally permissible," Sotomayor wrote in her dissent. "Indeed, it agrees that a limited use of race is permissible in some college admissions programs.
"The Court's carveout only highlights the arbitrariness of its decision and further proves that the Fourteenth Amendment does not categorically prohibit the use of race in college admissions."
GOP PRESIDENTIAL CANDIDATES APPLAUD SUPREME COURT'S AFFIRMATIVE ACTION RULING ON 'TOXIC' COLLEGE ADMISSIONS
Sotomayor's comment was echoed by several liberal members of Congress, including Democratic Rep. Jason Crow, a former Army Ranger, who called it "deeply upsetting" and "outright grotesque."
"The court is saying diversity shouldn't matter, EXCEPT when deciding who can fight and die for our country — reinforcing the notion that these communities can sacrifice for America but not be full participants in every other way," Crow tweeted.
SUPREME COURT RULINGS LIKELY TO INTENSIFY CALLS FROM THE LEFT TO 'PACK' THE COURT
Roger Severino, vice president of domestic policy and The Joseph C. and Elizabeth A. Anderlik Fellow at The Heritage Foundation, told Fox News Digital he is disappointed Roberts exempted military academies and that he likely made that decision because the subject of military academies wasn't fully briefed and represented a "loose end" that will likely be addressed at a later date.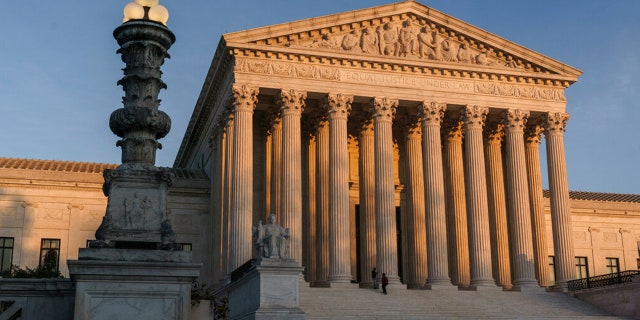 "I think the logic of the opinion should absolutely apply to the military academies," Severino said. "It's disappointing that they punted on it when they had the opportunity to clarify that equal protection applies across all educational institutions and, if anything, the military academy should be the first among universities where it should apply."
NEW YORK TIMES BLASTED AS 'RACIST' FOR PREDICTING AFFIRMATIVE ACTION RULING WILL MAKE COLLEGES 'WHITER'
Severino suggested the footnote stems from an amicus brief filed by the U.S. government in Texas that argued the government has a federal interest in diversity at service academies.
"They filed a brief discussing why they think that race balancing is a legitimate government interest. So, I think in order to not be distracted in having to respond to those arguments, the court just left it for another day," Severino, a Harvard Law graduate, told Fox News Digital.
"I think they punted it probably as a matter of convenience as opposed to any signal that it would be treated differently," Severino said. "But, unfortunately, we'll have to wait for another lawsuit in the service academies."
The nation's highest court handed down the historic ruling on affirmative action Thursday and rejected the use of race as a factor in college admissions as a violation of the 14th Amendment's equal protection clause.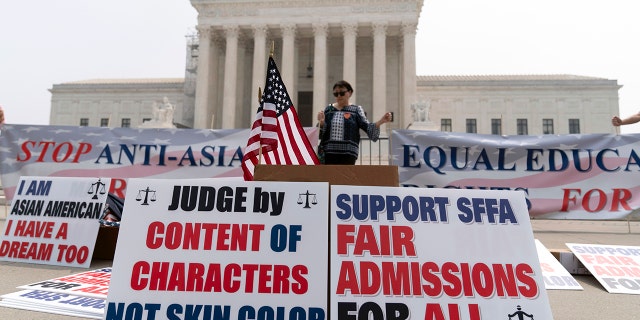 Chief Justice John Roberts said for too long universities have "concluded, wrongly, that the touchstone of an individual's identity is not challenges bested, skills built, or lessons learned but the color of their skin. Our constitutional history does not tolerate that choice."
CLICK HERE TO GET THE FOX NEWS APP
Justice Clarence Thomas, the nation's second Black justice, who had long called for an end to affirmative action, wrote separately that the decision "sees the universities' admissions policies for what they are: rudderless, race-based preferences designed to ensure a particular racial mix in their entering classes."
Justice Sonia Sotomayor wrote in dissent that the decision "rolls back decades of precedent and momentous progress."
In a separate dissent, Justice Ketanji Brown Jackson, the court's first Black female justice, called the decision "truly a tragedy for us all."
Associated Press contributed to this report