Gov. Roy Cooper of North Carolina has signed into law revisions to an upcoming abortion rule.
Despite his opposition to the abortion law set to begin this Saturday, Cooper said the revisions are important as it provides clarity.
The upcoming law will ban abortions for pregnancies past 12 weeks, down from 20 weeks.
Last-minute revisions to North Carolina's new abortion restrictions that take effect this weekend were signed into law on Thursday by Gov. Roy Cooper.
The Democratic governor's decision to act quickly on changes from the Republican-controlled legislature should minimize the immediate results from a pending legal challenge. Still, a federal judge might temporarily block parts of the law that before it goes into effect Saturday.
A lawsuit by a physician and Planned Parenthood South Atlantic claims that sections in the restrictions were so vague and confusing that doctors feared unintentionally breaking the law, affecting their ability to care for women seeking abortions.
NORTH CAROLINA GIVES FINAL APPROVAL TO REVISIONS OVER UPCOMING ABORTION RESTRICTIONS
Enactment of the clean-up language appears to make moot arguments about several provisions cited in the lawsuit. That's according to lawyers for abortion providers, legislative leaders and the state, who spoke before U.S. District Judge Catherine Eagles during a Wednesday hearing.
Cooper vehemently opposed the underlying abortion law, which creates a ban on most abortions after 12 weeks of pregnancy, replacing the current ban on most abortions after 20 weeks. He vetoed that measure in May, but veto-proof GOP majorities in both chambers completed an override.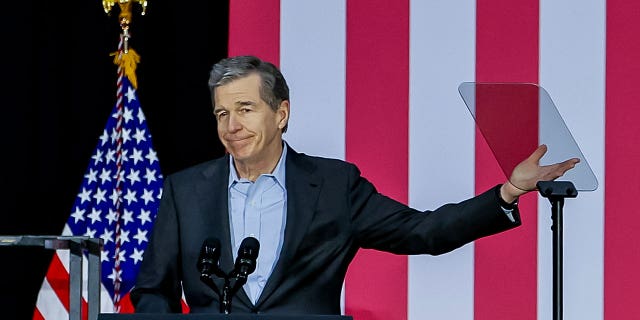 While the clean-up bill was "important to clarify the rules and provide some certainty," Cooper said Thursday in a written statement, "we will continue fighting on all fronts the Republican assault on women's reproductive freedom."
The latest bill signed, described by Republicans as containing technical and clarifying language, attempted to make clear medication abortions are permitted through 12 weeks just like procedural abortions — often referred to as surgical abortions — and not through 10 weeks. It also changes a numerical reference to a law to ensure that a lawful abortion is an exception to North Carolina's fetal homicide statute. And a provision that raised questions whether the state's 72-hour waiting period to obtain an abortion had to restart if certain information wasn't available was repealed.
NORTH CAROLINA REPUBLICANS APPROVE REVISIONS TO TIGHTEN ABORTION RESTRICTIONS
The legal parties meeting Wednesday differed on whether changes to a couple other provisions addressed the plaintiffs' challenges.
Eagles, who was nominated to the federal bench by former President Barack Obama, said Wednesday she hadn't decided whether she would grant a temporary restraining order as the plaintiffs asked for in a motion last week. Her decision was expected on Friday.
CLICK HERE TO GET THE FOX NEWS APP 
But in any case, the judge said she would not issue a broad order that would block most of the new law — including the 12-week near ban — from taking effect as scheduled as the plaintiffs had sought. She said such action would be overly broad. The restrictions also include new exceptions extending the limit through 20 weeks for rape and incest and through 24 weeks for "life-limiting" fetal anomalies.
Cooper had until next week to decide what to do with the proposed revisions, which were attached to a state health agency measure and approved by strong bipartisan majorities. Some Democrats felt it was better to make the new abortion rules less onerous by backing the alterations. Any order from Eagles likely would have been more complicated had Cooper waited until Saturday or later to act on the measure.