Former President Trump and four of his rivals for the 2024 Republican presidential nomination will speak Friday and Saturday in Philadelphia at the national gathering of an increasing influential parental rights organization that's stoked controversy.
Trump, the commanding front-runner in the GOP nomination race, will be joined by Florida Gov. Ron DeSantis, former ambassador and former South Carolina Gov. Nikki Haley, former congressman and former Arkansas Gov. Asa Hutchinson, and entrepreneur and political commentator Vivek Ramaswamy in addressing the second annual Moms for Liberty summit.
The appearances of some of the biggest names among the large field of Republican White House contenders is another sign of the growing clout for the conservative-leaning group, which says it has 285 chapters across 45 states.
"I think it says that parents are a very important part of the future of America and that the candidates care about the issues that parents care about, and they want to make sure that we know that," Moms for Liberty co-founder Tiffany Justice told Fox News Digital on Thursday during the first day of the confab, which the group calls the Joyous Warriors National Summit.
THIS 2024 GOP CONTENDER TEAMED UP WITH MOMS FOR LIBERTY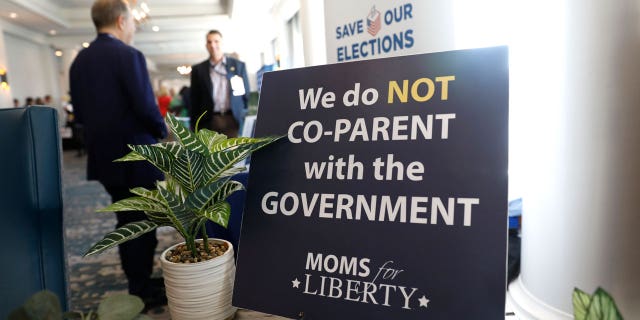 Moms for Liberty was founded two years ago amid the coronavirus pandemic as a "social-welfare" nonprofit group, which means it can engage in political and policy activity without disclosing its donors. The group says its mission is to protect parental rights in education, which they describe as "God-given and fundamental."
According to its website, the mission of the group is to "unify, educate and empower parents to defend their parental rights at all levels of government." It has fought against mask mandates in schools and has targeted critical race theory. 
MOMS FOR LIBERTY CALLS 'EXTREMIST' LABEL 'ABSURD'
Justice charged that the fundamental rights of Americans "are under attack right now in America," and that one of the biggest questions we have for these candidates is "how are you going to work to help us to protect our fundamental rights?"
Longtime Republican consultant Ryan Williams spotlighted that Moms for Liberty "has attracted so much attention and is influential given the focus on public school education and cultural issues that are dominating discussion in the Republican Party today."
"There's a real fear that schools are forcing an agenda on kids," Ryan a veteran communicator and strategist, noted.
The group, which says that it is non-partisan, does have an aligned super PAC that Justice says makes endorsements in school board races, state board of education races and state elected superintendent contests. However, Justice said the PAC had no plans to endorse GOP presidential nomination showdown.
WHO'S IN AND WHO'S ON THE SIDELINES — YOUR GUIDE TO THE 2024 GOP PRESIDENTIAL NOMINATION RACE
Justice said that "we invited President Biden" to speak at their summit, but highlighted "we received no response from the White House."
She also noted that Robert F. Kennedy Jr. – who is challenging Biden for the Democratic presidential nomination – agreed to speak at their confab in Philadelphia but then canceled.
Moms for Liberty was back in the headlines three weeks ago when it was designed as an extremist organization by the Southern Poverty Law Center (SPLC).
Moms for Liberty and 11 other groups were labeled by the SPLC as "anti-government extremist groups" in its annual 2022 Year In Hate and Extremism report. The report charged that Moms for Liberty can be "spotted at school board meetings across the country wearing shirts and carrying signs that declare, 'We do NOT CO-PARENT with the GOVERNMENT.'"
Justice told Fox News at the time that the SPLC's "extremist" label was "absolutely absurd."
A day later, Justice teamed up with Ramaswamy at a Moms for Liberty event in Brentwood, New Hampshire.
Ramaswamy told Fox News Digital that he was "proud to be the first GOP presidential candidate to sign the Moms for Liberty pledge" and that he was "privileged to join my favorite hate group and extremist group."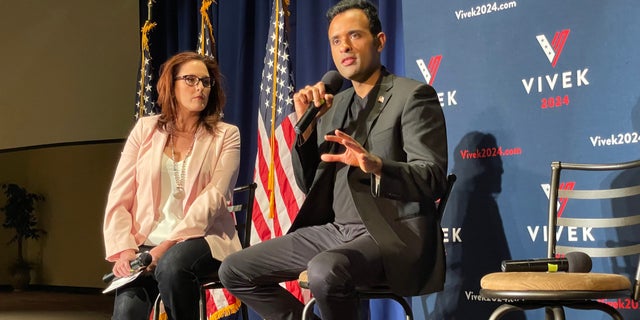 Justice said the summit's mission is to "unify, educate and empower parents to defend their parental rights at all levels of government."
Activists and potential school board candidates from across the country will receive training over the weekend. According to the group's website, some of the workshops cover topics such as "Protecting Kids from Gender Ideology," and "Comprehensive Sex Education: Sex Ed or Sexualization."
The Moms for Liberty summit in heavily blue Philadelphia triggered sparked weeks-long protests ahead of their gathering and drew plenty of criticism from elected officials.
CLICK HERE TO GET THE FOX NEWS APP
As the summit got underway, the Democratic National Committee charged that "Donald Trump, Ron DeSantis, Nikki Haley and Vivek Ramaswamy are celebrating the Fourth of July weekend with one of the nation's most notorious anti-freedom, history-erasing, book-banning groups."
"While President Biden and Vice President Harris are running to safeguard Americans' rights and freedoms, MAGA Republicans are more concerned with catering to right-wing extremists than addressing the real issues that working families face," DNC spokesperson Ammar Moussa argued.